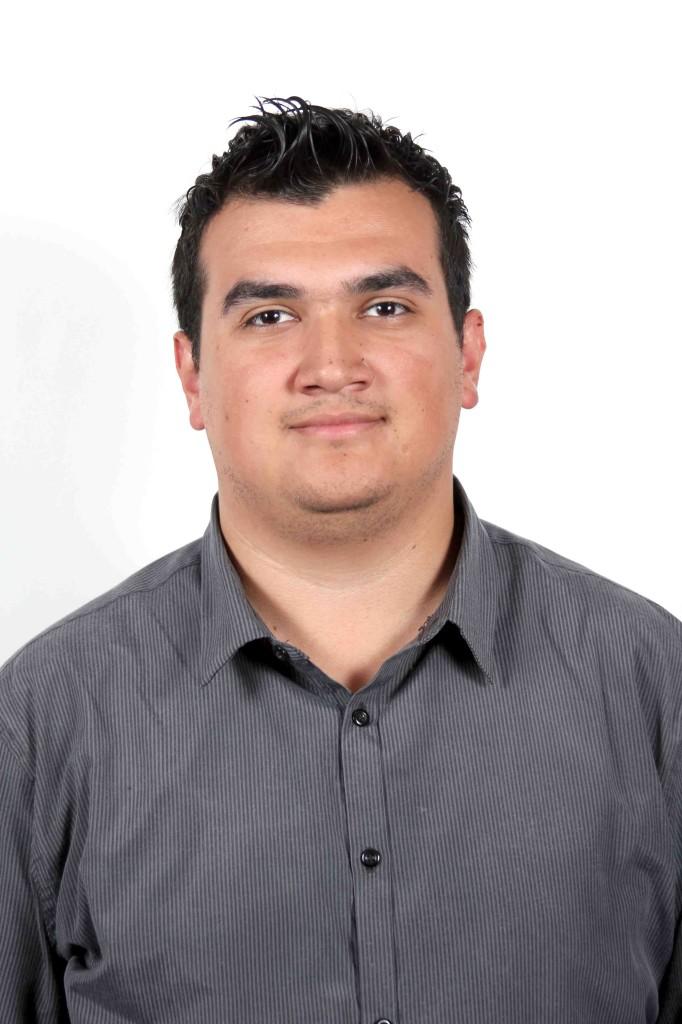 Edwin is a senior  multimedia journalism major who came  to The Prospector in May of 2012 as a correspondent. He became the sports editor starting the summer 2012 semester. Edwin is excited for the challenges that lie ahead as the paper transitions into a daily publication.
He fell in love with sports at a very young age, especially with soccer, and learned to embrace others as he grew up. The 2013-14 year will be a good opportunity for him to watch the new era of UTEP football and how a solid new basketball class performs first hand.
Edwin is trying to get as much as possible from the last stretch of his college life before getting into the real world when he graduates in May of 2014.
Edwin Delgado, Sports Editor
May 12, 2014

Legendary Miner Charlie Brown passes away

(Story)

May 12, 2014

Water pipeline bursts, creates big fountain

(Story/Media)

May 06, 2014

The end of a great chapter in my life

(Story)

May 06, 2014

Keitha Adams ends impressive year with Hall of Fame induction

(Story)

May 06, 2014

Local athletes boost UTEP athletic programs

(Story)

May 02, 2014

Chihuahuas roll past Rivercats to win first at home

(Story)

Apr 30, 2014

Keitha Adams headlines El Paso Hall of Fame 2014 class

(Story)

Apr 15, 2014

A strong finish to spring season

(Story)

Apr 15, 2014

Thornton invited to Washington Mystics training camp

(Story)

Apr 03, 2014

Track and field team ready for Texas Tech Open

(Story)

Apr 02, 2014

Miners game sold out!

(Story)

Apr 01, 2014

Spring season begins with victory over Arizona State

(Story)

Mar 13, 2014

Southern Miss eases past Old Dominion

(Story)

Mar 13, 2014

Kayla Thornton returns to guide UTEP over Louisiana Tech

(Story)

Mar 13, 2014

Golden Hurricane blow past Green Wave 70-49

(Story)

Mar 12, 2014

Louisiana Tech wins second straight, sets match-up against UTEP

(Story)

Mar 11, 2014

North Texas comes back to defeat Rice in overtime

(Story)

Mar 07, 2014

2014 Conference USA Men's Basketball Championship Schedule

(Story)

Mar 07, 2014

2014 Conference USA Women's Basketball Championship Schedule

(Story)

Mar 04, 2014

Miners begin spring season workout

(Media)

Mar 04, 2014

Conference Champions!

(Story)

Mar 04, 2014

Seeking top four finish in regular season

(Story)

Mar 04, 2014

Home court advantage has UTEP aiming for NCAA tournament bid

(Story)

Feb 25, 2014

UTEP to rematch UTSA on senior night

(Story)

Feb 25, 2014

Challenging week ahead for Miners

(Story)

Feb 21, 2014

UTEP rifle takes down No. 17 Nevada

(Story)

Feb 11, 2014

Students react to baseball stadium opening delay

(Story)

Feb 05, 2014

UTEP soccer announces 2014 recruiting class

(Story)

Feb 05, 2014

UTEP football signs 23 for 2014 season.

(Story)

Feb 04, 2014

No love for women's sports in El Paso

(Story)

Feb 03, 2014

Kansas State, Texas Tech highlight 2014 UTEP football schedule

(Story)

Jan 28, 2014

High hopes. Pun intended

(Story)

Jan 28, 2014

Miners aiming for third straight win

(Story)

Jan 15, 2014

Myriam Sopel appointed as new tennis head coach

(Story)

Jan 08, 2014

Jones brothers added to basketball roster

(Story)

Jan 07, 2014

Three dismissed from basketball team following FBI investigation

(Story/Media)

Dec 03, 2013

The most important moments of 2013

(Story)

Dec 03, 2013

Vitola coming back for more

(Story)

Nov 26, 2013

Keitha Adams signs two more for 2014-15 season

(Story)

Nov 26, 2013

Women's basketball find new local talent in Telles

(Story)

Nov 19, 2013

UTEP seeking third win against the Green Wave

(Story)

Nov 17, 2013

Washburn refuses to get back on the floor during the second half

(Story)

Nov 15, 2013

Second half rally lifts New Mexico State to cruise past UTEP

(Story)

Nov 14, 2013

UTEP women's basketball signs two to national letters of intent

(Story)

Nov 05, 2013

Aiming for a conference title

(Story)

Oct 29, 2013

Soccer secures a spot in C-USA tournament

(Story)

Oct 24, 2013

Miners play last two home games of the season

(Story)

Oct 22, 2013

Triple-A team name and logo announced

(Story)

Oct 22, 2013

Miners go on the road to face Rice

(Story)

Oct 15, 2013

Cross country gears up for biggest test

(Story)

Oct 12, 2013

Sarah Dilling late saves help Miners hold a 2-2 draw against Charlotte

(Story)

Oct 01, 2013

UTEP soccer splits first two conference games

(Story)

Sep 28, 2013

UTEP Soccer falls 2-1 to Rice in Conference-USA opener

(Story)

Sep 27, 2013

UTEP soccer opens conference slate at home

(Story/Media)

Sep 15, 2013

UTEP rolls past New Mexico State 42-21

(Story)

Sep 10, 2013

Miners seek fifth-straight win over Aggies

(Story)

Sep 06, 2013

Jade Badcock's brace guides UTEP to 2-0 over UC Riverside

(Story)

Sep 05, 2013

UTEP women's basketball 2013-14 schedule announced

(Story)

Sep 05, 2013

UTEP soccer to host 14th-annual Border Shootout this weekend

(Story/Media)

Sep 03, 2013

Kugler will improve team, but not immediately

(Story)

Sep 03, 2013

Miners kickoff 2013 season as Kugler takes charge

(Story)

Sep 01, 2013

Wildcats hold Miners to a 1-1 draw

(Story)

Aug 30, 2013

UTEP Soccer Continues Homestand This Weekend

(Story)

Aug 30, 2013

UTEP soccer falls to Utah State

(Story)

Aug 30, 2013

UTEP Softball Inks Four

(Story)

Aug 28, 2013

Men's Basketball Schedule Unveiled

(Story/Media)

Aug 27, 2013

An Offseason Full of Changes for the Miners

(Media)

Aug 26, 2013

Athletics, Residence Life Host 4th-Annual Welcome Back BBQ

(Story/Media)

Aug 26, 2013

UTEP Soccer Begins Season with Pair of Victories

(Story)

Aug 26, 2013

Key Positions in Depth Chart being Determined

(Story)

Aug 21, 2013

Miners offense shines in first scrimmage of Kugler era

(Story)