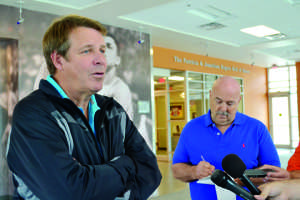 The UTEP men's basketball 2013-14 schedule was released today. The Miners non-conference schedule is highlighted by games against Colorado State, Washington State and the 2013 Battle 4 Atlantis tournament, which will be held at Paradise Island in the Bahamas.
UTEP is part of a select eight-team field in the Battle 4 Atlantis Tournament and will open against the Tennessee Volunteers. They will then face either Xavier or Iowa in the second game. The Miners will play three games in the tournament; the other teams participating include Villanova, Southern California, Wake Forest and Kansas.
"(The Battle 4 Atlantis Tournament) Is the highlight of our schedule," said head coach Tim Floyd. "We are probably playing in the highest ranked multi-team event in the country, in the Bahamas."
The Miners will start the season with an exhibition game on Nov. 2 against Southeastern Oklahoma State, followed by a game against Loyola (New Orleans) a week later.
UTEP will face I-10 rival New Mexico State on the road Nov. 15, and then will host three straight home games, including a Battle 4 Atlantis home game on Nov. 17 (rival to be determined), Colorado State (Nov. 19) and then they will host New Mexico State on Nov. 23
"I think New Mexico State it's going to have another fine team," Floyd said. "They probably have another NCAA tournament team, they have most of their guys from last year back and we are playing them twice."
UTEP will finish their non-conference schedule with only one more game on the road, Washington State (Dec. 21) and then they have several home games at the Don Haskins Center against Sacramento State, New Orleans and Northwestern State  (who was the second-highest scoring team last season), Montana State and Angelo State in addition to the two games to be played as part of the 2013 WestStar Bank Don Haskins Sun Bowl Invitational Dec. 28-29.
"We have a new Pac-12 rival this year, we are replacing Oregon with Washington State," Floyd said. "We signed a four-year contract. We will open in Pullman, then come to El Paso; the same year, Arizona comes to El Paso; the third year, we will probably play them in Seattle and then back home."
The Miners will open their Conference-USA slate with two home games against the Charlotte 49ers and the Marshall Thundering Herd. UTEP will conclude their regular season playing on the road for four of their last five games. They will host Tulsa (Feb. 27) and will visit Tulane (Feb. 20) Southern Miss (Feb. 22), North Texas (March 2) and UTSA (March 6)
"I'm not as familiar with the teams as much as I would like to be. We tried to spend some time in the summer studying them," Floyd said. "It's always great to see new teams in the league and have an opportunity to play in the only 16-team league in the country."
For the second time since 2011, the Don Haskins Center will host the Conference-USA men's and women's basketball championships from March 11-15.
"We are excited about hosting the Conference tournament once again," Floyd said. "It gives our city to put its best face forward."
The Miners' incoming freshman class includes center Matt Willms, forward Vince Hunter, swingman Jake Flaggert and guard Josh Brown.
"I like the players that we have, I like the characters of the players that we have. We will have a 12-man roster, and we got a nice blend of experience and youth," Floyd said. "The incoming freshman that are here had a great summer in terms of their work ethic and, who knows, maybe we are going to surprise some people this year."
Edwin Delgado may be reached at [email protected].
UTEP 2013-14 Men's Basketball Schedule:
Oct. 26 – Orange & White Scrimmage
Nov. 2 – vs. Southeastern Oklahoma State (Exhibition)
Nov. 9 – vs. Loyola New Orleans
Nov. 15 – at New Mexico State
Nov. 17 – vs. West Alabama (Battle 4 Atlantis play-in home game)
Nov. 19 – vs. Colorado State
Nov. 23 – vs. New Mexico State
Nov. 28 – vs. Tennessee (Battle 4 Atlantis)
Nov. 29 – vs. Xavier/Iowa (Battle 4 Atlantis)
Nov. 30 – vs. TBA (Battle 4 Atlantis)
Dec. 7 – vs. Sacramento State
Dec. 16 – vs. New Orleans
Dec. 19 – vs. Northwestern State
Dec. 21 – at Washington State
Dec. 23 – vs. Montana State
Dec. 28 – vs. Western Illinois (WestStar Bank Don Haskins Sun Bowl Invitational)
Dec. 29 – vs. Denver (WestStar Bank Don Haskins Sun Bowl Invitational)
Jan. 4 – vs. Angelo State (Exhibition)
Conference-USA
Jan. 9 – vs. Charlotte
Jan. 11 – vs. Marshall
Jan. 16 – at Middle Tennessee State
Jan. 18 – at Alabama-Birmingham
Jan. 25 – vs. Texas-San Antonio
Jan. 30 – vs. Louisiana Tech
Feb. 1 – vs. Rice
Feb. 6 – at East Carolina
Feb. 8 – at Old Dominion
Feb. 13 – vs. Florida Atlantic
Feb. 15 – vs. Florida International
Feb. 20 – at Tulane
Feb. 22 – at Southern Mississippi
Feb. 27 – vs. Tulsa
March 2 – at North Texas
March 6 – at Texas-San Antonio
March 11-15 – Conference USA Championships in El Paso, Texas