Water pipeline bursts, creates big fountain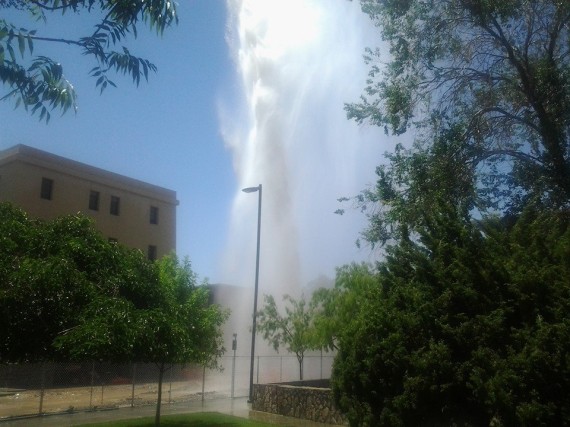 UPDATE:
According to officials, the domestic waterline that feeds through to the Liberal Arts, Academic Advising, Honors House and Central Energy Plant was punctured by a contractor working on the campus transformation project at approximately 1:50 pm. Water to those buildings will be shutdown until further notice.
Within seconds, a geyser of water reached two stories before taking early spectators by surprise and reaching three stories. For five minutes, water sprayed over the area before UTEP construction workers arrived.
Workers in orange vests redirected students from the passage and prevented them from getting close to the water. The workers, as evidenced in videos on twitter, used a crane to prevent the water from rising further. According to officials, the domestic waterline was shut down and there are no current plans to turn it back on anytime soon.
In a statement, Greg McNicol,  associate vice president for business affairs, said that he and UTEP officials are looking to see which building can stay online. He also explained that they will isolate the damaged section of the pipe to repair.
"When these breaks happen, the first thing we do is get the main line shut down, then we can start assessing everything," he said.
Update by Aaron Montes @3:45 p.m.
_______________________
Construction crews broke a water pipeline this afternoon around 2 p.m., between the Liberal Arts and Administration buildings. the water flooded Hawthorne Street and the site where crews were attempting to install new pipelines. Students, who normally have to walk around the site to get to the opposite side of campus, were forced to go through the Liberal Arts Building to avoid getting wet.
The incident created a water fountain more than 60-feet tall, the water had to be shut off in order to repair the damage. This isn't the first time this has happened, on Dec. 17 another pipeline burst between Old Main and the Psychology Building.