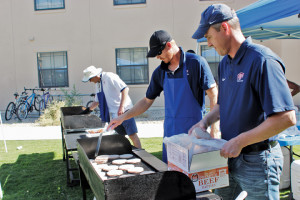 On the day before the fall semester began, Residence Life and UTEP Athletics hosted the fourth-annual Welcome Back BBQ.
The purpose of the event was to bring all student-athletes together to interact with one another.
"It's great to get to see all UTEP athletes all together. Usually us in the football team are used to being by ourselves, but this is something different," said Nate Poss, assistant director for football operations. "I really enjoy it and that's why we have this every year."
Poss, with the assistance of tennis head coach, Mark Roberts and track and field coach Mika Laaksonen, were the coaching staff in charge of grilling the food for the athletes.
Junior guard Mackenzie Moore was at the event for a second straight year and said that it's a great opportunity to get to know all of the athletes.
"I like to talk with volleyball and soccer players who are starting out their season and support them and tell them to win," Moore said. "It's getting better every year, it's great that athletics is putting all of this together for us. It brings us closer, it's all about building good relationships and friendships."
Besides the variety of food, the athletes had the opportunity of playing beach volleyball with each other and compete in a pie-eating contest.
Residence Life and athletics also saw the event as an opportunity to have an award presentation for students, who have finished their UTEP careers on a high note.
Risper Kimaiyo was recognized as the best cross country athlete in Conference-USA for the 2012-13 academic year.
"It's a huge honor and it makes me feel good about what I was able to accomplish in my senior year," Kimaiyo said. "I had never received an award in front of all the other athletes, which is great."
Former Miner tennis player, Carolina De Luca also received the 2012-13 Jim Castañeda post-graduate award. The award is given to only 12 athletes from Conference-USA and it's a scholarship to help pay for their tuition for graduate school.
"It's amazing to have been able to get this scholarship, it took a lot of effort and I had to meet a lot of requirements, but everyone in the athletics department really helped me out," De Luca said. "I'm starting on my master's degree and this will definitely be great help to pay for my tuition."
De Luca will also will be an assistant for volleyball operations while she works toward her graduate degree.
The welcome back event ended with a small water balloon fight between a couple of the athletes.
"What makes this event great, it's seeing all the athletes having a good time interacting with each other," Roberts said. "That's why I volunteered to cook for them."