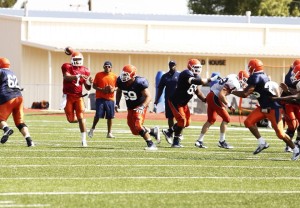 Led by junior quarterback Jameill Showers, the Miners had a strong showing in their pre-season scrimmage in Alpine, Texas,as they managed to score on their very first drive.
"It was nice to see that the team was able to execute the plays that we worked on and do it at a high level, so that is a big positive to start the scrimmage," said offensive coordinator Patrick Higgins. "The decision-making is getting better, but we still need some improvements for the upcoming week."
The Miners obtained a total of 500 yards offensively and 10 touchdowns. Showers had a strong performance, completing nine out of his 15 pass attempts for 150 yards and two touchdowns, including a 33-yard pass to connect with Jordan Leslie.
"I feel a lot more confident as the days go by, the offensive line makes it really easy for me, including the receivers and running backs, a good running game opens the passing game," Showers said. "The defense is not scared to blitz, but they are holding it a little more because we have a great offense."
Despite the great start for the offense, Higgins feels that the team committed too many mental mistakes as the scrimmage went on.
"I thought (the scrimmage) was average. Threw a couple of picks in the red zone, which is inexcusable.We jumped offsides in the red zone, which is inexcusable," Higgins said. "We have to clean up those aspects of the game, but overall it was an average day."
Blaire Sullivan, Garrett Simpson and Mack Leftwich had a combined 28 pass attempts. Sullivan and Simpson also were able to score in running plays along with Autrey Golden.
Senior tight end Craig Wenrick and wide receiver Jim Jones also had a productive day as both had over 50 receiving yards, Sullivan connected with Wenrick on a slant route for a score and later near the sideline a well-placed ball out of the reach for two defensive backs was caught by Jones.
The defense, who has gone through many changes during the offseason, took a little time to get themselves into the scrimmage and also created important plays of their own.Senior linebacker A.J. Ropati made an interception and returned it 95 yards for a defensive score.
"(The scrimmage) was a good learning experience, it was a true game environment and not just a practice," said senior linebacker Horace Miller. "We were all just flying around offense and defense. Our focus right now is to become a great team and not just a great defense or offense."
One of the surprises so far at Camp Alpine has been freshman running back Aaron Jones. His performances have been better than expected in the practices and he demonstrated his skills on the scrimmage as he caught a 14-yard touchdown pass from Showers to finish the first drive.
The offense had nothing but good things to say about Showers, who has stepped up to the role and is expected to be the Miners' starting quarterback.
"He's done very well, he has been studying the plays all summer and he came into camp very well prepared," Higgins said. "He knows the offense very well and each day he is getting a little bit better."
The Miners return to El Paso on Aug. 20 to prepare for their season opener against the New Mexico Lobos Sept. 7 at the Sun Bowl.