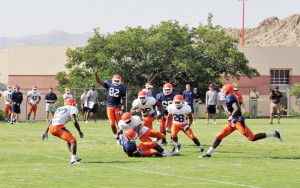 Changes and adjustments have been the theme of the UTEP football team throughout the offseason. After coming off a 3-9 season, the Miners hope to put the past behind and usher in a new beginning.
Head coach Sean Kugler might not have won a game yet, but he has worked on changing the culture and rhetoric of the team. The message comes from him and goes to the assistant coaches, then passed on to players like a seamless chain of command.
"We're not worried about what happened last year, we're worried about what we're going to do this year," said offensive coordinator, Patrick Higgins. "We want to create the mind set of physical toughness. We're going to do the best job we can and put the players in the best situation to succeed."
Higgins said he is concentrating on players such as starting quarterback Jameill Showers, leading rusher Nathan Jeffery and leading receiver Jordan Leslie. He believes the Miners are heading in the right direction offensively, but Higgins said he isn't here to produce a "two-man show."
"Everyone is important, we need contributions from everyone on offense," Higgins said. "We're going to spread the ball around, we're not going to be reliant upon two or three individuals."
There are many problems that lie ahead for defensive coordinator Scott Stoker this year. He will have his hands full trying to improve a defense that was ranked 78th in the country last year, as well as the fact that he lost the top four leading tacklers from last year.
Stoker, like Higgins, said the past is the past and he sees opportunity lying ahead for UTEP's young defensive roster. He has high praise for returning top defensive players A.J. Ropati and Horace Miller.
"We got guys up there capable of getting the job done, and we're trying to get some young guys in there to help us," Stoker said. "We got guys like A.J. (Ropati) and Horace (Miller), who have done a tremendous job learning the system, executing it extremely well. I'm very pleased with those two, we just got to get some depth behind them."
Besides the complete revamping of the whole coaching staff, the biggest change this season has to be at the quarterback position with transfer Jameill Showers, who has been the talk of the town.
"It feels good," Showers said. "It's the reason I came here. It's pretty much a dream come true for me to have the opportunity to play."
Showers has been praised by his offensive coordinator for his hard work learning the offense.
"It hasn't been hard learning the new offense, they sent me the playbook in College Station in the spring," Showers said. "Over the summer I was in coach Higgins' office every day, even on the weekends, writing up plays, being quizzed. It went pretty good."
This year seems to be all about change for the Miners, new coaches, new teammates and new offensive and defensive schemes. There is no doubt that the Miners are trying to embrace change and trying to assimilate to it as best as they can.