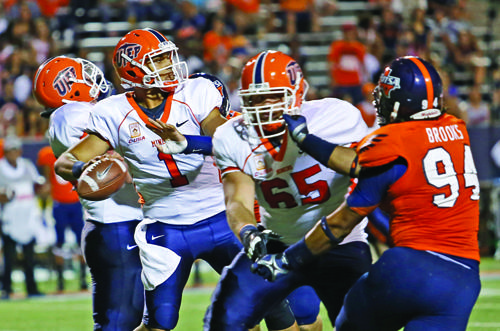 After having a week off, the Miners are now focused on their next rival the Rice Owls, who are leading the west division of the conference alongside Tulane. Rice will host UTEP Oct. 26 in Houston.
"It was a very productive week for us. We got a lot of work done," said head coach Sean Kugler."
UTEP lost its fourth-straight game of the season at home to the Tulsa Golden Hurricane, 34-20, on Oct. 11, and now every game is a must-win if the Miners hope to keep their bowl game aspirations alive.
"We are extremely disappointed with our record, but at this point you have to evaluate where you are at and attack the problems that you have," Kugler said. "Our focus for the second half of the season is to progressively get better."
Rice has not lost to UTEP at home since the 2005 season, when UTEP came away with a 38-31 victory. Rice has a three-game winning streak against the Miners when playing at Rice Stadium and has won the last two meetings between both sides, including the 33-24 win last year at the Sun Bowl, which was the last game of former head coach Mike Price.
Rice's senior quarterback Taylor McHargue and company look to continue their success in Conference USA. McHargue has thrown for 1,098 yards this season for six touchdowns and six interceptions. However, the biggest concern for UTEP will have to be the Owl's running game.
"Rice is an extremely good rushing team, they lead in conference," Kugler said. "They have big and physical backs that are outstanding; it's going to be a tough challenge for us."
UTEP has not been effective in preventing other teams from running the ball and Rice is currently the 16th-best team running the football in the country, averaging 230 yards per game. Senior running back Charles Ross leads the team in that department with 545 yards and five touchdowns, averaging six yards per carry. McHargue is a duel-threat quarterback, who has run for 302 yards for five touchdowns. Ross and McHargue combined for 257 yards and four rushing touchdowns (three from McHargue) in the Owls' 45-19 rout over the New Mexico State Aggies in Las Cruces, N.M.
"I think they are very well coached, David Bailiff has done an unbelievable job there," Kugler said. "They are very solid on both sides of the ball and if we are going to use a model to build a program the proper way, they would definitely be a good example for us."
Rice can also do some damage in the passing game. Their two starting wide receivers, junior Jordan Taylor and sophomore Dennis Parks, have combined for 44 receptions, over 600 yards and four touchdowns so far.
The week off has helped the Miners to get some extra time to study and prepare for this game and also to get players back. Running backs Aaron Jones, LaQuintus Dowell and Nathan Jeffery are recovering from injuries.
Jameill Showers is the Miners' key to success. The junior quarterback has completed 106 of his 185 pass attempts for 1,259 yards and 11 touchdowns. The Miners have averaged just over 200 yards rushing and passing per game, and junior wide receivers Jordan Leslie and Ian Hamilton have combined for 692 yards so far this season.
Once again, the key to the game will be UTEP's defense. As of now, it is the eighth-worst defense in the country, allowing 37.7 points per game, and has had many problems stopping the run.
The Owls will be the toughest opponents the Miners have faced this year, and if they lose this game, the Miners will have lost any glimmer of hope to become bowl eligible.
"When you are struggling, going on the road can help you out sometimes," Kugler said. "It helps you out to eliminate distractions and you just go out and play."
After the Owls, UTEP will have two additional tough contests on the road. The first will be against national powerhouse Texas A&M at College Station, followed by North Texas at Denton before coming back to play their last home game of the season against the Florida International Golden Panthers on Nov. 16.