Women's basketball find new local talent in Telles
"Not many players can say that they are living their dream of playing Division I basketball in front of friends and family and I can do that." – Stacie Telles, junior point guard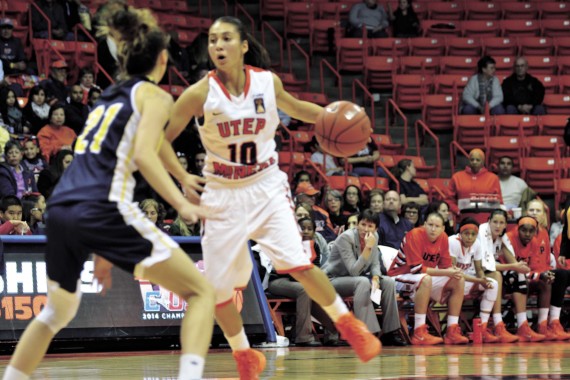 The women's basketball team has found in junior point guard Stacie Telles a new local gem to help them carry the load on offense.
Telles, who is a Burges High School graduate, transferred to UTEP from New Mexico Junior College for this season. She has adapted well to the team and the Division I play and is the second Miner with the most points (46), only behind another local star, senior forward Kayla Thornton (58).
"She has tremendous work ethic, she's been great since preseason conditioning, she is in great shape, she is very competitive," said head coach Keitha Adams. "I like the mentality she brings to the team, she is a great shooter and helps us a lot with our transitions. She has been a great addition to our program and we are glad that she is on our team."
Basketball has been part of her life since Telles can remember. She said she started playing basketball when she was only 3 years old, a sport she initiated with her father and siblings and even though her siblings moved on to other sports, she kept loyal to basketball.
As she was growing up, she idolized Allen Iverson, who played for the Philadelphia 76ers. Telles said that she was fascinated by his ball movement and he became her inspiration.
In high school as a player for the Burges Mustangs, Telles averaged 18.1 points per game and led her team to the playoffs in 2011.
In junior college, Telles led New Mexico Junior College to back-to-back Western Junior College Athletic Conference championships and a combined record of 56-11 over the past two years. The team also had a fifth-place finish at the national championships, which she said has been her best experience  so far in her basketball career.
The adjustment to Division 1  has not been easy, but she said that she has adapted quickly to the different type of play, and that she is now facing faster and stronger competition.
"Transferring from junior college, it's always hard because the level of play in Division I is much higher," Telles said. "It has been a little bit of an adjustment for me, but I feel I'm getting into the flow of everything."
At 5 feet, 7 inches, Telles is not the type of player who tries to drive to the paint, but she has developed an ability to shoot from long-range.
"I just take whatever the other team gives me," Telles said. "If they leave me open, I'm going to take a shot or if they pressure me I'm going to drive it to shoot it or get an assist."
Telles has averaged 25 minutes per game so far this season, and she has shot 55 percent from the field and 56 percent in the 3-point range. Telles is averaging 11.5 points per game and has accumulated seven steals and nine assists in her first four games with UTEP.
The great thing about coming back home for her is the fact that friends and family members can see her play.
"Back when I was in Juco (junior college), they couldn't do that very often and for them to be here every home game, it's really nice," Telles said. "Not many players can say that they are living their dream of playing Division I basketball in front of friends and family and I can do that."
The main goal for her first season is to improve in defense, and offensively to make the extra pass to find the open teammate.
Telles is currently working on her criminal justice degree. She says if she decides not to continue her career in basketball, she hopes to be able to work for law enforcement, but more than anything she would like to continue her basketball career abroad.
"I would like to go play overseas, that's my big dream," she said. "I'm not sure where I would go, but anywhere overseas will be great."
Telles, who has replaced Kelli Willingham who suffered a left hand injury, has given her the opportunity of playing an extended role for the team. Adams said she is pleased with her production and is happy to have two El Pasoans as the backbone of the team
"I think it's great for El Paso, our recruiting starts here at home," Adams said. "I would like to know how many teams have local players leading in scoring. I don't know if that's happening a lot across the country. It's great to have that and they're great players and great people."
Edwin Delgado may be reached at [email protected]
About the Writer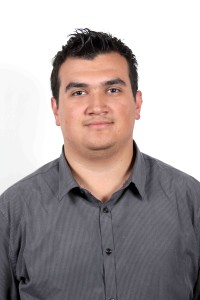 Edwin Delgado, Sports Editor
Edwin is a senior  multimedia journalism major who came  to The Prospector in May of 2012 as a correspondent. He became the sports editor starting the...