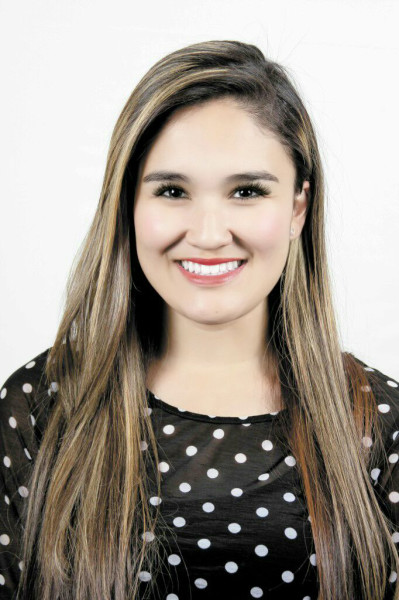 Amanda Guillen is a senior multimedia journalism major with a minor in women's studies. She was born and raised in El Paso, Texas and graduated from El Paso High School in 2011.
She has been a part of The Prospector since summer 2013 and is currently Managing Editor.
She has always had a passion for journalism and plans to become a television news reporter upon graduating from UTEP. In addition to being a full-time student and reporter, she is a part of two honor societies on campus, Alpha Lambda Delta and the National Society of Leadership and Success where she participates in community service regularly. Amanda also interns for KVIA Channel 7 the El Paso affiliate of ABC.
Her love for the city of El Paso is something that led her to choose UTEP as her school of choice. She has enjoyed her past 3 years at the university and looks forward to an eventful school year.
Amanda Guillen, Editor-in-Chief
Nov 29, 2016

Four years and a lifetime of memories made

(Story)

May 21, 2016

Sanders visits Vado before New Mexico primary

(Story)

May 14, 2016

Rainbow Miner Graduation Hosts 51 Graduates

(Story)

May 03, 2016

Couple finds love through mutual passion for dance

(Story)

May 03, 2016

Getting to know the new SGA president

(Story)

Apr 26, 2016

The Student Recovery Organization hosts Pay It Forward event tonight

(Story/Media)

Apr 21, 2016

Natalicio named among TIME Magazine's 100 most influential

(Story/Media)

Apr 19, 2016

The irony of printing a newspaper during Earth Week

(Story)

Apr 13, 2016

Peace Corps director visits UTEP to announce ranking

(Story/Media)

Apr 12, 2016

UTEP and ASARCO Collaborate for Exhibit

(Story)

Mar 29, 2016

Respect us and mind your business

(Story)

Mar 15, 2016

Country western style a phase or lifestyle?

(Story)

Mar 01, 2016

UTEP's tuition increase proposal approved

(Story)

Feb 26, 2016

Natalicio released from hospital

(Story)

Feb 23, 2016

Natalicio in stable condition, officials say

(Story)

Feb 23, 2016

Q&A with musician Tony Melendez

(Story)

Feb 17, 2016

Sun Bowl joins Juarez in welcoming Pope Francis

(Story)

Feb 16, 2016

Black History Month events highlight Dailey's contributions to UTEP

(Story)

Feb 09, 2016

Interracial marriage not a big deal to millennials

(Story)

Feb 02, 2016
Feb 02, 2016

Non-Catholic's voice their opinion on Pope's visit

(Story)

Jan 26, 2016

The pride and joy of a basketball city

(Story)

Jan 19, 2016

From the barrio to the nation's capital

(Story)

Jan 13, 2016

State of the Union and free community college

(Story)

Dec 14, 2015

Obama: End to No Child Left Behind education law a Christmas miracle

(Story/Media)

Nov 18, 2015

Broadway stars, star students take the White House stage

(Story/Media)

Nov 10, 2015

LGBT Catholics seek acceptance, worship outside church

(Story/Media)

Oct 27, 2015

Texas group wants jobs for soldiers after military careers

(Story)

Oct 20, 2015

The U.S. and immigration: Where are we now?

(Story)

Oct 06, 2015

El Pasoans travel to see Pope Francis in support of families

(Story/Media)

Sep 23, 2015

Low-wage workers 'strike' as Pope heads to D.C.

(Story/Media)

Sep 22, 2015

Pope's visit to nonprofit to shine light on poverty in U.S.

(Story/Media)

Aug 01, 2015

Trumping the competition through media exposure

(Story)

Jul 21, 2015

The Prospector's Centennial year

(Story)

Jul 07, 2015

Ask me how old I am

(Story)

Jun 27, 2015

First Same-Sex Couples to Marry in El Paso

(Story/Media)

Jun 26, 2015

Supreme Courts rules in favor of same-sex marriage

(Media)

Jun 26, 2015

Love wins in El Paso

(Story/Media)

Jun 09, 2015

In Texas guns prevail

(Story)

May 05, 2015

New report ranks best and worst jobs of the year

(Story)

May 05, 2015

Paying off loans troublesome for many, national student loan debt reaches $1.1 trillion

(Story)

May 01, 2015

The Prospector News Weekly May 1

(Story/Media)

Apr 28, 2015

UTEP Dinner Theatre entertains audiences for 32 years

(Story)

Apr 28, 2015

Broadway brings the big apple to the Sun City

(Story)

Apr 24, 2015

The Prospector News Weekly April 24

(Story/Media)

Apr 21, 2015

Bugging the Litter Bugs

(Story)

Apr 18, 2015

Unveiling of Centennial Plaza

(Story/Media)

Apr 17, 2015

The Prospector News Weekly April 17

(Story/Media)

Apr 10, 2015

The Prospector News Weekly April 10

(Story)

Apr 08, 2015

The Prospector News Weekly (Special Edition) : Iron Focus

(Story/Media)

Apr 01, 2015

No dream for DREAMers

(Story)

Mar 20, 2015

The Prospector News Weekly March 20, 2015

(Story/Media)

Mar 06, 2015

The Prospector News Weekly March 6, 2015

(Story)

Feb 27, 2015

The Prospector News Weekly February 27, 2015

(Story)

Feb 24, 2015

Texas styles— Fashions for different passions

(Story)

Feb 20, 2015

The Prospector News Weekly February 20, 2015

(Story)

Feb 13, 2015

A single order of encores with a large dose of laughter

(Story)

Feb 13, 2015

The Prospector News Weekly February 13, 2015

(Story)

Feb 10, 2015

Bitter-sweet and proud

(Story)

Feb 06, 2015

The Prospector News Weekly February 6, 2015

(Story)

Jan 30, 2015

The Prospector News Weekly January 30, 2015

(Story)

Jan 20, 2015

Daudistel returns as interim provost

(Story)

Dec 05, 2014

The Prospector News Weekly December 5, 2014

(Story)

Dec 02, 2014

Organization aims to unite border region

(Story)

Nov 21, 2014

The Prospector News Weekly, November 21st

(Story)

Nov 21, 2014

El Pasoans unite for missing Ayotzinapa students

(Media)

Nov 19, 2014

Provost to leave UTEP

(Story)

Nov 18, 2014

Britches to Riches

(Story)

Nov 11, 2014

Millennials delaying marriage, couples waiting for financial stability

(Story)

Oct 31, 2014

The Prospector News Weekly October 31

(Story)

Oct 28, 2014

El Paso prepares for Día de los Muertos

(Story)

Oct 28, 2014

Are sexy Halloween costumes demeaning or freeing? Freeing

(Story)

Oct 24, 2014

The Prospector News Weekly October 24

(Story)

Oct 21, 2014

Early voting begins, more than 3K students registered

(Story)

Oct 17, 2014

The Prospector News Weekly October 17

(Story/Media)

Oct 14, 2014

Students voice opinion on delayed immigration action

(Story)

Oct 10, 2014

The Prospector News Weekly October 10

(Story)

Oct 07, 2014

No new gold nuggets

(Story)

Oct 07, 2014

Greek Life secrecy unethical

(Story)

Oct 03, 2014

The Prospector News Weekly Oct. 3, 2014

(Story)

Sep 26, 2014

The Prospector News Weekly Sept. 26, 2014

(Story)

Sep 19, 2014

The Prospector News Weekly Sept. 19, 2014

(Story)

Sep 17, 2014

Comfort over compromise

(Story)

Sep 12, 2014

The Prospector News Weekly September 12

(Story)

Sep 11, 2014

A day of remembrance- UTEP reflects on September 11

(Story)

Sep 09, 2014

The university on the border

(Story)

Sep 09, 2014

Campus transformation closer to completion

(Story)

Sep 09, 2014

Tier One: The definition of success

(Story)

Sep 05, 2014

The Prospector News Weekly

(Story)

Aug 29, 2014

The Prospector Daily August 29, 2014

(Story)

Aug 26, 2014

Natalicio delivers speech regarding Washington Monthly ranking

(Story)

Jun 24, 2014

World Cup invites all types of life

(Media)

May 26, 2014

Neon Desert Music Festival 2014

(Story/Media)

May 06, 2014

Library accommodates for finals week

(Story)

Apr 25, 2014

The Prospector News Weekly April 25, 2014

(Story)

Apr 18, 2014

Jaime Picks Up Gender Wage Gap

(Media)

Apr 17, 2014

The Prospector News Weekly April 17, 2014

(Story)

Apr 11, 2014

The Prospector News Weekly: April 11, 2014

(Story)

Apr 08, 2014

Love is art, couple lets their paintings be the driving force of their success

(Story/Media)

Apr 01, 2014

Bringing sexy back to health

(Story)

Mar 28, 2014

The Prospector News Weekly March 28, 2014

(Story)

Mar 26, 2014

Candidate Wendy Davis talks equal pay at Café Mayapan

(Media)

Mar 24, 2014

Student Opinion on the 2013-2014 Men's and Women's Basketball Season

(Story)

Mar 21, 2014

The Prospector News Weekly:March 21

(Story)

Mar 07, 2014

The Prospector News Weekly: March 7

(Story)

Mar 05, 2014

International engineering competition returns to UTEP

(Media)

Mar 04, 2014
Feb 28, 2014

The Prospector News Weekly: February 28

(Story/Media)

Feb 25, 2014

'Self-governance'—the method of tobacco-free enforcement

(Story)

Feb 25, 2014

Career Closet rents brand-name professional clothing, free to students

(Story)

Feb 21, 2014

The Prospector News Weekly Feb.21

(Story)

Feb 18, 2014

Old buildings to be demolished for new behavioral sciences

(Story)

Feb 17, 2014

The Prospector News Weekly Flappy Bird/Valentine's Day

(Story/Media)

Feb 11, 2014

UTEP ranks low in Trojan Sexual Health Report Card

(Story)

Feb 11, 2014

No valentine? Let it go.

(Story)

Feb 07, 2014

Hello from Miner News Weekly

(Story)

Feb 04, 2014

Bhutanese theme still an influence

(Story)

Jan 28, 2014

The Grand Scheme of Things

(Story)

Jan 28, 2014

Students on the fence with new Blackboard app

(Story)

Jan 21, 2014

Registered student organizations to participate in centennial celebrations

(Story)

Jan 09, 2014

Centennial begins with kickoff celebration at basketball game

(Story)

Nov 26, 2013

Students react to UT's 'Catch an Illegal Immigrant' game

(Story)

Nov 19, 2013

Rec center voted best gym in EP, some disagree

(Story)

Nov 15, 2013

Foreign exchange student hit by automobile at Miner Village

(Story)

Nov 12, 2013

Campus prepares for World Diabetes Day, disease rampant in EP

(Story)

Nov 12, 2013

Students writing 50k-word novel in 30 days for national competition

(Story)

Nov 05, 2013

'Slumber of Reasons' casts the spotlight on social issues

(Story)

Nov 05, 2013

College Republicans, county GOP join forces

(Story)

Oct 31, 2013

Halloween costume contest held at the Union

(Story)

Oct 29, 2013

Smithsonian collaborates for Día De Los Muertos online exhibit

(Story)

Oct 26, 2013

East El Paso Menchie's location featured in CBS 'Undercover Boss' episode

(Story)

Oct 22, 2013

Abuse at parking garage causes complaints

(Story)

Oct 15, 2013

Crime worries students around campus

(Story)

Oct 15, 2013

Sexual assault on campuses cannot be ignored

(Story)

Oct 08, 2013

Former football player a finalist on X Factor

(Story)

Oct 08, 2013

Students say more bike lanes needed around campus

(Story)

Oct 01, 2013

Campus brings Disney homecoming theme

(Story)

Oct 01, 2013

Distinguished Alumni, Gold Nuggets awards to stall for centennial year

(Story)

Sep 26, 2013

Former UTEP football player competes on the XFactor

(Story)

Sep 24, 2013

Countdown to 2014 begins with kick-off event

(Story)

Sep 19, 2013

Natalicio delivers speech on upcoming countdown to centennial

(Story/Media)

Sep 18, 2013

Graduate school reps from around the U.S. to visit UTEP for fair

(Story)

Sep 17, 2013

Students find job opportunities in Mexico through campus organization

(Story)

Sep 10, 2013

Exhibit to open at Union Gallery in honor of 9/11 anniversary

(Story)

Sep 05, 2013

Miner Maniacs hold kick-off party

(Media)

Sep 05, 2013

Miner Maniac's participation on the rise

(Story)

Sep 03, 2013

Minerpalooza relocates due to construction

(Story)

Sep 03, 2013

Campus museum prepares visitor's center for centennial

(Story)

Aug 27, 2013

Women's Studies Major Approved

(Story)

Aug 27, 2013

Laboratory Uses Innovative 3D-Printing Method to Aid in Health

(Story)