[iframe id="https://www.youtube.com/embed/X6jDyazq7j4″ align="left" mode="normal" autoplay="yes"]
WASHINGTON – As his fingers tickled the white and black keys of the piano in the White House State Dining Room on Monday, Andrew Lloyd Webber entertained a crowd of performing arts students and a panel of stars from the stage and screen.
A few hours later across the hall in the East Room, Kristin Chenoweth and Matthew Morrison would host a television special for TLC called "Broadway at the White House," which will air on Thanksgiving Day.
Michelle Obama took a moment during her opening remarks to speak about the recent attacks on Paris. She focused on the promise of the students while reflecting on the tragic attack on France.
"And the beauty is that all of you here, our young people that are here, you all reflect that passion, that creativity. You all are a part of those values that the president talked about.  That's what we're protecting. We're protecting what you all represent," Obama said.
About 40 students from Los Angeles, Washington, West Virginia, New Jersey and Maryland schools were chosen to attend a full day of workshops, panel discussions and the TV taping.
The morning consisted of acting, dance, hair, makeup, costume design, musical composition and musical theater workshops taught by industry professionals.
Obama welcomed the students to the White House and introduced Whoopi Goldberg, who is an Emmy, Grammy, Oscar and Tony Award winner. "And these folks are here today to honor you and to hopefully inspire you.  They're also here with an important message for you about what it takes to succeed, not just on Broadway, but in life," Obama said.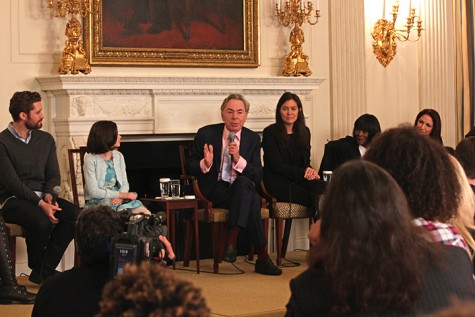 Goldberg led a panel discussion with actors Matthew Morrison, Gabriella Pizzolo and Cicely Tyson and musicians Webber and Gloria Estefan and producer and director Diane Paulus and producer Harvey Weinstein.
Goldberg spoke about the importance of the entertainment industry, including technical crews, to the world.
"In talking about what is going on in the world, one of the things you have an obligation as a performer, a director, as a person who does light is to make sure that the entertainment goes on because people need you. This is when people really look to us," Goldberg said.
Webber comes from a musical family. His father was a composer and an organist and his mother played the violin and a piano.
He said being surrounded by music was what led him to become a successful composer and musician.
"You are very lucky in life if you know what you want to do, and you are even luckier in life, if like me, you have been able to make a career and a successful living with what you want to do," Webber said.
Students were able to ask the artists questions, and one student from Washington invited the panel to their show at the Gala Hispanic Theater.
Weinstein told the students that he would have at least two people from his company attend their performance of "Photos in the Fire."
Later, the East Room was set for the TLC special while Broadway stars prepared to sing some of the acclaimed songs from a variety of shows including, "Finding Neverland," "Fun Home," "Something Rotten," "School of Rock," "An American in Paris," "Wicked" and "On Your Feet!"
Reach reporter Amanda Guillen at [email protected] or 202-408-1490.