The Prospector's Centennial year
A century of news filled with information, drama, controversy and triumph–The Prospector has been the assayer of student opinion for The University of Texas at El Paso and is still a university staple 100 years after it began.
Since its first issue was published in magazine format in July 1915, The Prospector has grown and evolved into what we now know as an online daily publication.
In February 1919, The Prospector was officially published as a monthly newspaper and was sold at 5 cents a copy, which today would be the equivalent of $1.17.
Now, as both a weekly print publication and a daily online publication, The Prospector is committed to providing students with news, sport, and entertainment stories that directly relate and affect them.
This is accomplished while simultaneously giving young aspiring journalists the opportunity and experience to work in a professional newsroom.
As one of these students, I am proud to say that everything I have learned about journalism has come from my education at UTEP, but if I were to tell you where I have grown the most as a student, person and a journalist– it has been while working for The Prospector.
Like those before me, I came into the newsroom unsure of my abilities, but anxious for the opportunity to practice what I have been taught in the classroom.
Before writing my first story I thought I had everything mastered, but with the red ink bleeding through the paper I quickly found out I was wrong.
Working for The Prospector has given me the gift of educational freedom. In this sense, my definition of this is that I have been given the opportunity to learn without the fear of being condemned for my mistakes while producing a product that will be made available to a large-scale audience.
Serving over 23,000 students is a big responsibility and this has allowed many past, present and will allow future students to earn their journalism stripes.
Behind the doors of The Prospector office, there are more than just writers, the paper has also served as a platform for aspiring photographers, cartoonists, graphic designers and media account executives.
Students from each profession at the newspaper have won local, state and national awards.
Just this past year, students from Minero Magazine and The Prospector won 23 Texas Intercollegiate Press Awards.
Many have gone on to accomplish incredible things in the field of journalism and many continue to reach milestones that they credit back to their time at The Prospector.
Prospector alum have gone on to work for The El Paso Times, The San Antonio Express News, The Dallas Morning News, The Austin American Statesman, The New York Daily News, The Associated Press-Mexico, The Wall Street Journal and USA Today, just to name a few.
As for myself, I thank The Prospector for opening the doors to my interning at our local ABC News affiliate KVIA-ABC7. In the fall, I will be moving to Washington D.C. to work for the Scripps Howard Foundation as a reporting intern, and for this I credit my work at The Prospector for allowing me to practice and hone my craft.
All in all, The Prospector has given back to students just as much as it has covered the history of the university. It is the ultimate win-win situation and I think I can speak for the many that have been fortunate enough to work for The Prospector when I say that we will always look back at the experience as the highlight of our college careers.
Amanda Guillen may be reached at [email protected]
About the Writer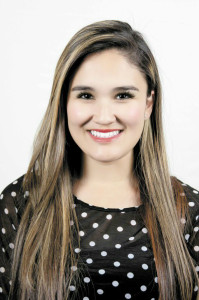 Amanda Guillen, Editor-in-Chief
Amanda Guillen is a senior multimedia journalism major with a minor in women's studies. She was born and raised in El Paso, Texas and graduated from El...