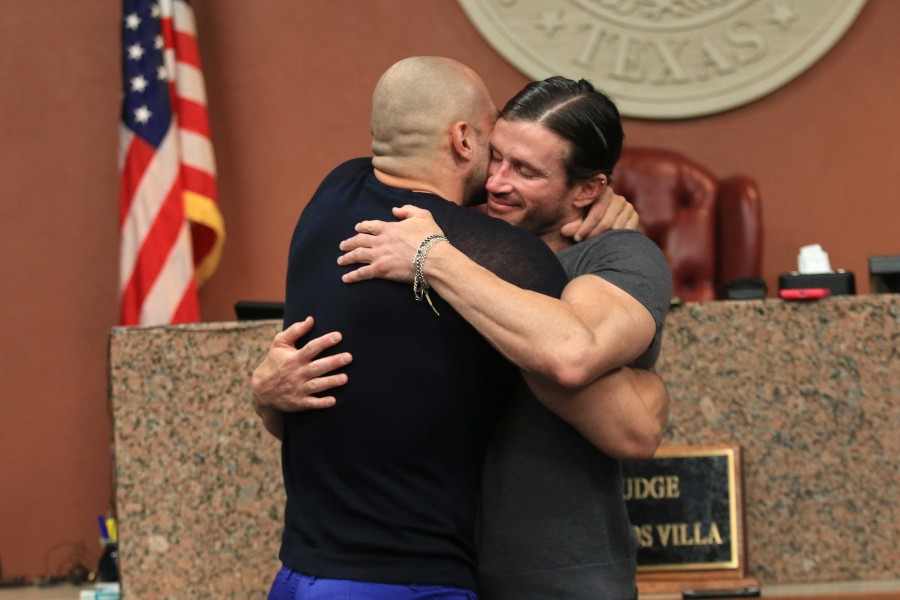 Love wins in El Paso
Historic marriage between the first same-sex couples in El Paso
June 26, 2015
For richer or for poorer, until death do they part, under the United States Constitution same-sex couples were married in El Paso, Texas.
At approximately 12:20 p.m. on June 26, Yairo Herrera and Luke Oleander became the first same-sex couple to be married in El Paso at the County Courthouse.
Less than 20 minutes later, a few floors up, the second couple, Aixa Adame and Lacey Darcy, became wife and wife.
County Courts at Law civil case Judge Carlos Villa and 388th District Court Judge Laura Strathmann presided over the unions.
As vows were being said and rings exchanged, outside colorful flags were being waved and cheers from a group of more than 50 supporters were heard throughout the courtyard of the El Paso County Courthouse.
UTEP alumna and El Paso field organizer for the Texas Freedom Network, Claudia Yoli, coordinated the rally held in support of the Supreme Court's decision that banning same-sex marriage was unconstitutional.
"As a mover and shaker of that community, we were able to get in touch with our partners and celebrate what is love. After today, everyone has the right to marry, not necessarily defined by gender identity but rather by everybody and everybody else," Yoli said. "This is a day that truly is making history. It's a day that will be remembered for years to come, but the fight isn't over, this is just the first step. As some of our colleagues said earlier today, it is the first step to creating a social justice movement for all."
Some of the partners Yoli spoke about were both student organizations at UTEP, URGE (Unite for Reproductive and Gender Equality) and QSA (Queer Student Alliance).
Gina Lawrence, faculty advisor for URGE, said that it is important that students unite for causes like marriage equality.
"I am here to advocate and support people of all genders. In order to create a more equitable society, we believe that this is just the first step in creating more equity and more activism in our community, especially when it comes to reproductive justice for women and people of all genders," Lawrence said.
Junior chemistry major and president of the QSA, David Olivas, said that he is proud of the UTEP community and their acceptance of issues like marriage equality.
"This is just a historical event. In a few years, children are going to be reading this in books possibly," Olivas said. "So I am very proud to be here, because I am going to be like 'Wow I was there when it happened' and I do speak for a lot of the students at UTEP, (they) believe in equality and in the rights of others."
Both Lawrence and Olivas were amazed by the support that the UTEP and El Paso community demonstrated at the rally.
"I am amazed that as a community, we were able to throw this together and organize it and make it so cohesive and full and representative of our community," Lawrence said.
Quickly after the Supreme Court's decision was announced, Texas Governor Greg Abbott spoke in opposition of marriage equality citing the protection of religious liberty as the main issue.
"Texans of all faiths must be absolutely secure in the knowledge that their religious freedom is beyond the reach of government.  Renewing and reinforcing that promise is all the more important in light of the Supreme Court's decision in Obergefell v. Hodges," Abbott said.
Governor Abbott went on to say that, "as government officials, we have a constitutional duty to preserve, protect, and defend the religious liberty of every Texan."
In response to Abbott's statement Olivas said, "I have to respect how people feel. I can't always say that people are wrong for the way they feel because I have the right to think and feel what I want and I think that the people who oppose this they have the right to believe. You know, some people are very religious and they don't believe in it and I totally respect (them). However, in the eyes of the law, I don't believe religion should be getting into this."
Olivas said that this is the first of many new changes in this progressive era.
"Movement, this is big, because growing up as a little kid, I never thought that we would be getting married," Olivas said. "I mean we have television that has gays everywhere, there are gay bars, and now marriage, so we are just moving so forward and so I'm thinking what's next."
Amanda Guillen may be reached at [email protected]
The first marriage in El Paso Texas took place just a few minutes ago in the County Courthouse. #SCOTUS #ElPaso #Texas

— The Prospector (@UTEP_Prospector) June 26, 2015
388th District Court judge Laura Strathmann prepares to marry EPTX's second couple. #SCOTUS #MarriageEquaility #EPTX

— The Prospector (@UTEP_Prospector) June 26, 2015
2nd marriage minutes away from becoming official. #MarriageEquaility

— The Prospector (@UTEP_Prospector) June 26, 2015
72hr.waiver has been signed marriage is commencing! #SCOTUS #MarriageEquaility

— The Prospector (@UTEP_Prospector) June 26, 2015