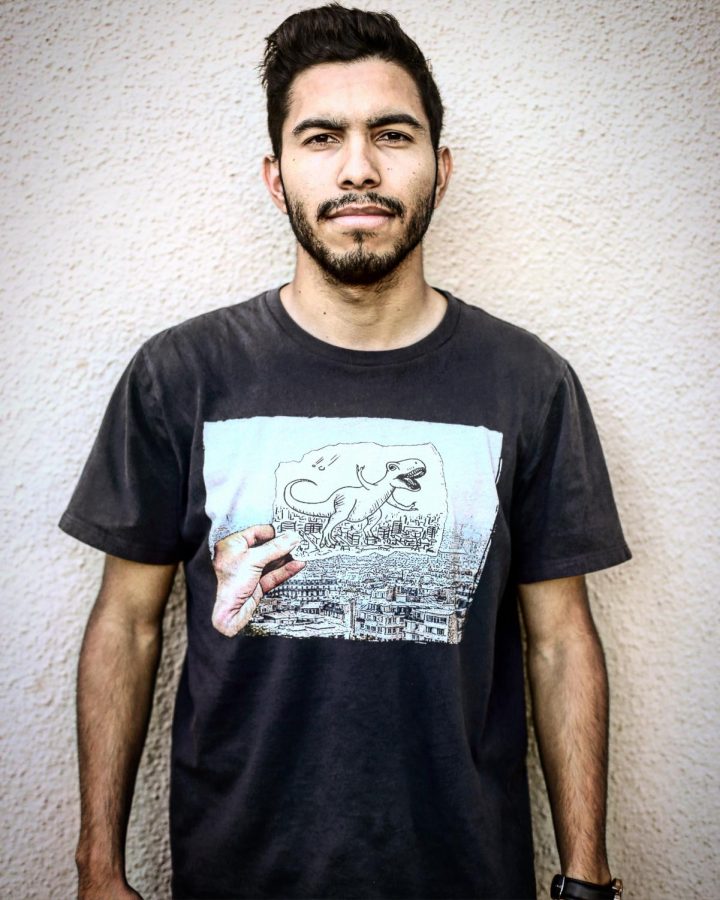 Javier Cortez is a staff reporter for The Prospector. He is a senior multimedia journalism major, with a minor in English Rhetoric.
Javier was born and raised in El Paso, TX and before coming to UTEP in the summer of 2012, he graduated from Irvin High School, where he was a four-year varsity tennis player, a member of student council and a class officer for his graduating class.
He has also worked for the El Paso Diablos as a sports information intern on their media relations team.
In his spare time, Javier loves to write columns for the perspectives section in the school newspaper—whether it is sports, pop culture, religion, and society he loves to write about it.
To go along with writing, Javier loves reading anything about sports, religion, and non-fiction.
Javier Cortez, Staff Reporter
Dec 03, 2018

Tips for college students pursuing a career in journalism

(Story)

Dec 03, 2018

So long everyone!

(Story)

Nov 12, 2018

Watts out as UTEP Volleyball head coach

(Story)

Nov 06, 2018

Midterm 2018 Election Pulse

(Story)

Nov 06, 2018

Retire number five

(Story)

Oct 29, 2018

Kevin Cross Out as Head Coach of UTEP Soccer

(Story)

Oct 13, 2018

Senator Cruz Rallies in El Paso

(Story)

Oct 08, 2018

More of the same thing

(Story)

Sep 25, 2018

There are no heroes today

(Story)

Sep 11, 2018

Please remember Don Haskins

(Story)

Sep 05, 2018

The Educators: Episode 6: Dr. Upton (Part 1)

(Story/Media)

Sep 04, 2018

Make up your mind

(Story)

Aug 27, 2018

New beginnings arise for The Prospector

(Story)

Jul 18, 2018

The Educators: Episode Five: Ginaelisa Cortez

(Story)

Jul 16, 2018

This week at UTEP: July 16-21

(Story)

Jul 09, 2018

This week at UTEP: July 9-14

(Story)

Jun 18, 2018

This week at UTEP: June 18-24

(Story)

Jun 14, 2018

The Educators: Episode Four: Amanda Guillen

(Story)

May 19, 2018

The Educators: Episode Two: Professor Unsworth

(Story)

May 18, 2018

Las Cruces resident wins big in sweepstakes

(Media)

Apr 13, 2018

The Educators: Episode One: Kathy Flores

(Story)

Oct 14, 2016

Still plenty to play for in 2016

(Story)

Oct 11, 2016

Volleyball improves over the weekend

(Story)

Sep 14, 2016

Chihuahuas blow past Oklahoma City in game two

(Story)

Sep 13, 2016

Chihuahuas rally in the eighth to win game one

(Story)

Sep 07, 2016

Chihuahuas come up empty in late game rally

(Story)

Sep 06, 2016

Five things to anticipate for the Chihuahuas' playoffs

(Story)

Aug 30, 2016

Miners will travel to Tennessee in 2018

(Story)

Aug 28, 2016

Fans mourn the loss of Juan Gabriel

(Story)

Aug 26, 2016

Miner legend Ted Banks passes away

(Story)

Aug 24, 2016

Men's cross country team tops C-USA preseason poll

(Story)

Aug 23, 2016

Former Miner great Calvillo added to coaching staff

(Story)

Jun 07, 2016

The rationale of Trump supporters

(Story)

May 25, 2016

Protesters overshadow Trump rally in Albuquerque

(Story/Media)

May 03, 2016

UTEP Officials plan for concealed carry

(Story)

Apr 26, 2016

Student expresses herself through live art

(Story)

Apr 19, 2016

Centennial Plaza designed to be eco-friendly

(Story)

Apr 05, 2016

Be Assertive, Speak Up

(Story)

Mar 29, 2016

Body building a growing sport in El Paso

(Story)

Mar 22, 2016

Women's conference to cover relevant issues

(Story)

Mar 15, 2016

Mobile boutiques roll into El Paso

(Story)

Mar 01, 2016

Zika virus may pose threat to those traveling to Mexico

(Story)

Feb 23, 2016

Afro-Mexicans recognized in Mexico

(Story)

Feb 18, 2016

UTEP President Natalicio collapses on campus

(Story)

Feb 16, 2016

UTEP awarded grant to fund more Hispanic faculty

(Story)

Feb 09, 2016

URGE ready to be the voice of women's reproductive rights at UTEP

(Story)

Feb 02, 2016

Campus Carry Task Force reveals gun-free zones

(Story)

Jan 26, 2016

Pope's visit means campus closure, Sun Bowl party

(Story)

Jan 26, 2016

Lebron on the downhill slippery slope

(Story)

Jan 19, 2016

New policy change will lead to more service animals on campus

(Story)

Dec 01, 2015

Miners show promise for the future even in a rebuilding season

(Story)

Dec 01, 2015

Give the Miners time and temper your expectations

(Story)

Nov 22, 2015

Miners fall on Senior Day to La. Tech 17-15

(Story)

Nov 17, 2015

Come out and support seniors

(Story)

Nov 03, 2015

Men's and women's team on the rise

(Story)

Nov 03, 2015

Bet smart this NBA season and go with the Golden State Warriors in June

(Story)

Oct 27, 2015

Mets top Royals in six

(Story)

Oct 20, 2015

Men's basketball ready to excite in Orange and White Scrimmage

(Story/Media)

Oct 13, 2015

Miners suffer big blow with loss of Coline Coessens

(Story/Media)

Oct 08, 2015

What is UpStge? Part 3: The Review

(Story)

Oct 08, 2015

What is UpStge? Part 2: Q & A with founder Andres Hernandez

(Story)

Oct 07, 2015

What is UpStge? Part 1: The Preview

(Story)

Sep 29, 2015

Support Smith-Soto

(Story)

Sep 29, 2015

A solution to the National League Cy Young Dilemma

(Story)

Sep 29, 2015

Miners looking to gain momentum as Florida road trip looms

(Story)

Sep 22, 2015

The death of Romo?

(Story)

Sep 22, 2015

"No name"-Ryan Metz comes to the forefront in Miners first win

(Story)

Sep 22, 2015

Change at quarterback will bode well for remainder of the season

(Story)

Sep 15, 2015

UTEP Volleyball goes 2-2 in Borderland Invitational at the Don

(Story)

Sep 15, 2015

Chihuahuas and fans go out in style as season comes to an end

(Story)

Sep 15, 2015

Floyd says goodbye?

(Story)

Sep 15, 2015

Miners get edged out by Texas Tech in third-set thriller

(Story)

Sep 12, 2015

Sooners stifle Miners 3-0

(Story)

Sep 12, 2015

Miners double up on Friday

(Story)

Sep 10, 2015

UTEP falls to Denver University

(Story)

Sep 08, 2015

Red Raiders offense poses a tall tasking for Miners defensively

(Story)

Sep 08, 2015

UTEP volleyball is ready and excited for home debut in the Haskins

(Story)

Sep 01, 2015

Leftwich secures starting spot at quaterback

(Story)

Sep 01, 2015

Miners and Lobos renew rivalry starting in 2016

(Story)

Aug 25, 2015

Five questions for this semester in sports

(Story)

Aug 25, 2015

Chihuahuas make late push for PCL playoffs

(Story)

Jun 23, 2015

Winning should not equal MVP

(Story)

Jun 11, 2015

Single-car crash on Sun Bowl Dr.

(Story)

Jun 10, 2015

2015 NBA Finals: Game 3 Recap

(Story)

Jun 09, 2015

2015 NBA Finals: Game 2 Recap

(Story)

Jun 07, 2015

2015 NBA Finals: Game 1 Recap

(Story)

Jun 04, 2015

Three Keys to the 2015 NBA Finals

(Story)

Apr 02, 2015

REPORT CARD: Vince Hunter

(Story)

Apr 02, 2015

Report Card: Julian Washburn

(Story)

Mar 26, 2015

Report Card: 2014-15 UTEP Men's Basketball Team

(Story)

Mar 24, 2015

Tennis continues to win, beats Seattle University

(Story)

Feb 03, 2015

Super Bowl XLIX: Did that just happen?

(Story)

Feb 03, 2015

UTEP tennis dominates first matchup

(Story)

Jan 20, 2015

The Playoff worked, so what?

(Story)

Dec 20, 2014

Miners fall in Gildan New Mexico Bowl

(Story)

Dec 02, 2014

Overcoming injuries for the love of the game

(Story)

Dec 02, 2014

Home grown talent showing hard work pays off

(Story)

Dec 02, 2014

The present is dark but the future is bright for UTEP Volleyball

(Story)

Dec 02, 2014

Five athletes you need to see in 2015

(Story)

Nov 29, 2014

Miners fall in season finale

(Story)

Nov 28, 2014

NMSU wins Battle of I-10

(Story)

Nov 22, 2014

Miners take Round 1 in Battle of I-10

(Story)

Nov 18, 2014

Men's club soccer ready for another crack at Nationals

(Story)

Nov 11, 2014

Lady Miners continue to fight to end of season

(Story)

Nov 04, 2014

Two Teams Two Different Paths

(Story)

Nov 04, 2014

Two Teams Two Different Paths

(Story)

Oct 31, 2014

Southern Miss edges out Miners 3-1

(Story)

Oct 28, 2014

Miners look to dazzle in Orange and White Scrimmage

(Story)

Oct 28, 2014

Miner defense makes history on the road against UTSA

(Story)

Oct 26, 2014

Miners defeat FIU, 2-1

(Story)

Oct 22, 2014
Oct 21, 2014

Prospy Picks: 2014 World Series

(Story)

Oct 19, 2014

Hilltoppers trounce Miners

(Story)

Oct 17, 2014

Rice defeats UTEP 3-0

(Story)

Oct 14, 2014

Miner backfield full of depth

(Story)

Oct 07, 2014

New look Miners are hungry for glory in 2014-15 season

(Story)

Sep 30, 2014

Men's cross country wins again

(Story)

Sep 30, 2014

The never ending war

(Story)

Sep 28, 2014

Sluggish start hinders Miners

(Story)

Sep 26, 2014

UNT slips by the Miners

(Story)

Sep 23, 2014

Miners fall to UTSA in conference opener

(Story)

Sep 23, 2014

Miners prepare for domination

(Story)

Sep 16, 2014

How sweet it is, the domination of a rival

(Story)

Sep 16, 2014

Third time's a charm

(Story/Media)

Sep 13, 2014

Miners fall to CSU in straight sets

(Story)

Sep 09, 2014

A game that changed the course of history

(Story)

Sep 09, 2014

UTEP men's basketball dream team

(Story)

Sep 09, 2014

A program like no other

(Story)

Sep 09, 2014

100 years of struggle

(Story)

Sep 09, 2014

Top 10 male athletes of all time at UTEP

(Story)

Sep 09, 2014

Top 10 female athletes of all time at UTEP

(Story)

Sep 09, 2014

The '80s: A decade of dominance

(Story)

Sep 08, 2014

The Prospector's Centennial football team

(Story)

Sep 07, 2014

Another heart breaker

(Story)

Sep 01, 2014

Chihuahuas finish strong

(Story)

Aug 31, 2014

Chihuahuas sting Bees, 9-7

(Story)

Aug 30, 2014

Winning with luck, Miners vs UNM, 31-24

(Story)

Aug 25, 2014

Big shoes to fill

(Story)

Aug 19, 2014

Chihuahuas end three game skid

(Story)

Jul 24, 2014

River Cats return the favor

(Story)

Jul 22, 2014

Run, Hillary, Run!

(Story)

Jul 22, 2014

Padres-Angels trade has an impact on all homefronts

(Story)

Jul 15, 2014

A homesick Jackson departs UTEP

(Story)

Jul 15, 2014

Top five stories lines from the 2014 FIFA World Cup

(Story)

Jul 15, 2014

Chihuahuas poised to make postseason run

(Story)

Jul 13, 2014

World Cup Recap: Germany vs. Argentina

(Story)

Jul 09, 2014

World Cup Recap: Argentina vs. Netherlands

(Story)

Jul 08, 2014

Getting to know: Lew Stallworth

(Story)

Jul 08, 2014

Future for MLS in El Paso still bright

(Story)

Jul 05, 2014

World Cup Recap: Netherlands vs. Costa Rica

(Story)

Jun 30, 2014

Isotopes steal game one

(Story)

Jun 29, 2014

Chihuahuas-Rainiers series nothing short of special

(Story)

Jun 24, 2014

Getting to know: Mar'qywell Jackson

(Story)

Jun 24, 2014

World Cup invites all types of life

(Story)

Jun 20, 2014

Getting to know: Terry Winn

(Story)

Jun 18, 2014

Getting to know: Trey Touchet

(Story)

Jun 18, 2014

There's no I in team

(Story)

Jun 17, 2014

Sopel snags two big time recruits for tennis

(Story)

Jun 17, 2014

MLS, too early to tell

(Story)

Jun 10, 2014

An Experience like no other

(Story)

Jun 10, 2014

Great Expectations, Bad Outcome

(Story)

Jun 01, 2014

A Rematch for the Ages!

(Story)

May 17, 2014

The Usual Suspects

(Story)

May 12, 2014

Chihuahuas stomp Isotopes 10-2

(Story)

May 07, 2014

Q & A with Davina Meza, UTEP tennis player

(Story)

May 06, 2014

Chihuahuas get back on track, win four straight

(Story)

May 06, 2014

Meza finds immediate impact on the court

(Story)

Apr 29, 2014

Art: the tragic end

(Story)

Apr 29, 2014

Usual suspects find success at Drake Relays

(Story)

Apr 29, 2014

UTEP sports provide entertainment for students

(Story)

Apr 29, 2014

Play ball! Southwest University Park officially opens

(Story)

Apr 22, 2014

NBA Finals rematch not a sure deal

(Story)

Apr 15, 2014

Increase better than it seems

(Story)

Apr 15, 2014

Miners get top finishes at UTEP Invitational

(Story)

Apr 09, 2014

UTEP proposes to increase tuition and fees

(Story)

Apr 08, 2014

Getting in the groove ahead of UTEP Invitational

(Story)

Apr 08, 2014

Calvillo enjoying best years of her life

(Story/Media)

Apr 08, 2014

Fan support is a sham

(Story)

Apr 02, 2014

UTEP defeats South Dakota State 66-63 in WNIT semifinal

(Story)

Apr 01, 2014

Binge drinking a real danger for college students

(Story)

Apr 01, 2014

Trainers crucial for student athletes

(Story)

Apr 01, 2014

Miners bounce back with pair of victories

(Story/Media)

Mar 31, 2014

UTEP takes down Washington, moves on to WNIT Final Four

(Story)

Mar 25, 2014

Miners fall to Lobos, Aggies

(Story)

Mar 25, 2014

Outdoor season opens with Springtime Meet

(Story)

Mar 25, 2014

Learning to cope with adversity

(Story)

Mar 25, 2014

Thornton finishes as the best in school's history

(Story)

Mar 25, 2014

God bless gay marriage

(Story)

Mar 19, 2014

Fresno State tops UTEP in CBI to end their season

(Story)

Mar 19, 2014

Tournament disappointment

(Story)

Mar 15, 2014

No. 22 Middle Tennessee State annihilates Southern Miss 84-55

(Story)

Mar 14, 2014

Bulldogs pound Golden Eagles, will play Tulsa for NCAA bid

(Story)

Mar 14, 2014

Tulsa outlasts Middle Tennessee to earn place in C-USA final

(Story)

Mar 13, 2014

Coley, upset minded Panthers take down Tulane

(Story)

Mar 13, 2014

Golden Eagles take down Miners 64-56

(Story)

Mar 12, 2014

Charlotte defeats depleted UAB 80-70

(Story)

Mar 12, 2014

Old Dominion stomps Marshall 73-58

(Story)

Mar 11, 2014

East Carolina pulls off improbable comeback to beat UTSA

(Story)

Mar 06, 2014

19th annual Mexican literature conference to take place at UTEP

(Story)

Mar 04, 2014

Miners begin spring season workout

(Story)

Mar 04, 2014

Bohannon wants to make most of final season

(Story)

Feb 27, 2014

Smoking a selfish choice- Rebuttal to "Smoking: nostalgia and allure"

(Story)

Feb 26, 2014

Miners close home schedule with win over UTSA

(Story)

Feb 25, 2014

Conference championship in sight

(Story)

Feb 25, 2014

Women's track and field aiming for solid performance

(Story)

Feb 25, 2014

Victories give tennis team a boost before road games

(Story/Media)

Feb 20, 2014

Ray Sanchez provides words of wisdom at book signing

(Story)

Feb 20, 2014

Sports writer Ray Sanchez to hold book signing at Centennial Museum

(Story)

Feb 18, 2014

Tennis grab important pair of wins at home

(Story)

Feb 18, 2014

Floyd needs to be recognized for his job

(Story)

Feb 18, 2014

Runners make progress before conference championships

(Story)

Feb 15, 2014

UTEP cruises past Florida International 84-71

(Story)

Feb 11, 2014

Miners prepare for crucial visits to Old Dominion, North Texas

(Story)

Feb 11, 2014

Track earns 7th place at Texas A&M Invitational

(Story)

Feb 08, 2014

Miners use big second half to tame Golden Panthers

(Story)

Feb 04, 2014

The seven stages of grief: Super Bowl XLVIII

(Story)

Feb 04, 2014

Fighting to remain on top

(Story)

Feb 04, 2014

Who gives a fuck?

(Story)

Feb 04, 2014

Turner working well with new mindset

(Story)

Feb 01, 2014

UTEP uses big second half to come back to defeat Rice 68-57

(Story)

Jan 30, 2014

UTEP muffles Bulldogs 89-79, goes top of Conference USA

(Story)

Jan 30, 2014

Why you should go for the Broncos

(Story)

Jan 29, 2014

Miners take on conference leader Louisiana Tech

(Story)

Jan 28, 2014

Roberts latest of coaches departing for a better 'opportunity'

(Story)

Jan 28, 2014

Déjà Vu for new head coach Myriam Sopel

(Story)

Jan 23, 2014

Miners begin three game home stand Saturday against UTSA

(Story)

Jan 23, 2014

Forty-eighth annual estate planning conference holds first of five-part series

(Story/Media)

Jan 21, 2014

Willms aims for new heights

(Story)

Jan 21, 2014

Turning a negative into a positive

(Story)

Jan 18, 2014

Charlotte hands UTEP first home loss of the season

(Story)

Jan 11, 2014

Miners hold off Marshall's late rally for first conference win

(Story)

Jan 09, 2014

UTEP falls to Charlotte in Conference USA opener

(Story)

Dec 29, 2013

UTEP escapes Denver in double overtime to claim Sun Bowl Invitational crown

(Story)

Dec 28, 2013

UTEP rallies back to defeat Western Illinois in Sun Bowl Invitational

(Story)

Dec 19, 2013

Moore returns to boost Miners to 84-74 win over Demons

(Story)

Dec 07, 2013

Miners cruise over Sacramento State

(Story)

Dec 07, 2013

Women's basketball tops Mustangs to remain undefeated

(Story)

Dec 03, 2013

The good, the bad and the ugly of the 2013 football season

(Story)

Dec 03, 2013

Creating a new level of expectations

(Story)

Dec 03, 2013

Seniors ready to continue life after football

(Story)

Nov 26, 2013

Miners off to the Bahamas

(Story)

Nov 26, 2013

Football team ends season against Blue Raiders

(Story)

Nov 19, 2013

International athletes adjust to new setting

(Story)

Nov 19, 2013

Miners upend the Rams 82-74

(Story)

Nov 19, 2013

Miners face old rival Colorado State

(Story)

Nov 16, 2013

UTEP women's basketball routs Kansas State 84-39

(Story)

Nov 16, 2013

Miners top Golden Panthers 33-10 on senior night

(Story)

Nov 14, 2013

UTEP student organizations at Union breezeway

(Media)

Nov 13, 2013

Lively concert, unimpressive 3-D visuals

(Story)

Nov 12, 2013

206th edition of the Battle of I-10

(Story)

Nov 12, 2013

UTEP hosts FIU in final home game of 2013

(Story)

Nov 09, 2013

Miners tip-off new season with a win

(Story)

Nov 08, 2013

Redskins: The somehow debatable topic

(Story)

Nov 05, 2013

Moving on after adversity

(Story)

Nov 05, 2013

A 3-D experience that will make you feel 'In the Air'

(Story)

Nov 05, 2013

Miners face division leader North Texas

(Story)

Nov 02, 2013

Second half surge helps Miners top Savage Storm

(Story)

Oct 31, 2013

Halloween costume contest held at the Union

(Story)

Oct 31, 2013

The BCS: Good in theory, bad in reality

(Story)

Oct 29, 2013

Miners up against Manziel and Texas A&M Aggies

(Story)

Oct 22, 2013

A slow transition under Kugler

(Story)

Oct 22, 2013

An underwhelming performance for the Miners

(Story)

Oct 15, 2013

Jones making the most of his opportunity

(Story)

Oct 13, 2013

Tulsa holds onto early lead to top Miners

(Story)

Oct 09, 2013

Miners and Golden Hurricane seeking first conference win

(Story)

Oct 08, 2013

Homecoming wraps up with no happy ending

(Story)

Oct 08, 2013

UTEP tennis set for Arizona test

(Story)

Oct 05, 2013

UTEP's homecoming wraps up with no happy ending

(Story)

Oct 01, 2013

Perry embracing a new role

(Story)

Oct 01, 2013

Miners host Bulldogs in battle of one-win teams

(Story)

Oct 01, 2013

Men's basketball begins practice for the upcoming season

(Story/Media)

Sep 26, 2013

Miners take on Colorado State

(Story)

Sep 24, 2013

Laufasa making an early impression

(Story)

Sep 22, 2013

Miners fall to Roadrunners on Sun Bowl's 50th anniversary

(Story)

Sep 17, 2013

Miners open conference against UTSA

(Story)

Sep 17, 2013

Leslie comes back to build on past success

(Story)

Sep 10, 2013

The 99-year history of the Battle of I-10

(Story)

Sep 10, 2013

Kasey Carrier and the Lobos spoil Kugler's debut

(Story)

Sep 10, 2013

The Atheists use community service to expand, contribute

(Story)

Sep 08, 2013

Kasey Carrier and the Lobos spoil Kugler's debut in overtime

(Story)

Sep 07, 2013

Miner volleyball close out UTEP Invitational with victory over Texas Southern

(Story)

Sep 03, 2013

Miners and Lobos renew 94-year rivalry

(Story)

Aug 27, 2013

An Offseason Full of Changes for the Miners

(Story)