Mets top Royals in six
Hang on for a minute...we're trying to find some more stories you might like.
The 111th edition of the World Series starts tonight with game one between the National League champions, the New York Mets, and the American League champions, the Kansas City Royals.
It's odd that these are the two best teams that the fall classic has to offer when you consider the history of each franchise. In recent years, Kansas City has been plucked from obscurity, and in New York's case, they have been stellar the past three months.
You have two teams that have been championship contenders roughly every 30 years. Instead of the Cardinals and Yankees, we get the Royals and Mets.
In most cases that would sound like a bummer, but this could be one of the best World Series in recent years, besides last year.
The Royals come in with an established track record as the best team in baseball over the past two seasons. They lost a heartbreaking game seven to the San Francisco Giants last year in the World Series, where they nearly stole the series in the bottom of the ninth.
Despite a dominant regular season they found a way to fall behind in games this postseason, but true to the script they always found a way to comeback. Their one through nine is full of guys who come up with big-time hits, and their bullpen is still mostly intact.
The Mets, on the other hand, surprised everyone on Earth, even the baseball gods, with their dominant run beginning in August. Much of their success came from a trade that resulted in outfielder Yoenis Céspedes.
The Cuban reinvigorated the Mets' offense, and rightfully so he got some MVP consideration.
Céspedes, a power hitting left fielder with a cannon for an arm, is somewhat of an enigma. He has played for four teams in as many years, but no one seems to want him. No matter the production, teams seem to get tired of him. Whether he is a locker room cancer or aloof is unknown, but you can bet on the Mets to let him go after the season.
Céspedes is kind of like that cute dog you find on the street. The sad eyes and cuteness are so overwhelming that you have to pull the car over and take him in. Then two weeks pass and you realize you have to feed him, get him rabies shots, and by the end of the month he's back on the streets or in a shelter.
Although Céspedes deserves a lot of credit for the Mets' current situation, there are other guys who have taken the world by storm, especially one in particular. The Mets' second baseman Daniel Murphy is playing unbelievably well.
In nine postseason games, he is batting .421 with seven homeruns and a video game OPS of 1.462. Murphy looks like a homerun-hitting version of Joe Morgan. There is even talk that the Royals might not pitch to him as if he is Barry Bonds or Albert Pujols, which sounds insane for a guy that hit 14 regular-season home runs in 130 games.
Like Céspedes, Murphy is a free agent, so once this season concludes you can expect a desperate franchise with poor team-building skills such as the Los Angeles Dodgers to offer him an insane contract, like 10 years, $320 million for this insane postseason run.
Along with the Mets, the two most intriguing free agents are on one of the best pitching staffs in all of baseball. Ace Matt Harvey will start game one tonight, followed by future Pantene for Men endorsers Jacob deGrom and Noah Syndergaard, in games two and three respectively. Last on the list is another youngster in Steven Matz, who was pretty impressive in his game four start against the Chicago Cubs in the NLCS.
All four of these guys can throw fireballs, and none of them have shown their best stuff during October. Which is why the Mets will win this series.
But the coup de grâce to the Royals' shot at winning is the Mets closer Jeurys Familia. In 9.2 innings pitched, he has only allowed two hits, while surrendering zero runs. The Royals have a knack for making improbable late-game comebacks, but if this guy gets the ball at the latter stages it's over.
The Royals, on the other hand, have a much more erratic starting pitching staff. Edinson Vólquez, Yordano Ventura, and Johnny Cueto are all question marks when they step on the mound. They can be great or downright awful. The Royals' saving grace is their bullpen led by Kelvin Herrera and Wade Davis, but the loss of closer Greg Holland might come back to hurt them.
Herrera and Davis have been untouchable so far this postseason. But keep in mind the Mets have found a way to beat Zach Greinke, Clayton Kershaw, and Jake Arietta. All three are considered to be the best pitchers in baseball. The Mets can hit against anyone.
People will argue that the Mets are full of young players who will succumb to the bright lights of the World Series while the Royals will use their experience from last year to win it all. But experience does not mean anything, baseball is baseball. The rules are the same in June and in late October.
You have to love the way Kansas City plays, but at the end of the day, they have run into another monster that cannot be beaten. Similar to the Madison Bumgarner-led Giants last year, this year the Mets will find a way to get it done behind Daniel Murphy.
Mets in six.
Javier Cortez may be reached at [email protected]

About the Writer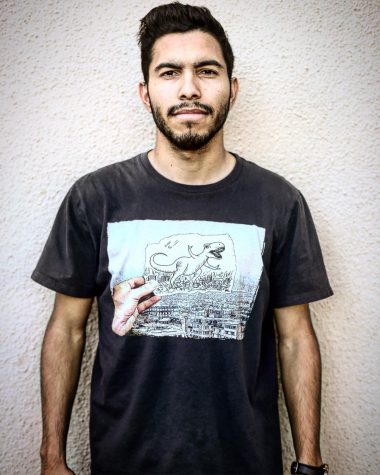 Javier Cortez, Staff Reporter
Javier Cortez is a staff reporter for The Prospector. He is a senior multimedia journalism major, with a minor in English Rhetoric.

Javier was born...