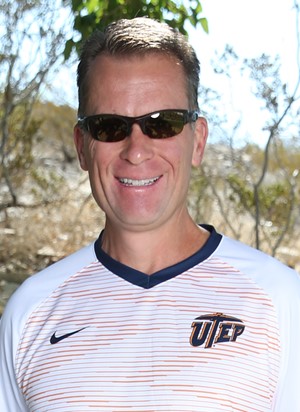 After 21 years in the Sun City coaching UTEP women's soccer and the last 18 years as head coach, Kevin Cross has been "relieved" of his "duties" by UTEP Director of Athletics Jim Senter.
In a press release, UTEP Athletics stated the national wide search will begin immediately to appoint his successor.
"I am disappointed to be relieved of my duties as head soccer coach at UTEP after 21 years at UTEP and 18 years as the head coach," Cross said in a UTEP Athletics press release. "I would like to thank Veronica O'Brien for hiring me as an assistant coach in 1997, the year after the program began, and Bob Stull for hiring me as the head coach in 2001. I also appreciate my staff, who is like family to me in Heather Clark who has been with me for 15 years and Jessie Pettit. I have really loved my time at UTEP and the El Paso community has treated me great."
"We'd like to thank Kevin for all his hard work during 20-plus years at UTEP," Director of Athletics Jim Senter said.  "He built a regionally competitive program.  As we look to take the next step and contend for conference championships, we felt like it was best to move in a new direction.  We wish Kevin well in his future endeavors."
Cross was an assistant coach in the program's inaugural 1997 season before taking over as head coach–the second in program history–in 2001. He is the winningest coach in program history with a record 212-127-27.
"We have had a lot of success in the UTEP Soccer program, going 15 years in a row with winning records and amassing over 200 wins, all at UTEP," Cross said. "We have played in three championship games and the second round of the NCAA tournament. On top of that, we have had great success in the classroom and every player I have coached for four years has graduated."
The UTEP soccer team finished their 2018 season 12th in conference play with 10-points and an overall record of 7-8-4. The Miners failed to qualify for the Conference USA tournament three of the last five years and five of the last nine under Cross.
"I am looking forward to my next challenge in life and I am very appreciative of all that UTEP Soccer has given me," Cross said. "I wish nothing but the best for UTEP Soccer as it is always going to be a part of my soul. I am leaving UTEP Soccer with a heavy heart but I have been forced to move on. I have given every ounce of energy to UTEP Soccer for the last 21 years, which is an incredible run."
Updates to follow.