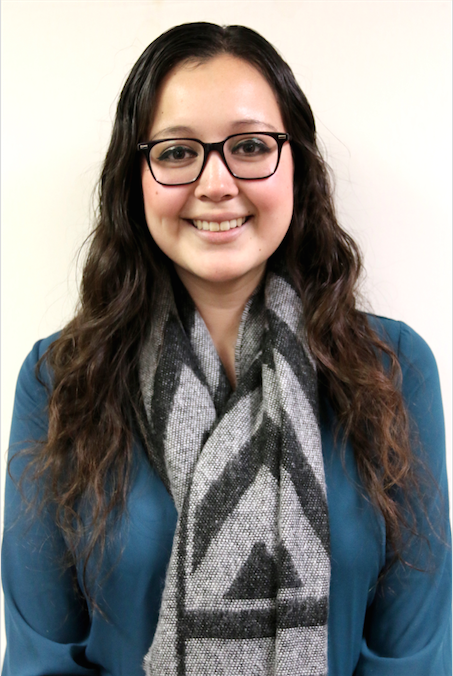 Lorain Watters is a senior psychology and multimedia journalism major. She is currently the managing editor at The Prospector, previously holding the position of entertainment editor.
Along with the newspaper and classes, Lorain is also a part of the National Society of Collegiate Scholars honors organization on campus.
In her spare time, she enjoys reading at coffeeshops, discovering new music and driving. Lorain strives to work for the New York Times or the Huffington Post in the future.
Lorain Watters, Editor-in-chief Editor
Dec 12, 2014

Sharing services lack regulation, enough liability, critics say

(Story/Media)

Nov 23, 2014

Immigrants' message to Obama: The people have his back

(Story/Media)

Nov 10, 2014

Living in harmony: Republicans, Democrats, independents working together

(Story)

Nov 10, 2014

VA wants better job opportunities, health care for vets

(Story)

Nov 04, 2014

Election headaches?

(Story)

Oct 28, 2014

Election apps are on the rise, but online voting is not

(Story)

Oct 01, 2014

Tom Lea's influence in the nation's capital, my home away from home

(Story)

Oct 01, 2014

Artist Tom Lea commemorated, American murals to be better preserved

(Story)

Oct 01, 2014

Tom Lea's influence in the nation's capital, my home away from home

(Story)

Sep 23, 2014

Rankings released for 'America's worst colleges'

(Story)

Sep 19, 2014

White House launches campaign to prevent campus sexual assaults

(Story)

Sep 18, 2014

'Orange is the New Black' author receives award for work to reform prisons

(Story)

Sep 16, 2014

Civilian robotics emerge with legislative questions trailing behind

(Story)

Sep 09, 2014

Rubén Salazar, the voice of a generation

(Story)

Jul 08, 2014

Local nonprofit aids undocumented with civil and human rights

(Story)

Jun 10, 2014

Tumblr goes to the White House

(Story)

May 06, 2014

Female students progress through male-dominated STEM workforce

(Story)

Apr 29, 2014

Psychology major spray paints the city like a canvas

(Story)

Apr 22, 2014

Miner Recycling System initiated on campus

(Story)

Apr 15, 2014

Tuition increases, my wallet ceases

(Story)

Apr 15, 2014

Proposal for tuition involves 3 percent increase

(Story)

Apr 08, 2014

A minority within the minority: Arab heritage intersects Hispanic culture

(Story)

Apr 01, 2014

Deadline extended for affordable health insurance

(Story)

Mar 04, 2014

A sold out concert

(Story)

Mar 04, 2014

Chemistry professor starts radio segment to showcase campus-wide research

(Story)

Feb 18, 2014

The Sun City Digitalized by Duo

(Story)

Feb 11, 2014

The girl next door: student dancer shares her story

(Story)

Feb 04, 2014

Good guy Google releases innovative app for your money

(Story)

Jan 21, 2014

10 million set aside for centennial preparation

(Story)

Jan 21, 2014

Former student begins recycling initiative at UTEP

(Story)

Dec 03, 2013

Commencement ceremony to be streamed live on KFOX-TV

(Story)

Nov 26, 2013

Holiday parade route changed due to construction

(Story)

Nov 20, 2013

The Prospector staff travels to New Orleans for media awards

(Media)

Nov 19, 2013

Jaime Picks Up: Episode 8

(Media)

Nov 19, 2013

Why you should choose local over chain

(Story)

Nov 11, 2013

Drug policy symposium brings big names to campus

(Story)

Oct 22, 2013

Student survives fall, shares story

(Story/Media)

Oct 22, 2013

Campus cats find support through community programs

(Story)

Oct 15, 2013

Monastere awaits trial for fondling three women on campus

(Story)

Oct 15, 2013

Construction causes trouble for students with disabilities

(Story)

Oct 14, 2013

Accident at Union raises safety concerns

(Story)

Oct 08, 2013

Construction plays no favorites

(Story)

Sep 24, 2013

The Affordable Care Act wants you (and your money)

(Story)

Sep 24, 2013

Coffee and tea go their separate ways

(Story/Media)

Sep 17, 2013

Top national jobs not common in El Paso, students consider leaving

(Story)

Sep 12, 2013

J.K. Rowling partners with Warner Bros. for new series

(Story)

Sep 10, 2013

Students voice concerns on security

(Story)

Sep 05, 2013

UTEP to host state of the border presentation

(Story)

Sep 05, 2013

Associated Collegiate Press announces The Prospector as a finalist

(Story)

Sep 05, 2013

White House Initiative on Educational Excellence for Hispanics to hold town hall meeting at UTEP

(Story)

Sep 05, 2013

Parking lot closures begin today for Minerpalooza

(Story)

Sep 03, 2013

O'Rourke to vote 'no' on military action in Syria

(Story/Media)

Sep 03, 2013

Congressman Beto O'Rourke to hold town hall meeting tonight

(Story)

Aug 29, 2013

Targeted Blackboard Phishing Scam

(Story)

Aug 28, 2013

ADP Increases Support of Future Math and Science Teachers to $2 Million

(Story)

Aug 27, 2013

Inner Campus Water Line Failure

(Story)

Aug 21, 2013

San Japan convention passes 11,000

(Story/Media)