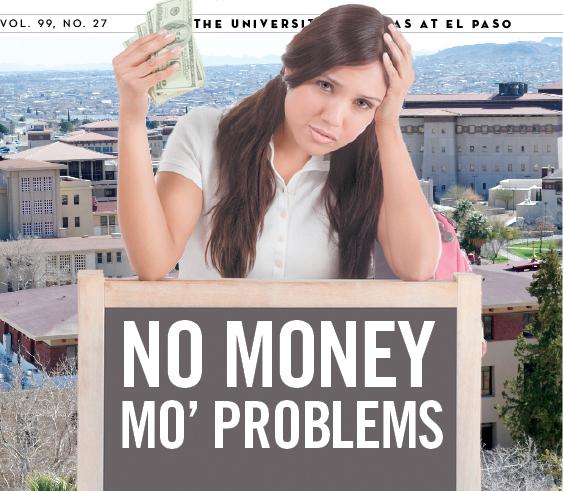 A proposal will be presented to the University of Texas System Board of Regents on April 23 regarding an increase in tuition and fees by 3 percent. Administrators said the tuition increase is needed as a result of UTEP having to implement a reduction of its state appropriation by 15 percent, or $27 million over the past five years.
Gary Edens, vice president for student affairs, said that the process of raising tuition and fees happens every two years after the university receives guidelines from the UT System.
"We follow those guidelines and we host open forums, talk to (the Student Government Association,) administration and business affairs to determine what plan we want to propose to the UT System," Edens said. "That usually takes a couple of months because we are bringing in together a lot of different people's feedback."
In 2012, the UT System Board of Regents approved an increase of 2.2 percent in tuition.
"Schools have been losing funding and subsidies from the state for years," said Juan Gonzalez, director of Student Business Services. "We have emergency loans and installment plans to help students, but part of being successful comes with your wallet hurting a little bit."
The proposal also includes a one-time student fee for new students—new undergraduate residents will pay $180, new undergraduate international students will pay $200 and new undergraduate transfer students will pay $150. The fee will then drop to $100 across the board for all students, from their second semester until graduation. All students that were admitted before the fall of 2014 will not have to pay the fee.
Overall, the tuition increase is aimed at making UTEP a more competitive university within the state of Texas and achieving the goal of becoming a tier-one university.
In 2003, Governor Rick Perry signed a bill into law that grants universities the autonomy to set their own tuition rates, ultimately lowering state funding for higher education and increasing tuition rates.
"I won't qualify this increase by big or little—it impacts our students, and I worry about that, but if you look at other universities and see what they are doing, their budgets, tuition, and now their percentage increase is much higher than ours," Edens said. "When you look at what we are doing and what we are proposing, you can see that we are trying to be as conservative as possible. It is not our goal to be the highest charging university around. Our goal is to serve the students of this community."
According to the Texas Higher Education Coordinating Board, the average total of tuition and fees at the state's public universities increased by 90 percent from 2003 to 2011.
In 2011, Gov. Perry put forth a challenge to higher education institutions to lock in tuition at a flat rate for students for four years and to institute degree programs at universities amounting to $10,000. To date, 10 such programs have been created at universities in all of Texas.
Leonardo Barragan Coss, freshman pre-engineering major, and is an international student from San Juanito, Chihuahua and uses an installment plan to pay for his tuition at UTEP since he does not receive federal financial aid.
"I just rely on that plan since it is easier to pay for tuition like that," Coss said.
When using an installment plan, the tuition is divided into four payments for the semester.
"I consider UTEP's tuition rate to be on average compared to my hometown universities, but they have a better academic level," he said. "I don't think the tuition increase will affect me, unless the increases keep showing up before my graduation."
Coss has a savings account to cover the cost when he begins to pay back the school. He hopes for a job offer near his graduation date to ensure that he pays the full amount.
"For the tuition increase, I know there are many scholarships and that many students are eligible for them without knowing it, but in fact, many students could even need to drop out of UTEP," Coss said.
Senator Wendy Davis has criticized the state's deregulation of tuition at state colleges and universities in a March interview with The Huffington Post.
"It's time to revisit that conversation and talk about how we can be a better partner… taking away hopefully some of the crushing student debt," Davis said.
Javier Cortez contributed to this story.
Lorain Watters may be reached at [email protected].