WASHINGTON – Subpar health care and benefits for veterans has been a long-term problem, but with the restructuring of the Veterans Affairs department, that may change.
Veterans Affairs Secretary Robert A. McDonald said Monday that the department will let more than 1,000 people go after problems many veterans have experienced in getting health care, including a lack of transparency and delayed appointments.
McDonald spoke at  a forum hosted by The Washington Post,  "Leading the Way," to raise awareness about postwar careers for veterans and talk about a new book, "For Love of Country," that highlights veterans' success stories.
The VA is working on the Veterans Access Choice and Accountability Act, or the Choice Act.
It will provide $15 million to hire more doctors, nurses and other medical staff, along with purchased care, which will allow veterans access to health care benefits outside of the VA.
The VA has signed contracts with TriWest and Health Net to help with health care for veterans. "At a time when our country faces so many challenges, we need to make the most of what veterans have to offer. And they deserve our help in making the sometimes difficult transition from military to civilian life," McDonald said.
Howard Schultz, Starbucks' CEO and the book's co-author, said private companies like his can give jobs to veterans when they retire from the service.
David Oclander, a retired Army lieutenant colonel, was featured in the book and spoke at the event.
He commanded 1,000 air troopers in Afghanistan. When he came back, he worked at the Pentagon. He started hearing about gun violence casualties in Chicago. Realizing that he wanted to help, he retired from the Army, moved to Chicago with his family and went to work for the Noble Network of Charter Schools. Noble operates more than a dozen schools in Chicago to help low-income students prepare for college.
"When I went in for the interview, I told them right from the beginning that I didn't have any of the credentials for the job. They said they didn't hire based off of credentials but talent and making a difference at the school," Oclander said.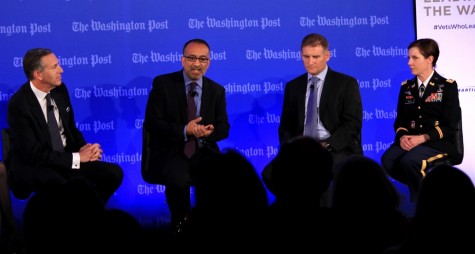 Oclander works with 10,000 students in the network and said that he gets the same job satisfaction as when he was in the military.
"What got me out of bed when I was serving for 22 years were these incredible young men and women from all over the country. Now I get to work with a group of kids, and they are the most inspiring group of young women and men, aside from my soldiers," Oclander said. "I compare them just the same."
Army Lt. Col. Kellie McCoy is featured in "For Love of Country."
When the West Point graduate's combat engineer unit was ambushed in Iraq, she directed her platoon to repel the ambush, helped wounded service members and loaded everyone into the two working Humvees. When one of the Humvees broke down, 12 soldiers were crammed into McCoy's vehicle as they headed back to base. No lives were lost.
She became the first woman to be awarded with a Bronze Star Medal with a Valor device attached.
She returned to Iraq three more times and had one tour in Afghanistan. She is now commanding a battalion of combat engineers in Fort Drum, N.Y,. 10th Mountain Division.
"I love what I do and I love soldiers. They all have common ideals, values, and the Army teaches them the courage and character to be soldiers – they're committed to each other," McCoy said.
Schultz said that, in many cases, someone who has been in the military for many years may never have had a traditional job. As a result, their skills may be exceptional, but they may not overlap civilian job descriptions.
Starbucks has started hiring veterans to work as recruiters.
Schultz said that he heard a service member express more anxiety about going to a job interview than returning to Afghanistan.
"One of the things we're trying to do is to demonstrate that Veterans Day comes once a year, and in my view, it's been turned into a weekend sale. That's not respectful for me," Schultz said. "Starbucks and other private sectors who have employed veterans have seen them exceed expectations. It's not charity, it's not pity, it's just good business."
Rajiv Chandrasekaran, senior correspondent and associate editor at The Washington Post and co-author of "For Love of Country," said that with this book and the Concert For Valor Tuesday night on the Mall, there can be a shared national understanding to prompt a dialogue around veterans.
"Veterans Affairs has work to do, but it would be wrong to look at all of our veterans as broken, as ticking time bombs," he said. "We're trying to show the breadth of their experiences – not just those who are having medical or financial problems, but also those who are doing great things."
Chandrasekaran said 55 percent of veterans feel disconnected from society.
"Nobody who puts on a uniform and goes halfway around the world in service of our country deserves to come back home and feel that way," he said.
Reach reporter Lorain Watters at [email protected] or 202-408-1494. SHFWire stories are free to any news organization that gives the reporter a byline and credits the SHFWire. Like the Scripps Howard Foundation Wire interns on Facebook and follow us on Twitter​.