Immigrants' message to Obama: The people have his back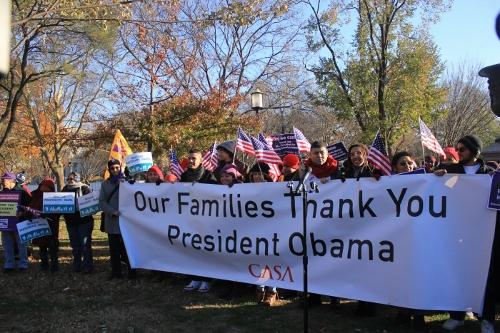 WASHINGTON – A crowd shouted "sí se puede, sí se pudo," or "yes we can, yes we could," echoing into the empty Lafayette Park, as they held Mexican and American flags, dancing in the winter breeze.
What may have seemed like a protest from afar was actually a rally of thanks held outside the White House Thursday night, just before President Barack Obama announced executive action about immigration reform.
Members of Casa de Virginia and others huddled around iPads and smartphones to watch the live stream of Obama's announcement. Afterward, the group cried and cheered, chanting "Obama, amigo, el pueblo está contigo," or "Obama, friend, the people are with you."
The president's immigration accountability executive actionhas three components: increasing security at the border to prevent illegal immigration, deporting felons instead of families and allowing certain people with children who are citizens or permanent residents and have been in the U.S. for more than five years to remain in the country.
With this executive action, families would not have to worry about being deported for three years, and possibly more. This does not mean they can attain legal status through their children. This temporary fix will affect 5 million undocumented immigrants of 11 million in the country.
Yvonia Castillo, 48, has lived in the U.S. for 35 years as a permanent resident. Her daughter and grandson still live in El Salvador, where Castillo is from. She hopes the policy change will allow her to bring them here.
When Castillo is not working as a nursing assistant in Bumpass, Va., about two hours southwest of Washington, she rallies and protests for immigration reform outside the White House, where she has been arrested three times.
Still recuperating from fasting for 11 days to bring awareness to immigration, Castillo rallied with Casa de Virginia to show her thanks to the president.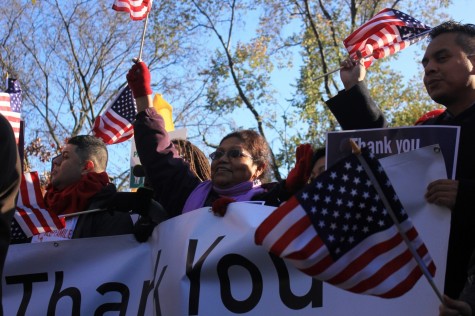 "This is history. We are going to keep fighting for the rest of the people that the order didn't help," she said. "We just want to send a message to Congress to take a good look at what President Obama just did."
Steve Rabson, 71, is a an adjunct instructor at the University of Mary Washington. He taught at Brown University for 30 years, where he was also the faculty adviser for theImmigrant Rights Coalition.
Although not directly affected, he has adopted immigration as a volunteer project. He said he has close friends who will now be able to come out of the shadows since they have been in the country for more than five years.
"America is a nation of immigrants. They come here, they work hard, they're devoted to their families and they pay taxes," Rabson said. "We have to stop treating them like criminals."
Reach reporter Lorain Watters at[email protected] or 202-408-1494. SHFWire stories are free to any news organization that gives the reporter a byline and credits the SHFWire. Like the Scripps Howard Foundation Wire interns on Facebook and follow us on Twitter​.