San Japan convention passes 11,000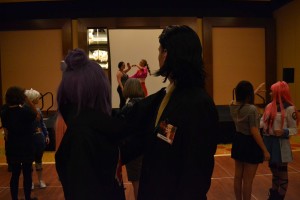 Shaggy blonde hair, fake samurai swords and shouts of "konnichiwa" echoed across the halls at the San Japan: Sinister 6 anime convention in San Antonio.
The sixth annual convention welcomed 11,077 fans between Aug. 16 and 18 of all genres of anime, manga and Japanese culture.
"The region and city of San Antonio has made San Japan a prime summer event." Dave Henkin, convention chairman, said. "For one weekend a year, we transform the River Walk from a tourist spot to a showcase of the anime fandom."
A guidebook app is released a week before each convention to help traveling fans make the most of their trip. This app displayed the schedules of all panels going on at the convention, hotels in the vicinity and options for food.
Henkin said the app was downloaded 5,000 times over the course of the weekend.
Julienne Christa Salvador, public relations official at San Japan, was invited to be on staff after expressing an interest in the convention.
"(I'm) on vacation right now so (it was) a blast (working here)," Salvador said. "We're looking forward to all of the events and activities so the fun will keep us up."
A dealer room at the convention center had various vendors selling merchandise from the well-known to obscure anime.
Panels were held on a plethora of topics including "Are you trying to deduce me? (Sherlock)," "How to meet people at cons," "History of Survival Horror Games," "Pokémon Jeopardy" and "Know your Miyazaki films."
This was the first time Autumn Canales has visited a San Japan convention. She traveled from McAllen, Texas and used $40 to sew her costume from pieces of fabric bought at Hobby Lobby and a local crafts store.
She adopted a humanized version of the character Espeon from the anime Pokémon.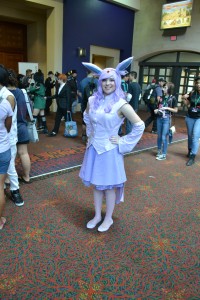 The patterns stitched on her outfit were recycled from a previous Halloween costume that she wore.
"I just sort of Frankensteined everything together and I came out with this," she said.
Along with panels, fans were also able to participate in a San Japan Idol, mimicking American Idol, by singing their favorite songs from anime in any language. The convention included a sword match, a Nintendo 3DS meet-up and a cosplay show where fans were able to showcase their costumes on stage.
"It's a great convention full of fun, hardworking people. Everyone is so passionate about what they do, from the staff, to the fans that are attending," Salvador said. "It's such a pleasure to be a part of that. We want to help share that with as many people as possible."
Next year's San Japan will be themed as Samurai 7 and will take place July 18 to 20. For more information about San Japan, visit san-japan.org.
Lorain Watters may be reached at [email protected].