Student survives fall, shares story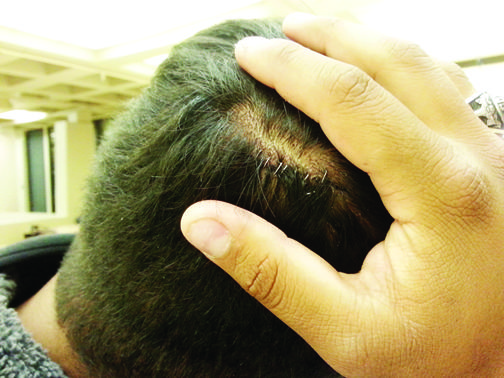 On Oct. 14, Luis Hernandez, freshman business major and pledge for the Alpha Kappa Lambda fraternity, fell from the third-floor staircase ledge at Union East to the middle second-floor staircase.
After being taken to Las Palmas Medical Center, Hernandez was released Oct. 17 with no serious injuries.
"I didn't break a single thing. The most that they had to do were those nine staples," Hernandez said.
Hernandez is still sore in parts of his body, but he said he has made a full recovery.
"The doctors were surprised that I didn't die. I have a little pain here and there. My back still hurts a little bit and my arm hurts if I touch them—in the tender areas. My head took the entire impact and where I got the staples does hurt," Hernandez said.
Hernandez explained that when he sat on the ledge, he had jumped back to sit but overestimated, thinking the ledge was bigger than it was.
"My friend was standing near me and right when he turned around, he saw me falling and tried to catch me, but couldn't," Hernandez said. "It was so fast, I don't remember the falling, there was no falling sensation."
Hernandez believes that the university should not spend money on extending the railings or improving the Union to make it safer.
"I don't see why the university should go out of their way to spend a whole lot of money. Maybe another sign that says 'do not sit,' but I don't know about raising the ledge. It was my own fault. I don't want to blame anyone except myself. People need to be careful," Hernandez said.
Ofelia Dominguez, director of the Union, said the accident was immediately reported to the Environmental Health and Safety department.
"As of today, we have not received a recommendation," Dominguez said. "Environmental Health and Safety is researching the matter further."
Lorain Watters and Kristopher Rivera may be reached at [email protected].