'Orange is the New Black' author receives award for work to reform prisons
Lorain Watters, Scripps Howard Foundation Wire Reporter
September 18, 2014
WASHINGTON – Piper Kerman, author of "Orange Is the New Black," received the Constitutional Commentary Award Sept. 17 in honor of Constitution Day for her work with nonprofits and philanthropies.
Netflix adapted Kerman's memoir of her time spent in prison after she was charged with money laundering. The show's third season is expected to debut next year.
A room full of judges, law enforcement officials and avid fans of the book and series welcomed Kerman and listened to her description of the injustices committed in correctional facilities, mainly against women.
"When these individuals disappear behind those walls, they also lose many of their rights of citizenship. I hoped that readers would come away from the book with different ideas about who is in prison in this country, why they're there and what really happens to people behind prison walls," Kerman said.
The Bureau of Justice Statistics says that as of 2012 the prison population was about 1.6 million and just under 109,000 were women. Both numbers are down from previous years.
"Too many Americans are deprived of their Sixth Amendment rights in our court rooms every single day. After being indicted, I struggled to comprehend how my case was proceeding. I was fortunate to have an education," Kerman said.
Having a lawyer is a benefit, she said, meaning poor people are less likely to be well represented as someone who is wealthy. Eighty percent of criminal defendants who are poor will not be able to afford an attorney.
"
We had cross-gendered searches when I was incarcerated constantly. There were officers who took that pat-down far beyond what was inappropriate and what was clearly groping,"
— Piper Kerman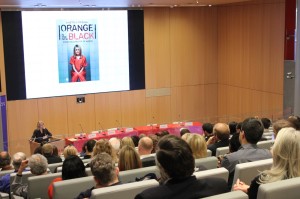 "The system is really skewed in terms of its policies and procedures towards men, and it has only been within the past 20 years that attention has been given to women and their needs," said Kathleen Dennehy, senior program manager for the National Resource Center for the Elimination of Prison Rape, who also spoke at the event.
Women in prison are usually mothers, and fathers care for only about 20 percent of those children. Many end up in foster care. Due to security restrictions, women may not be able to see their children while they are incarcerated. That leads to mental problems for women.
"It makes successful re-entry that much harder. Substance abuse and mental illness are things that aren't really addressed in the facility, and are waiting for these women when they get out," Kerman said.
Prisons allow inmates to have occupations that may help them get jobs once they are released. Brenda V. Smith, law professor at the American University Washington College of Law, argued that services offered to prisoners are available to only a fraction of those women because they may not have security clearances.
"Prisons are still teaching people the same thing that prisons were teaching in the 1800s. Women are learning to sew, clean, type and copy, and those are not the kinds of jobs that are preparing women to be self-sufficient," Smith said.
Smith said that, along with unequal job opportunities for women, women receive different educational opportunities than men, including less access to books.
Women also face daily cross-gender searches that require them to strip in front of officers, causing trauma.
"We had cross-gendered searches when I was incarcerated constantly. There were officers who took that pat-down far beyond what was inappropriate and what was clearly groping,[/pullquote]Kerman said. "It is so hard for women to get justice from the same system that is supervising them. The lack of outside sources for prisoners to seek justice is a problem, preventing us from having legal, safe and humane prisons."
Lorain Watters is a senior multimedia journalism and psychology major from the University of Texas at El Paso. She is currently attending Scripps Howard Foundation's Semester in Washington program for fall 2014.