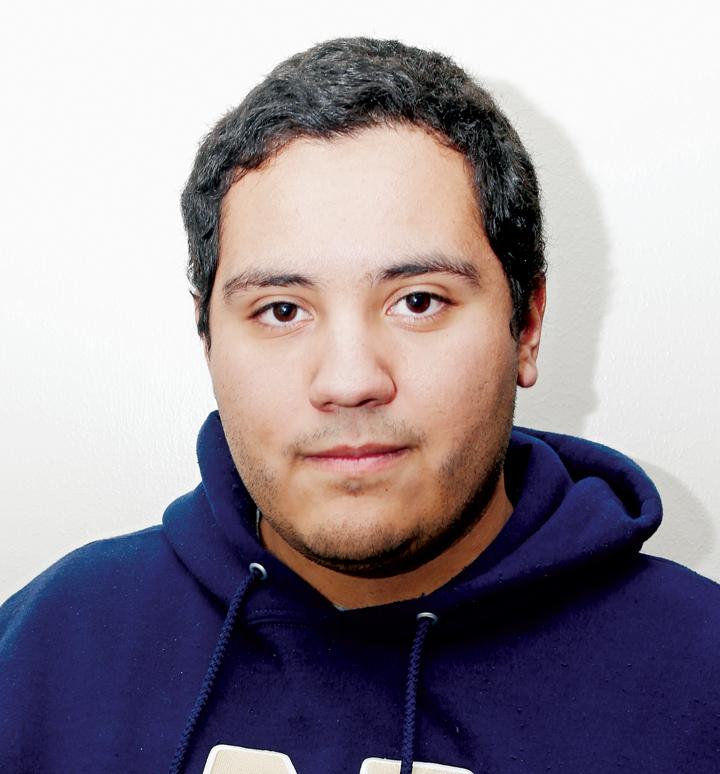 Aaron Montes is a junior multimedia journalism student at the University of Texas at El Paso.
He graduated from Burges High School in 2010, where he was the head photographer for three years with his yearbook organization, Hoofbeats, the newspaper, Stampede and a literary magazine, Pegasus.
With The Prospector, Aaron has been a photographer, the photo editor and multimedia editor.
His major contributions to the publication have come through coverage of the ASARCO and City Hall demolitions and with the bomb threat on campus March 28th.
He plans on doing investigative reporting in political and economical issues in El Paso and nationally. He strives to become part of the Associated Press.
Aaron Montes, Staff Photographer
Jan 20, 2015

No UTEP vs. Kentucky game in 2016

(Story)

Aug 04, 2014

Miners begin Fall practice

(Story/Media)

Jul 28, 2014

Batman v. Superman Dawn of Justice, teases audiences again

(Story)

Jul 08, 2014

Immigrant minors should not be sent back

(Story)

Jun 24, 2014

Sun Metro to develop route planner app

(Story/Media)

Jun 17, 2014

Sun Metro establishes Brio, includes Wi-Fi

(Story)

Jun 10, 2014

Save the Lincoln Center

(Story)

Jun 10, 2014

Seventh annual Pride Fest a success

(Story)

Jun 08, 2014

El Paso Sun City pride fest promotes awareness

(Story)

May 18, 2014

Students overjoyed to receive centennial diploma

(Media)

May 12, 2014

Water pipeline bursts, creates big fountain

(Story)

Mar 10, 2014

Latino organizations recognize 'Gang of Eight,' NCLR disapproves of Obama

(Media)

Feb 13, 2014

Boehner takes more heat on immigration reform comments and inaction

(Story/Media)

Feb 06, 2014

Obama, Republicans fail to advance hopes on immigration reform

(Story/Media)

Nov 19, 2013

Prescription drug abuse an 'epidemic'

(Media)

Nov 15, 2013

Second half rally lifts New Mexico State to cruise past UTEP

(Media)

Nov 05, 2013

'Slumber of Reasons' casts the spotlight on social issues

(Media)

Nov 05, 2013

A first look at UTEP's basketball teams

(Story)

Nov 02, 2013

Thornton shines in women's basketball first showing

(Story)

Oct 31, 2013

Texas' Wendy Davis champions education

(Story)

Oct 24, 2013

First look at basketball team in Orange and White scrimmage

(Story)

Oct 22, 2013

Marriage equality beams up to Michigan, New Jersey

(Media)

Oct 16, 2013

Men in heels walk around Downtown in protest of sexual violence

(Story/Media)

Oct 13, 2013

Tulsa holds onto early lead to top Miners

(Media)

Oct 10, 2013
Oct 03, 2013
Oct 01, 2013

Hawaii native makes final stand

(Media)

Oct 01, 2013

Miners host Bulldogs in battle of one-win teams

(Media)

Sep 30, 2013

Jaime PicksUP 4th Edition

(Media)

Sep 26, 2013

Miners take on Colorado State

(Media)

Sep 24, 2013

Rio Pod Co: local podcast encourages dialogue about El Paso

(Media)

Sep 24, 2013

Laufasa making an early impression

(Media)

Sep 17, 2013

Miners open conference against UTSA

(Media)

Sep 17, 2013

Leslie comes back to build on past success

(Media)

Sep 17, 2013

Babcock wants to leave a lasting impression

(Media)

Sep 15, 2013

UTEP rolls past New Mexico State 42-21

(Media)

Sep 13, 2013

The Color Run shares the colors of fun with El Paso

(Media)

Sep 13, 2013

Jaime Picks UP! The 16 de septiembre

(Media)

Sep 12, 2013

Rain causes problems on campus

(Media)

Sep 09, 2013

Weekend Sports POV

(Media)

Sep 08, 2013

Kasey Carrier and the Lobos spoil Kugler's debut in overtime

(Media)

Sep 07, 2013

Minerpalooza recap

(Story)

Sep 03, 2013
Sep 01, 2013

Wildcats hold Miners to a 1-1 draw

(Media)

Aug 30, 2013

UTEP soccer falls to Utah State

(Media)

Jul 20, 2012

Border Conference Commences

(Media)