With the constant rainy weather that El Paso has been experiencing, it wouldn't be unusual for a colorful rainbow to appear this weekend.
However, this will happen not because of the weather, but because the Happiest 5K on the planet has finally made its way to El Paso for the first time. A Color Run is scheduled to spread its hues onto local runners on Sunday, Sept. 15 at Ascarate Park.
The Color Run is a unique paint-based race that celebrates healthiness, happiness and individuality. Unlike other races, The Color Run is an un-timed race where thousands of participants are doused from head to toe in different colors at each kilometer they pass.
With only a year since its debut in January 2012, The Color Run has expanded tremendously, doubling the number of events to 100. Organizers hope to reach a million participants by the end of 2013.
According to John Mack, local American Cancer Society Community 5K chair and Project Leader, El Paso has exceeded their expectations.
"Right now about 8,000 participants have signed up to attend the race with an anticipated final expected over 10,000 participants, " Mack said. "For our first national level event–this is a great turnout."
Mack, who assists and supports the American Cancer Society atEl Paso through an annual event called Relay for Life, said he wanted to create and introduce another event that would truly spark a greater El Paso interest and participation while involving family, friends, caregivers, survivors and everyone in between.
"I reached out to the National Color Run first via email, then through several phone calls to let them know I wanted to strongly recommend they explore El Paso, Texas, as a key location for the 2013 calendar year," Mack said.
With the help of his friend and co-chair, Pablo Magdaleno, Mack got approval and it was official –The Color Run will paint happy faces in El Paso.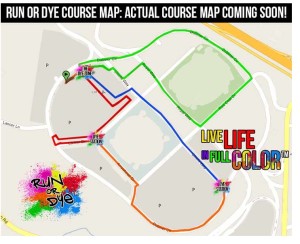 Not only was the concept of color a factor that led Mack take initiative in contacting the National Color Run team, but also their partnerships with charities.
"There are multiple color ribbons that support all the different colors in honor of the different types of cancer," Mack said. "I wanted a full all-around family event that would showcase great values, full family participation and strong charity connections. The Color Run has provided this and more."
In 2012, The Color Run raised more than $600,000 for local and national charities, however it is expected increase to $1 million this year.
Some of the charities that will benefit from this upcoming event will be the Rio Grande Cancer Foundation, Border AIDS Partnership, Paso Del Norte Children's Development Center and Child Crisis Center of El Paso.
With The Color Run having no official winners or official times, it caters to anyone and everyone–from 2 year olds and first-time runners to 80 year olds and professional athletes.
"I'm very excited for this weekend," said Monica Rodriguez, junior accounting major. "Although I'm not a professional runner, I just love what this race stands for–individuality and happiness."
According to Jessica Nixon, The Color Run public relations specialist, more than 60 percent of Color Runners are first-time 5K runners, but they participate as a celebration and capstone of their healthy living accomplishments.
"Others participate to honor loved ones who have passed or are fighting diseases," Nixon said. "While others consider this a perfect time to propose to their loved ones, we've had 10 marriage proposals and one wedding."
Whether you are a casual mall walker or an Olympic athlete, the race is designed to have fun and provide the most memorable and colorful run of your life, Nixon said.
For those attending this colorful event, don't forget to bring some glasses as the color powder (food-grade cornstarch), although not dangerous, may get in your eyes. Color Runners often opt to wear glasses or goggles and use a bandana or dust mask to cover their mouths.
"Bring your family and friends, this will be a fun event for everyone and we hope to bring it to El Paso next year," Mack said.
For more information, contact [email protected]
There is a $1 parking fee and carpooling is permitted.
Andrea Acosta may be reached at [email protected]