Miners begin Fall practice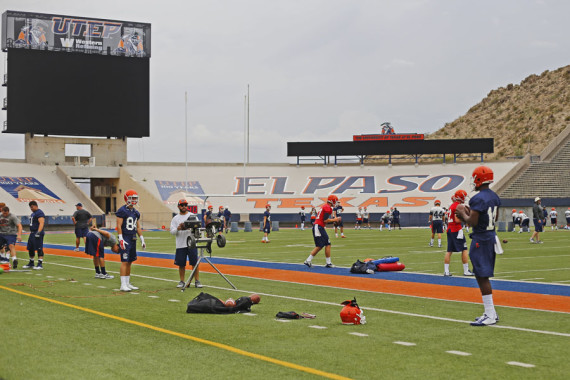 Today marked the first day in UTEP's fall practices for the 2014-2015 football season. The Miners were in shorts and no pads to start off their two-day practices in the Sun Bowl before leaving to Alpine on Wednesday. The Miners are touting a set of adjustments they have made since their 2-10 finish last season.
According to Head Coach Sean Kugler, the team has gone through changes and said that anytime there is change there is discomfort. Kugler said that now since the team and the staff have been working together the program is starting to be more comfortable in its system.
"There is comfort when you start understanding what you're doing," Kugler said.
Kugler said that there have been changes made since last year that the Miners did not execute well at. UTEP was ranked 113th in the country passing and 118th in points against according to ESPN.com.
"We are not going to stand back," Kulger said. "There's things that we didn't do very well last year that we need to get better at."
There will be competition at the linebacker spots Kugler said. According to Kugler, 5'11" Senior Anthony Puente and 6' Junior Jimmy Musgrave will compete for the Middle Linebacker position and 5'10" Freshman Alvin Jones will be competing for the Weakside Linebacker position against a 6' 3 Trey Brown. He said the secondary has seven talented players that will also be competing during camp.  The defensive line consists of mostly of sophomores, but has some juniors and seniors in its depth at tackle and defensive end positions.
"Even though we are young up front we should expect some competition there," Kugler said.
Senior quarterback Jameill Showers said that he is eager to get back on the field and finish strong this year. Showers said that he is going into camp looking to show strong leadership and let it be known that it will not be acceptable to miss meetings and slack off.
"We are trying to keep it clean and have a good attitude," Showers said.
Showers' first season ended early when he separated his shoulder playing against Rice. He said that this season will be do or die for him and all the seniors hoping to leave their stamp in UTEP football.
"This is our last chance to show what we can do," Showers said. "If you have aspirations to go to the next level, this is the time to prove that."
Senior wide receiver Ian Hamilton said that even though he is not a verbal person, his leadership will be key in camp.
"I do like to help the younger guys get their assignments down and work on technique," Hamilton said.
Hamilton said that the 2013 season was a learning process for the team and that he and the program look on expanding on what it learned.
"Offensively, we are looking to attack and move the ball a lot more down the field," he said. "We were not necessarily taking the chances we needed to and so we are going to this year."
Coach Kugler and the Miners will look to see an improvement over the two-week camp, as they open the season in Albuquerque, New Mexico against their old rival New Mexico on August 30.
Aaron Montes may be reached at [email protected]
.
About the Contributor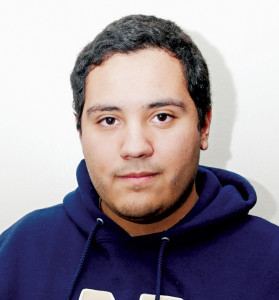 Aaron Montes, Staff Photographer
Aaron Montes is a junior multimedia journalism student at the University of Texas at El Paso.

He graduated from Burges High School in 2010, where he...