Laufasa making an early impression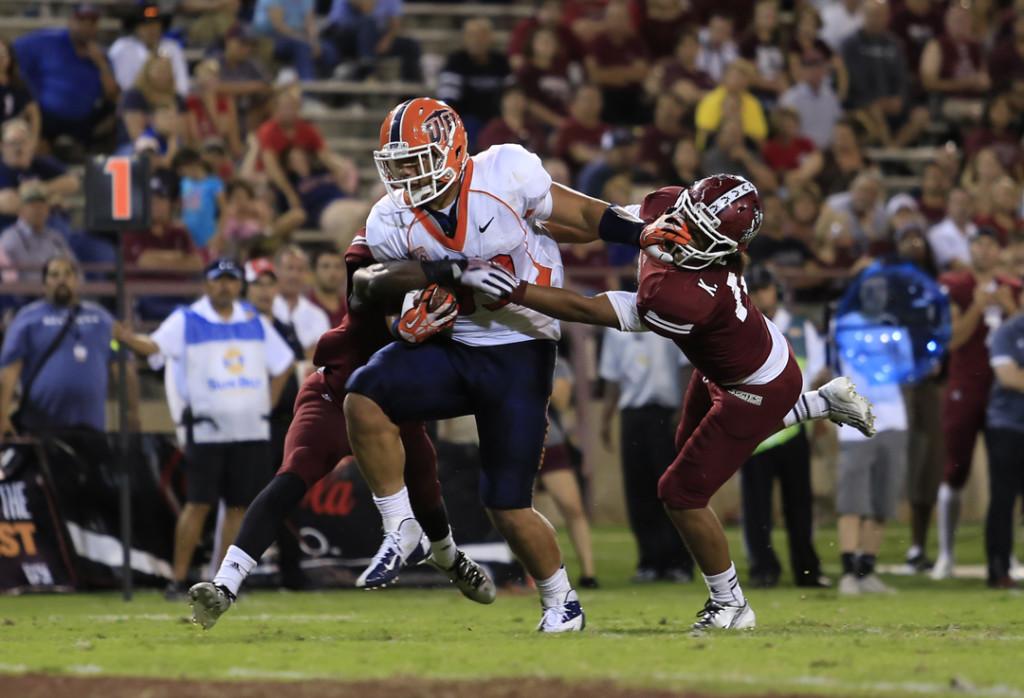 Darrin Laufasa, freshman running back made his name known in his breakout game against the Aggies, rushing for 74 yards on nine carries with two touchdowns.
His biggest play of the game came in the fourth quarter as he blew past New Mexico State's defense with a 45-yard touchdown run. After the first three games, Laufasa has ran for 103 yards averaging 5.7 per carry.
"He's a really hard worker, being a freshman he's doing really good," said junior running back Nathan Jeffery said. "He's really surprised me with the runs that he had. He's a big back that can run the ball and so far he's doing really good."
It might be Laufasa's first year of college football, but the sport has been a part of his life from a young age in his hometown of Bothell, Wash., Laufasa has been serious about football for quite some time now.
"My parents got me into it and my oldest brother was already playing. The youngest you can start playing in Washington was at 6, so that's how it all started," Laufasa said. "I've always had aspirations about playing in college and around that time I started working out and became really adamant about staying focused on football."
Coming into this season, Laufasa was a three-star recruit and the No. 9 player in the state of Washington, and the No. 15-ranked fullback in the nation by ESPN/Scouts. It was almost a certainty that Laufasa would be spending his Saturday's in the Northwest since he was heavily recruited Brigham Young. His two older brothers were playing for Washington State, but some good timing and luck played into Laufasa's coming to UTEP.
"The reason why I came here was because one of the coaches that was recruiting me at Washington State moved down here and that's when I found out about UTEP," Laufasa said. "I fell in love with UTEP when he started recruiting me and that's how it all started."
Laufasa might be a newcomer, but he already brings another element to the Miners' run game. Throughout his high school career, Laufasa spent time as running back and fullback, which brings great variety to the UTEP backfield.
"In high school I split time between running back and fullback," Laufasa said, "I did a little of both, mostly fullback my senior year."
The Miners have plenty of speed in the backfield with Jeffery and fellow freshman running back Aaron Jones, but there is one key attribute that Laufasa brings power.
"Each one of us are different types of runner," Jones said, "You have your short down back (Nathan), speed back (Aaron), and your power back (Darrin), I feel like we all fit in well, and Darrin especially, he did a great job last week (against New Mexico State) and I'm proud of him."
Running backs coach Cornell Jackson simply wants Laufasa to continue to be himself and work hard.
"He has the size, the speed, good hands and he's a tough kid," Jackson said. "My expectations for Darrin are for him to continue to be the complete player that he is, and overall continue to contribute to this football team."
Laufasa also has developed a very tight friendship with fellow freshman back Jones and both try to help each other improve.
"Ever since the first day on campus, since summer school, we've been hanging," Jones said. "We've created a really good relationship and we trust each other."
With most of the season still ahead of the recently declared kinesiology major, Laufasa said his focus is on the team, his studies, and at the end of the day, practicing hard.
"If you practice exactly how you play, as you see from last week, we'll be good," Laufasa said. "My main focus is just coming out and practicing hard."
Javier Cortez may be reached at [email protected]
About the Contributors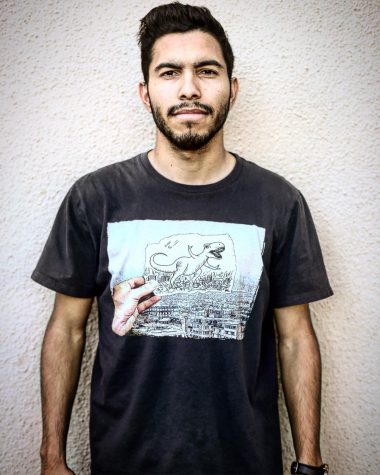 Javier Cortez, Staff Reporter
Javier Cortez is a staff reporter for The Prospector. He is a senior multimedia journalism major, with a minor in English Rhetoric.

Javier was born...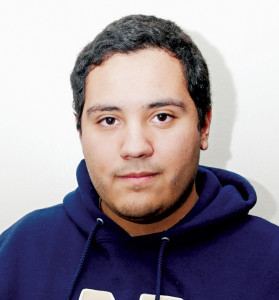 Aaron Montes, Staff Photographer
Aaron Montes is a junior multimedia journalism student at the University of Texas at El Paso.

He graduated from Burges High School in 2010, where he...