Leslie comes back to build on past success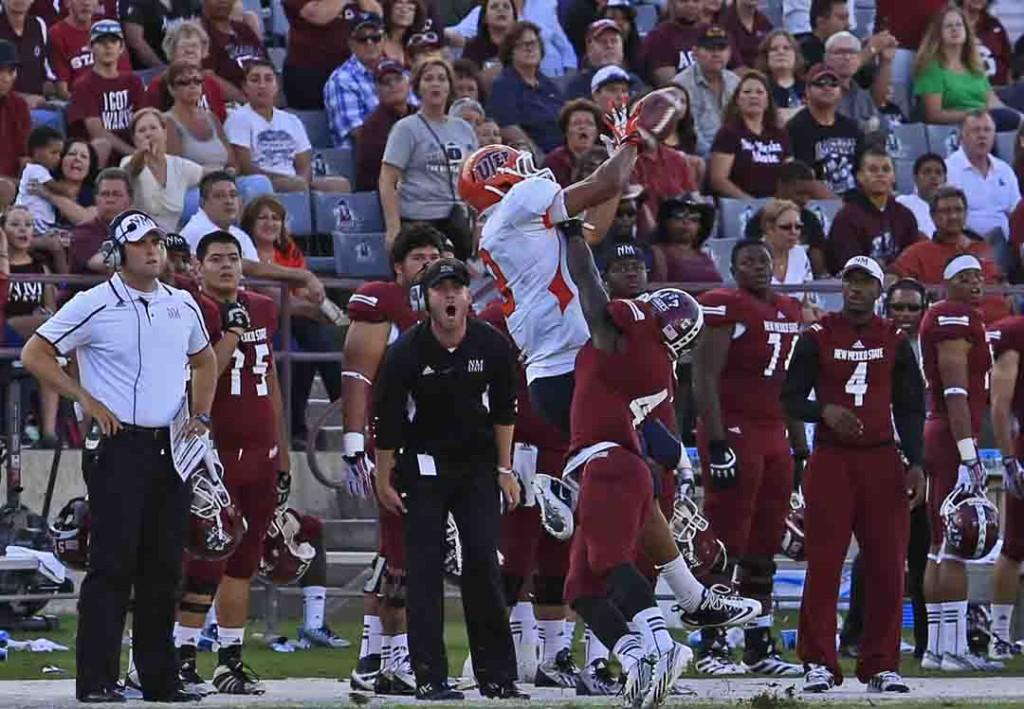 New coach, new offense, mounting expectations, new leadership role and becoming an upperclassman–it is apparent that Jordan Leslie has a lot to deal with this season.
Coming off a sophomore season like last year, Jordan understands certain things are going to be asked of him.
According to the coaching staff, Leslie has worked hard in practice and has taken on a big leadership role, being named team leader by his fellow wide receivers.
"He a great leader," said wide receivers coach Todd Whitten. "The best way you lead is by coming out and working hard every day and he does exactly that."
Playing football since the fourth grade, Leslie has always shown a competitive streak and playing football was a manifestation of that.
"When I was young, I played everything," Leslie said. "I loved competing, I was always a really competitive as a little kid and my mom would put me in any and everything."
Through his first two years as a Miner, Leslie has already broken into the UTEP record books. He ranks in the top 25 in receptions, receiving yards and receiving touchdowns. Statistically, Leslie is on his way to finishing in the top five of every major receiving category by the end of his collegiate career.
Last year, Leslie racked up 51 receptions for 973 receiving yards and six touchdowns in his sophomore year. Expecting a big junior season is not out of the question for Leslie, but his focus is on the team and what they are trying to accomplish this season.
"Going into this year, we going into the mindset of conference champs, bowl game and making our fans proud," Leslie said. "We have new coaches, there's a good vibe, so I guess we'll see what happens."
There is no doubt that Leslie has impacted opposing defenders on the field throughout the last two years, but most importantly, he has also made a tremendous impact on his teammates. He takes the leadership role as seriously as anyone else on the team, and when he talks his teammates listen.
"He's great," said junior wide receiver Ian Hamilton, "When I got here last year, he was the guy that helped me with the offense, getting the plays down, me being the new guy. This year, he has just taken it to another level."
The most impressive leap Leslie has made is his seamless return from offseason surgery. His coaches and teammates see no setbacks, and, according to Hamilton, he looks better.
"He's coming off surgery, but that has not hindered him at all," Hamilton said. "He's still making the same plays that he was making last year. He looks better and that is going to help us out a lot this season."
No matter what statistics he produces this year, some things are for certain when it comes to Leslie–hard work, great leadership, veteran savvy and great dedication to his team and university.
Besides Leslie's great on-field play, off the field Leslie produces great work in the classroom. This past season, Leslie was named to the 2012 and 2013 Conference USA Commissioner's Honor Roll. Prior to making the Honor Roll, Leslie won the team's Dr. Diana Natalicio Academic Award as a freshman, and last season was voted to the Conference USA All-Academic Team.
It is apparent the Leslie knows how to get the job done on and off the field.
Javier Cortez may be reached at [email protected]
About the Contributors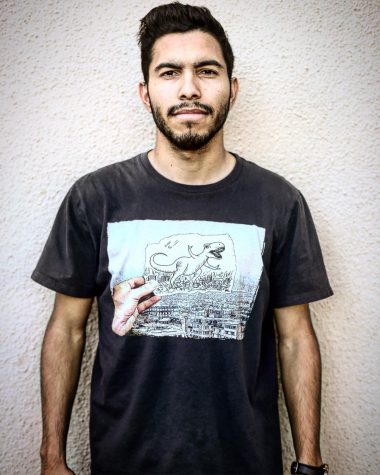 Javier Cortez, Staff Reporter
Javier Cortez is a staff reporter for The Prospector. He is a senior multimedia journalism major, with a minor in English Rhetoric.

Javier was born...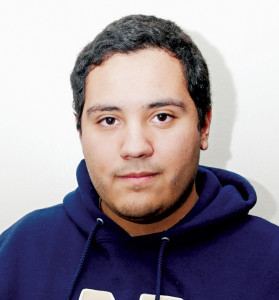 Aaron Montes, Staff Photographer
Aaron Montes is a junior multimedia journalism student at the University of Texas at El Paso.

He graduated from Burges High School in 2010, where he...