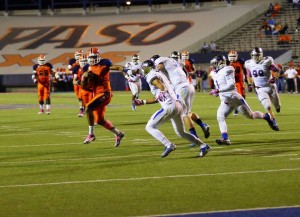 For the sixth consecutive game, the Miners defense gave up a touchdown on the opening drive that led to a 34-20 loss to the Conference USA defending champions–the Tulsa Golden Hurricane.
The inability to stop the run, and a struggling offense, just weren't able to keep up with Tulsa.
"I felt that the defense tightened up after the second quarter, until that last drive in the fourth quarter," said head coach Sean Kugler. "Offensively we had too many misconnections in the passing game, I didn't count, but it looked like we had a few drops. We can't do that and consistently move the chains."
For the fourth time in six games the Miners gave up more than 200 rushing yards. Trey Watts did the majority of the work rushing for 142 yards on 27 carriers. Despite Watts's success in the run game, senior defensive lineman Marcus Bagley was not impressed with the senior running back.
"He was a decent back," Bagley said. "He wasn't anything special, he bounced it outside every time. In my opinion we contained him pretty well, he wasn't the reason they won in my opinion."
Despite another loss, Bagley and junior defensive back Wesley Miller felt that the defense is improving considering the little amount of time they have had to learn the defense.
"People still don't realize we started this defense over two months ago. This is game six and people are starting to get comfortable in their positions," Bagley said. "We're going to go back to work Tuesday and were going to keep getting better and better every week. Over the course of the game everyone was doing their jobs and were doing their assignments."
Miller also had a similar perspective.
"It was good to see that the tackling was improved from previous weeks," Miller said. "That was a moral victory, but the outcome was the same. We weren't necessarily as good as we were in the past weeks. We need to balance it out and keep working."
The only surprise for tonight's game was UTEP's offense lack of consistency. Junior quarterback Jameill Showers had his worst showing as a Miner, only completing 12 of 30 passes and throwing two interceptions.
One of the reasons for UTEP's bad play offensively was the injury to Aaron Jones.The freshman was on his way to another 100-yard rushing game before his night was over early in the third quarter. Once again, return specialist sophomore Autrey Golden bailed the Miners out with his second 100-yard kickoff return touchdown of the season. Without Golden's touchdown the Miners were beat down in every facet of the game.
Tulsa Head coach Bill Blankenship's team was in the same predicament as UTEP at 1-4, and with their first conference win tonight it couldn't have been more significant.
"It's a big win for us, we needed a conference win, so we got to crawl out of that hole one game at a time and going to the bye week that is going to help us to get ready for Tulane," Blankenship said.
The Miners now head into a bye week before they head to Houston to face Conference USA co-west division leader, Rice.
"We have to work," Miller said. "We have two weeks to prepare for our next opponent, so we should know them. Mentally and physically we'll get healthy, so we should be ultimately prepared."
With tonight's loss, the Miners drop to 1-5 and 0-3 in Conference USA. UTEP is still winless at home this season and have lost six straight contests at the Sun Bowl.
Javier Cortez may be reached at [email protected]