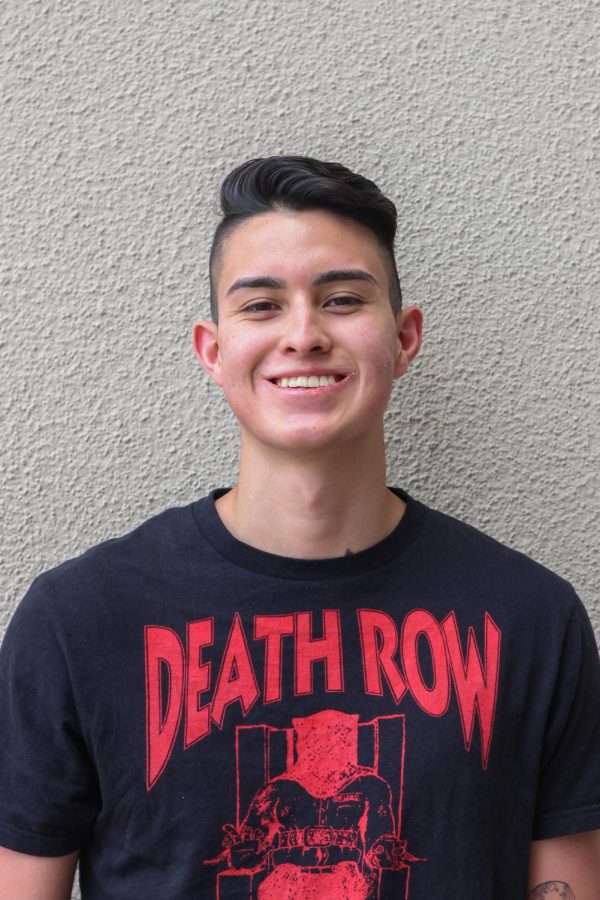 Isaiah 
Ramirez is
 a junior multimedia journalism major at the Uni
versity of Texas at El Paso. Isaiah has worked for the university's 
paper The Prospector since Spring 2018 and has held the position as a 
s
ports 
e
ditor and
 is currently a
r
eporter
 at the publication
. 
During the fall semesters he also works as a
n on-air
 reporter for Football Friday Nights a weekly radio
 show showcasing local football games
 broadcasted by 
600 ESPN El Paso
. 
He 
covers
 local and
 UTEP sporting events such as football, men's and women's basketball, a
nd has covered the annual 
Hyundai
 Sun Bowl game and two-time NBA champion Danny Green's basketball camp here in the Sun C
ity
.
Isaiah Ramirez
Nov 20, 2020

'It's just really hard': Small businesses in El Paso brace for the worst

(Story)

Nov 20, 2020

UTEP graduating senior Sarah Franco ventures into an unpredictable field

(Story)

Nov 04, 2020

UTEP expands manufacturing, aerospace research into Ohio

(Story)

Oct 29, 2020

El Paso County begins shutdown of nonessential services for two weeks

(Story)

Oct 27, 2020

UTEP reports more than 400 COVID-19 cases in two weeks

(Story)

Oct 27, 2020

I've never been into politics, but I now stand against Trump

(Story)

Oct 26, 2020

Questionnaire: Candidates for mayor of El Paso weigh in

(Story)

Oct 25, 2020

El Paso County Judge issues 10 p.m. to 5 a.m. curfew as hospitals reach full capacity

(Story)

Oct 21, 2020

Group says UTEP's disabled parking costs too much. Official says that's 'misleading'

(Story)

Oct 19, 2020

Entrepreneurship challenge promotes green energy, sustainability

(Story)

Oct 13, 2020

Pets released in the wild: Researchers investigate consequences of hybridization

(Story)

Oct 10, 2020

From nurse to hospital CEO: Allie Trimble-Lozano tells her story of success

(Story)

Sep 25, 2020

City council candidates talk COVID-19, climate change at forum

(Story)

Sep 15, 2020

Students continue volunteer work remotely, required for some classes

(Story)

Sep 09, 2020

Average UTEP graduate is more than $20K in debt, report shows

(Story)

Sep 06, 2020

UTEP Football earns 24-14 season opener win over Stephen F. Austin

(Story)

Sep 01, 2020

Amid uncertain job market, UTEP Career Center offers students guidance

(Story)

Aug 31, 2020

$300K grant furthers research on pregnant immigrant women

(Story)

Aug 24, 2020

UTEP reports less than one percent positivity rate of COVID before fall semester

(Story)

Aug 14, 2020

UTEP Football provides update on 2020 season, plans on having fans in season opener

(Story)

Aug 09, 2020

UTEP Football postpones fall practice as four players test positive for COVID-19

(Story)

Jul 30, 2020

NBA Season Restart Preview: New Orleans faces tough matchup versus Utah

(Story)

Jul 25, 2020

Locomotive loses first game of 2020 season

(Story)

Jul 08, 2020

UTEP soccer releases 2020 home schedule

(Story)

Jul 07, 2020

IN REVIEW: 'The King of Staten Island' highlights a standout performance by Pete Davidson

(Story)

Jul 06, 2020

Five UTEP student-athletes test positive for COVID-19

(Story)

Jun 28, 2020

Magic Johnson documentary expected to be released next year

(Story)

Jun 16, 2020

Burges running back Tavrous Jones gains national attention with multiple Division I offers

(Story)

Jun 12, 2020

IN REVIEW: Netflix's '13 Reasons Why' concludes with emotional season four

(Story)

Jun 05, 2020

IN REVIEW: 'Uncut Gems,' Adam Sandler delivers award worthy performance

(Story)

Jun 03, 2020

UTEP Athletics permits student athletes to return for voluntary workouts June 15

(Story)

May 23, 2020

Future delivers another energetic album with 'High Off Life'

(Story)

May 11, 2020

Katarina Zec leaves an impact at UTEP

(Story)

May 11, 2020

UTEP announces the 2020 Top 10 Seniors

(Story)

May 02, 2020

How UTEP Football alumni has fared in the NFL

(Story)

Apr 27, 2020

Quibi — a short and simple approach to online entertainment

(Story)

Apr 21, 2020

UTEP Athletics gives tips on physical fitness during pandemic

(Story)

Apr 16, 2020

UTEP basketball player Kaden Archie enters transfer portal

(Story)

Apr 16, 2020

Top sports movies to watch at home

(Story)

Apr 15, 2020

UTEP appoints Jake Logan as New Vice President for Institutional Advancement

(Story)

Apr 13, 2020

UTEP School of Pharmacy conducts research to develop COVID-19 vaccine

(Story)

Apr 13, 2020

UTEP women's basketball future looking good

(Story)

Apr 05, 2020

'All American' displays a five-star show on Netflix

(Story)

Mar 31, 2020

Heather Wilson announces John S. Wiebe's promotion to provost

(Story)

Mar 30, 2020

Esports takes spotlight amid COVID-19 pandemic

(Story)

Mar 23, 2020

Tokyo Olympics postponed due to COVID-19 pandemic

(Story)

Mar 12, 2020

UTEP spring sports suspended due to COVD-19 pandemic

(Story)

Mar 12, 2020

Conference USA tournament canceled amid COVID-19 pandemic

(Story)

Mar 11, 2020

UTEP women's basketball dominates in first round of Conference-USA tournament

(Story)

Mar 09, 2020

Eastwood and Clint boys' basketball seasons end in sweet 16 round

(Story)

Mar 09, 2020

UTEP women's basketball prepares for Conference-USA tournament

(Story)

Mar 06, 2020

UTEP women's basketball falls to tough Rice squad on the road

(Story)

Mar 01, 2020

UTEP women's basketball defeats Southern Miss 80-72 on "Senior Day."

(Story)

Feb 24, 2020

Softball splits UTEP Invitational

(Story)

Feb 24, 2020

Five attractions in East El Paso to check out

(Story)

Feb 22, 2020

UTEP women's basketball falls to sharp-shooting Middle Tennessee

(Story)

Feb 17, 2020

Miners look to conclude road trip with a win, snap losing streak

(Story)

Feb 14, 2020

UTEP men's basketball loses fourth straight after 67-63 defeat against Western Kentucky

(Story)

Feb 08, 2020

UTEP falls 77-69 in a hard fought matchup versus Old Dominion

(Story)

Feb 07, 2020

UTEP holds off Charlotte in 82-76 overtime victory

(Story)

Feb 03, 2020

UTEP hockey ends regular season 24-4 and heads to playoffs

(Story)

Feb 03, 2020

Women's basketball looks to recover after tough road trip

(Story)

Jan 27, 2020

OPINION: It's time to party like it's 1969 in Kansas City

(Story)

Jan 26, 2020

UTEP battles back to defeat North Texas 67-63 and now heads on two-game road trip

(Story)

Jan 24, 2020

UTEP falls to first-place Rice 69-61 in a tough conference matchup

(Story)

Jan 21, 2020

Miners take on first-place Rice in pivotal conference matchup

(Story)

Jan 21, 2020

UTEP women improve to 4-1 in Conference-USA

(Story)

Jan 18, 2020

UTEP dominates UTSA 94- 54 and improves to 4-1 in Conference-USA

(Story)

Jan 10, 2020

Men's Basketball defeats Southern Miss 76-64 in first conference win of season

(Story)

Jan 08, 2020

Men's basketball looks for their first conference win of the season

(Story)

Jan 02, 2020

Turnovers plague Florida State as Arizona State wins 20-14 in the 86th annual Tony The Tiger Sun Bowl

(Story)

Dec 03, 2019

Treyvon Hughes completes a well-rounded career at UTEP

(Story)

Nov 30, 2019

UTEP falls to Rice 30-16 in final game of the season

(Story)

Nov 19, 2019

Basketball programs off to a promising start in young season

(Story)

Nov 19, 2019

UTEP football loses ninth straight with 37-10 loss versus UAB

(Story)

Nov 13, 2019

Solid all-around performance by Miners dethrones New Mexico State University

(Story)

Nov 10, 2019

Stifling defense leads Women's basketball to season opener win

(Story)

Nov 08, 2019

UTEP softball head coach fired with season to start soon

(Story)

Nov 05, 2019

Basketball season kicks off for Miner Nation

(Story)

Nov 05, 2019

Soccer earns first conference tournament bid since 2016

(Story)

Oct 29, 2019

G-Eazy drops Halloween-esque EP 'Scary Nights'

(Story)

Oct 29, 2019

Soccer closes out a two-game road trip with critical victory

(Story)

Oct 26, 2019

Turnovers bite Miners in 42-21 loss to Bulldogs

(Story)

Oct 22, 2019

Volleyball split matchups in the Sunshine State

(Story)

Oct 22, 2019

Turkish food festival embodies peace and positivity

(Story)

Oct 13, 2019

UTEP men's basketball upsets Texas Tech in exhibition charity game

(Story/Media)

Oct 08, 2019

Men's basketball takes on Texas Tech in exhibition game

(Story)

Oct 06, 2019

UTEP football struggles against UTSA and loses fourth straight game

(Story)

Oct 01, 2019

Football working to improve against UTSA

(Story)

Sep 24, 2019

Volleyball wins two out of three in Red Raider Classic

(Story)

Sep 24, 2019

Football opens conference play against Southern Mississippi

(Story)

Sep 17, 2019

Derron Gatewood pursues excellence on the gridiron and beyond

(Story)

Sep 17, 2019

Football team looks to bounce back against Nevada

(Story)

Sep 17, 2019

Post Malone's new album demonstrates artist's versatility

(Story)

Sep 10, 2019

The Miners achieve a four-game unbeaten streak during the weekend

(Story)

Sep 03, 2019

UTEP looks to carry momentum against Texas Tech

(Story)

Sep 01, 2019

UTEP Football wins season opener against Houston Baptist in electrifying Sun Bowl Stadium

(Story)

Aug 27, 2019

UTEP Football plans a revival in program

(Story)

Aug 04, 2019

Shooting results in 22 dead and 26 wounded at Walmart near Cielo Vista Mall

(Story)

Jul 29, 2019

UTEP Football running back Quardraiz Wadley out for season due to injury

(Story)

Jul 29, 2019

UTEP women's basketball guard Alexa Hoy departs from program

(Story)

Jun 28, 2019

In brief: El Paso sports

(Story)

Jun 08, 2019

UTEP quarterback Kai Locksley suspended from team after being arrested on multiple charges

(Story)

May 29, 2019

UTEP Women's Basketball assistant coach departs for head coach position at Texas A&M-Kingsville

(Story)

May 07, 2019

Highlights of 2019 spring athletics

(Story)

Apr 30, 2019

Six Miners may head to NFL teams sign undrafted free agents

(Story)

Apr 29, 2019

Golf season ends in Arkansas

(Story)

Apr 23, 2019

El Paso Chihuahuas look to extend winning streak

(Story)

Apr 23, 2019

The sharp-dressed man of the media

(Story)

Apr 16, 2019

Rhinos become back-to-back Throne Cup Champions

(Story)

Apr 09, 2019

El Paso Rhinos look to become four-time Thorne Cup Champions in Utah

(Story)

Apr 02, 2019

El Paso Chihuahuas begin 2019 season

(Story)

Apr 02, 2019

UTEP softball battles 11th ranked Arizona

(Story)

Mar 25, 2019

El Paso Rhinos progress in playoffs

(Story)

Mar 12, 2019

UTEP softball gains momentum over weekend

(Story)

Mar 05, 2019

Jordan Alexander anchors Lady Miners

(Story)

Feb 26, 2019

UTEP hockey looks to win in first round of ACHA regional tournament

(Story)

Feb 12, 2019

UTEP Hockey captures second TCHC Championship in three seasons

(Story)

Feb 12, 2019

UTEP women's basketball gains momentum following two straight road wins

(Story)

Feb 08, 2019

Efficient shooting by FAU outlast UTEP Men's Basketball

(Story)

Feb 05, 2019

UTEP men's golf: Experience leads solid Miner team

(Story)

Jan 29, 2019

Tom Herman: A major element in El Paso hockey's rise and success

(Story)

Jan 25, 2019

UTEP Women's Basketball looks to end losing streak

(Story)

Jan 22, 2019

Athletes to watch: UTEP track and tennis

(Story)

Jan 21, 2019

Hockey excels across Sun City: What's next with El Paso Rhinos

(Story)

Jan 02, 2019

Stanford wins their second Sun Bowl game in three years

(Story)

Dec 19, 2018

UTEP Volleyball names new head coach

(Story)

Dec 03, 2018

Nik Needham: The embodiment of a UTEP Miner

(Story)

Nov 28, 2018

UTEP men's basketball loses a close one against rival NMSU

(Story)

Nov 26, 2018

Miners prepare for back-to-back home games

(Story)

Nov 24, 2018

UTEP's second half rally not enough against Nicholls State

(Story)

Nov 23, 2018

UTEP Women's Basketball set to take the court in Thanksgiving Classic

(Story)

Nov 12, 2018

UTEP women's basketball prepares for two home games this week

(Story)

Nov 12, 2018

Smoking still prevalent on UTEP campus

(Story)

Nov 06, 2018

UTEP looks for two in a row after breaking losing streak

(Story)

Oct 29, 2018

UTEP women's basketball hopes for a strong season

(Story)

Oct 22, 2018

Terrific tandem leads Miners to hot start

(Story)

Oct 15, 2018

UTEP volleyball look to snap eight-game losing streak

(Story)

Oct 08, 2018

Up Next: UTEP Hockey

(Story)

Oct 08, 2018

UTEP Volleyball hopes to improve for the remainder of the season

(Story)

Oct 07, 2018

A win is not seen against the Mean Green

(Story)

Oct 02, 2018

UTEP golden nuggets honored at homecoming week

(Story)

Sep 26, 2018

UTEP Looks To Repeat Success on the Ice

(Story)

Sep 23, 2018

Miners lose 16th straight in a heartbreaker against NMSU

(Story)

Sep 17, 2018

Coach Kevin Baker an educator first a coach second

(Story)

Sep 04, 2018

UTEP looks to bounce back against UNLV

(Story)

Sep 02, 2018

The losing streak continues for the Miners

(Story)

Aug 28, 2018

Who will be under center for the Miners to start the season?

(Story)

Aug 04, 2018

UTEP football kicks off in camp Ruidoso

(Story)

Jul 21, 2018

Jones Brothers youth football camp dazzles in second year

(Story)

Jul 07, 2018

Spurs' Danny Green Skills Camp visits El Paso for the third consecutive year

(Story)

Jun 27, 2018

Chihuahuas win seventh straight against Grizzlies

(Story)

Jun 19, 2018

Chihuahuas earn series split with Redbirds after explosive win on Tuesday

(Story)

May 31, 2018

Here's how Cleveland beats Golden State in the NBA Finals

(Story)

May 01, 2018

Athletes to watch for at the C-USA Outdoor Track and Field Championships

(Story)

Apr 26, 2018

Chihuahuas continue impressive hitting against Salt Lake

(Story)

Apr 10, 2018

A new wave of fitness hits El Paso

(Story)

Mar 27, 2018

The Chihuahuas brand has executed a positive culture change in El Paso

(Story)

Mar 03, 2018

Basketball intramural opens opportunity for students

(Story)

Feb 25, 2018

UTEP tennis defeats Tarleton State in heated battle

(Story)

Feb 10, 2018

UTEP tennis shuts out UTPB

(Story)

Feb 02, 2018

UTEP women suffer 20-point loss to UAB

(Story)