$300K grant furthers research on pregnant immigrant women
'She thinks part of what caused her premature birth was her husband being deported,' said UTEP researcher.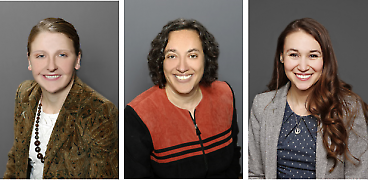 A grant of $318,383 was recently awarded to UTEP's Department of Sociology & Anthropology by the National Science Foundation to explore the emotional experience of pregnancy among first and second generation Mexican-origin immigrants in the El Paso, Texas border region.
The interdisciplinary research will be conducted by UTEP professors Dr. Carina Heckert, Dr. Katherine M. Serafine, and Dr. Ophra Leyser-Whalen beginning Sept. 15 and is scheduled to be funded through Aug. 31, 2023.
"The premise of this project is understating women's experiences related to emotional distress during pregnancy and how that's related to immigration concerns," Heckert said.
Prior to this grant being awarded, a pilot study was conducted by these researchers through interviews with various second-generation pregnant immigrant women in El Paso. Several stories indicated that emotional distress brought upon a distinct outcome, Heckert said.
Heckert explained that extremely high levels of stress in pregnant women can have negative effects on their offspring often leading to lower birth weights or premature births. She also added that babies that are born too soon or too small are at an increased risk for health problems such as brain development or an at-risk immune system.
"One woman we interviewed was a U.S. citizen, but her husband was not, and he was deported, and she thinks part of what caused her premature birth was her husband being deported," Heckert said.
These researchers will look at this spectrum of emotional experience of pregnancy within this selective group of women on a much larger scale while collaborating with Texas Tech University Health Sciences Center El Paso.
"We are going to be collaborating with their prenatal clinics and we are going to be doing surveys of 300 women," Heckert said. "Since we are collaborating with the medical school and their medical providers, we are (also) going to be able to pull their medical records and view their experiences."
Stress levels during pregnancy are analyzed through cortisol levels gathered by hair samples collected by the researchers.
According to research from the University of California at Los Angeles, women's cortisol levels typically increase two to four times during a normal pregnancy but when the levels exceed that range, this can cause reduced blood flow to the fetus which deprives the fetus of oxygen and nutrients.
The hair samples collected by the UTEP researchers will be collected and analyzed by a psychologist at UTEP, according to Heckert.
Large-scale UTEP student involvement will also be achievable by the grant as a graduate student will be involved in the research every year.
"The grant is going to fund a graduate student every year to work on this and bigger scale more student involvement," Heckert said.
Combining different disciplines withing this research as both the Anthropology and Sociology departments' elements will be embedded within the research by using both in depth interviews and cortisol testing to analyze the emotional distress in these women.
Another beneficial aspect of this research is the plan to create a community advisory board that is comprised of stakeholders who work in maternal health related areas and use the research conducted to develop programs that can help women and their families.
"We want the board to use the research conducted to help families and develop programs that will help them and make the research more useful and have an impact that way," Heckert said.
Isaiah Ramirez may be reached at [email protected] and on Twitter @_IsaiahRamirez1