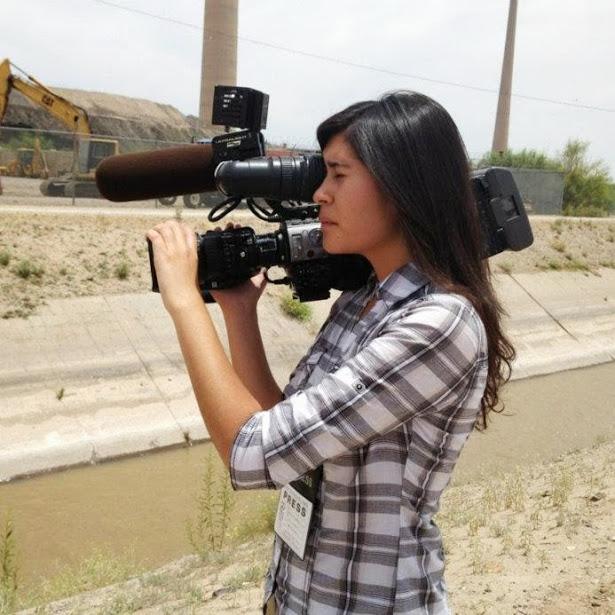 Jasmine is a senior multimedia journalism major with a minor in anthropology. She began practicing journalism as a high school student when she joined the Tejano Tribune, El Paso Community College's student newspaper. During her senior year she became the first ever high school student to become editor-in-chief of the Tribune. She moved on to join The Prospector team in the fall of 2011.
Jasmine has covered national politics, immigration, poverty, human trafficking, refugees and more in her time holding various editorial positions at The Prospector and as an intern reporter at the Scripps Howard Foundation Wire and Gannett News Service, both in Washington, D.C.
She aspires to become an international reporter and tell stories that do not receive the attention they deserve. Until then, she spends her time following the news and guiding a very talented team in reporting for a student audience and the El Paso community. She also enjoys a good book, art, music and the occasional Netflix binge (House of Cards and Breaking Bad remain her favorite).
Jasmine Aguilera, Editor-in-chief
May 18, 2016

The Cure fills up the Haskins Center with stellar performance

(Story)

May 03, 2016
Apr 26, 2016

Graffiti in the time of Trump

(Story)

Mar 31, 2016

Annual César Chávez Day march ends in celebration

(Story)

Mar 23, 2016

'No Más Bebés' screens at UTEP Cinema

(Story)

Mar 22, 2016

'No Más Bebés' to be screened at Union Cinema

(Story)

Mar 17, 2016

A memorable Spring Fling provided by Cage the Elephant (as if that's a surprise)

(Story)

Feb 23, 2016

Students get personal with powerful portraits by Dear World

(Story)

Feb 23, 2016

VOTE! VOTE! VOTE!

(Story)

Feb 16, 2016

Perspectives: Kanye West

(Story)

Jan 26, 2016

Blazed and Confused : Campus officials concerned that students are unaware of drug policies

(Story)

Dec 05, 2014

Student protests police brutality at Leech Grove

(Story/Media)

Dec 02, 2014

Here's looking at you kid

(Story)

Nov 12, 2014

Alexi Cruz, released from ICE detention, speaks to The Prospector

(Media)

Nov 11, 2014

How I met the catcall

(Story)

Sep 30, 2014

El Paso NORML attempts passing Cite and Release law

(Story)

Sep 10, 2014

Ambassador discusses Mexico and U.S. relations as part of lecture series

(Story/Media)

Sep 09, 2014

Organizers remember '71 Chicano protest at UTEP

(Story)

Aug 17, 2014

Body found in front of library, no foul play suspected

(Story)

Apr 24, 2014

Beck, El Paso's BFF, welcomed with open arms

(Story)

Apr 15, 2014

CEO of Spanish-language media company discusses Hispanic influence during Lecture

(Story)

Mar 26, 2014

Candidate Wendy Davis talks equal pay at Café Mayapan

(Story)

Feb 18, 2014

'House of Cards' teachings

(Story)

Feb 11, 2014

Women's studies researches rape on campus

(Story)

Jan 28, 2014

From left to right, our thoughts on State of the Union 2014

(Story)

Dec 04, 2013

Volleyball player involved in death of foreign exchange student

(Story)

Oct 08, 2013
Oct 01, 2013

Government shut down in tweets

(Story)

Sep 30, 2013

Government shutdown a petty move for Republicans

(Story)

Sep 17, 2013

Career expo expected to draw thousands

(Story)

Sep 12, 2013

El Paso lawmakers attend session wrap-up at Natural Gas Center

(Story/Media)

Sep 06, 2013

Presentation of State of the Border analysis delivered at UGLC

(Story/Media)