The Cure fills up the Haskins Center with stellar performance
Hang on for a minute...we're trying to find some more stories you might like.
As The Cure front man Robert Smith strummed his guitar, a concert goer in a U2 Vertigo T-shirt—an obvious nod to his taste in music—grabbed his hair in excitement and yelled: "no freakin' way!"
The band was performing "Close To Me" off the 1985 "The Head on the Door" album. The fan looked over to a stranger in a Mexico soccer jersey standing next to him and they shared a high five.
The crowded Don Haskins Center was full of random encounters like this, as people from all walks of life gathered to watch The Cure's 3-hour set on Tuesday night.
Fathers and daughters sang and danced together. Young girls in 6-inch mohawks pumped their fists in the air. Tattooed hipsters in '50s greaser haircuts jumped to the beat. Virtually every age group was present, and everyone came together to enjoy the '80s English goth band.
The Cure performed a mix of their hits like "Just Like Heaven," "Love Song," "Why Can't I Be You?" "Pictures of You" and "Lullaby," along with their more obscure tracks like "Out of This World."
Every song was accompanied by a light show and graphics on an LCD display that set a variety of moods, and by introducing the LCD screen, The Cure automatically topped their previous October 2013 performance.
And similar to the 2013 show, The Cure came out for four encores. Each time 57-year-old Smith led the crowd to think the next song was their last. But as long as the crowd kept cheering, Smith—in his red lipstick and platform leather boots—would keep singing and dancing in a way that only he could pull off.
The best part of The Cure's performance was the camaraderie. The band's music transcends age groups, cliques, race and gender. It seems like the group enjoyed their time in El Paso, so it may not be long until we see them again.

About the Writer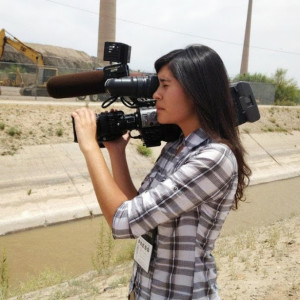 Jasmine Aguilera, Editor-in-chief
Jasmine is a senior multimedia journalism major with a minor in anthropology. She began practicing journalism as a high school student when she joined...