Summer is upon us and schools are out. With the shining skies and clear weather, it is a perfect time to go out on vacation. For those who are between trips or unable to leave the city, the El Paso library system offers a vast variety of activities to not only keep the boredom away, but perhaps begin lifelong passions on sports, arts and crafts, or reading, as part of their summertime programs. 
El Paso has around 15 public libraries around the city, open year-round except for national holidays. These not only offer the basic services of book rentals, eBooks, computers and reading clubs, but most of them offer various activities for local families. Some of them are relegated to a specific library location as explained by Chamizal library manager Danny Gonzalez. 
"There are two programs that are shared throughout the system," Danny said. "The summer reading club, which happens throughout the summer, and story time which is year long."  
Summer Reading Club is a summer-long competition for children of all ages. Kids are rewarded for reading, with every ten books putting their name in a raffle to win a prize. This year it is a bicycle, but there are additional prizes and events they can attend as part of their summer-long experience.  
Storytime is another activity shared by all branches, in which books are read to children at different parts of the day. Adults are also incentivized to come, as they get to do activities while books are being read. Gonzales explained that all branches are in friendly competition to bring more readers, as their activities vary throughout the year.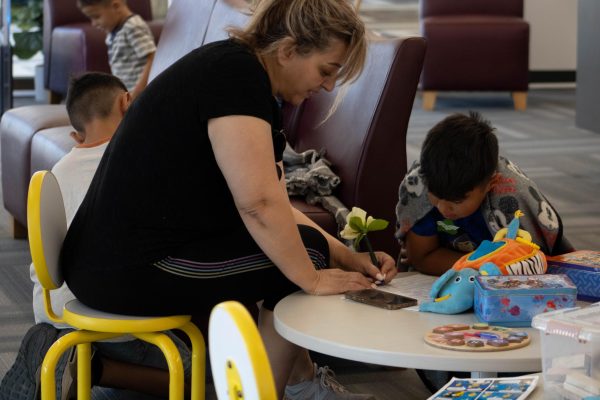 "Here in Chamizal, we benefit from also having the gym (and) sport courts to draw in people," Gonzalez said. "You may even rent out meeting rooms from parties or important events as one of the city council press releases was done here. We have a full board for activities." 
The board contains yoga clubs, basketball, volleyball tournaments, reading clubs, as well awareness clubs for mental health or using the faculty properly. Other branches like Judge Marquez offer chess clubs, while the Memorial branch is offering citizenship classes.  
"Since we are in competition, some activities rotate between branches, so it is very likely something you saw in another branch is coming to a branch near you," Gonzalez said. 
There is no limit to how much you can get from these public libraries, with new activities and events being made available every month. Not only for kids with plenty of free time, but adults seeking a new hobby.  
UTEP unfortunately, serves more as a hub for information, rather than a similar cornucopia of activities. The university library only offers technical assistance, with the math counselling lab, the writing center, or study rooms. It does not offer any form of reading activity, or clubs.  
Instead, you may see ads or brochures scattered around the library for these types of resources. While it would be nice to see this type of involvement, it is important to remember that UTEP is a research university, with the library being one of the most valuable assets to it.  
Summer programs are strictly hosted by the library but not made. Young students are still seen wandering in groups at times, maybe pondering their future education.  
For more information on events that the public libraries may be hosting, please visit their website. 
Eugenio Cantu is a contributor and may be reached at [email protected].