A UTEP scholarship brought two Chihuahua, Mexico students' dreams to reality. On June 2, recipients Priscila Garnica and Luis Avalos accepted a $5,000 scholarship from UTEP, an initiative by the study abroad program to bring more international students to campus.  
Avalos and Garnica, both Chihuahua natives, attended the Instituto La Salle in Chihuahua, and both had dreams of studying in the U.S. Garnica recalls her first sighting of UTEP when she went to a sun bowl game and immediately wanted to pursue her studies here. 
"I remember coming here for a sun bowl game and when I saw the campus, I just wanted to come and study here," Garnica said. "I feel very supported that I get to pursue my higher education. This scholarship makes it easier for parents who don't have those financial means to pay for college, so this a big opportunity." 
An ambitious student, Garnica plans to pursue a degree in mechanical engineering. Winning this merit scholarship is another way to help her achieve her academic goals.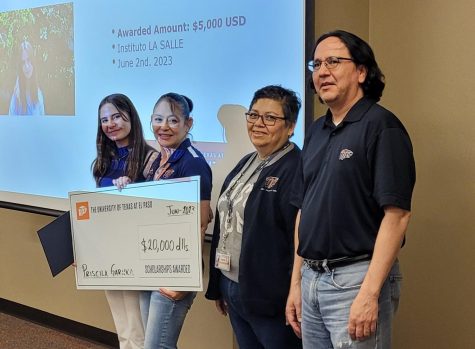 However, according to the Manager of International Student Recruitment, German Lopez, students who apply for this type of merit scholarship must meet some requirements to obtain them.  
"They must have a GPA of 9.0 (the GPA in Mexico) as well as be in the top 10 percent of their class and write an essay," Lopez said. "There is a committee in the office of scholarships they are in charge of revising the essays and determining which students are eligible." 
Providing this merit scholarship to these students who do not have the financial means results from the hard work of the UTEP international program, admissions, student engagement, and scholarship offices, who are all dedicated to helping these international students achieve their goals. 
"For students coming from Mexico, most times don't have the annulled income to come to UTEP," Lopez said. "So, this a great opportunity for them and their families to have this income to achieve their goals." 
Lopez's visit to the Instituto La Salle to discuss the many opportunities at UTEP would eventually help Avalos decide on his future. Upon the visit, Avalos did not know about UTEP and was immediately interested in what UTEP had to offer. 
"I heard about UTEP when German Lopez came to our school, and we learned about the scholarship and admission opportunities, and it piqued my interest," Avalos said. "In less than two months, I applied, and now I'm receiving my scholarship. I never thought I would achieve this dream of studying in the United States, so this is just a step up the ladder to climb greater heights."   
Ever since he was a kid, Avalos dreamed of studying in the U.S. in hopes of working at NASA. Receiving this scholarship is a way to help him achieve his goals. However, he considers this accomplishment something he could not have done without the support of his parents. 
"Without a doubt, my parents have been my biggest support. I would not have achieved anything without them, so winning this scholarship for them makes me happy," Avalos said. "Pursuing a degree in aerospace engineering excites me because I heard that UTEP now has strong relations with NASA, which has been my dream job, so receiving this scholarship to pursue my studies in aerospace will allow me to achieve that." 
Erik Acosta is the web and copy editor and may be reached at [email protected]