Start the year fresh with getting involved around campus
Another semester has already begun at UTEP and they are kicking off the new semester with fun-filled activities and events for UTEP students to participate in. The semester kicked off with the annual Get Involved and Wellbeing Fair at the Union and Centennial Plaza, where students had the opportunity to browse over thirty organizations that UTEP offers.   
From sororities and fraternities to even the rugby club, the fair featured tables covered with treats and goodies, highlighting the value of student involvement on campus while also presenting wellness events and initiatives to help students make the most of their UTEP experience.  
Jordan Alvarado, a UTEP student and president of Frontera Folx; an organization aimed at educating the UTEP community about reproductive rights, shared her views on remaining engaged and getting involved on campus. 
"It's important to stay active at school because you find your own sense of community, especially if you're someone that is not from El Paso," Alvarado said. "It helps you find your own way and it makes going to school a lot easier and you get more motivated to make friends." 
While some students say they find it difficult to adjust to returning to school or beginning college for the first time, they say managing their coursework and exams can also be overwhelming. Students say having a select group of friends or joining a student organization can help boost their success and college experience.  
"Being a student right now is very challenging and from personal experience I had a lot of problems with my mental health, so I was looking for somewhere I felt like I belong, to make connections and life-long friendships," said Rocio Rivera President of Kappa Delta Chi. "That's why it is important for students at UTEP or any other university to make friendships and get involved so they don't feel alone.So, you can have friends or somebody that understands what finals or midterms are."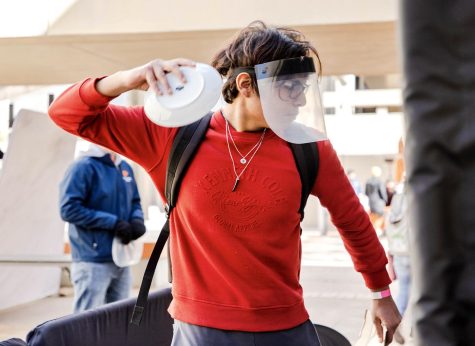 For students looking for mental health initiatives, the fair offered many activities such as "smash a plate" where students had the opportunity to blow some steam off.  Along with free chair massages and brief Zumba classes, the students had the opportunity to relax and feel better rested and prepared to begin the new semester.  
"Getting involved is not just to get the whole college experience but it also benefits you in the future and a lot of the skills that I developed over time were because of these student organizations," said UTEP PhD student Briana Pinales. 
Joining a student organization is not just to enhance your college experience but to strengthen personal skills. "I used to be president of other organizations while getting my bachelor's degree and a lot of skills that I had to build were leadership, networking and being able to work and connect with different personalities," Pinales said. "Those are all important things, and I wouldn't be able to do that without getting involved." 
Erik Acosta is a Staff Reporter and may be reached at [email protected]