It's 'Showtyme' for Miner Caravan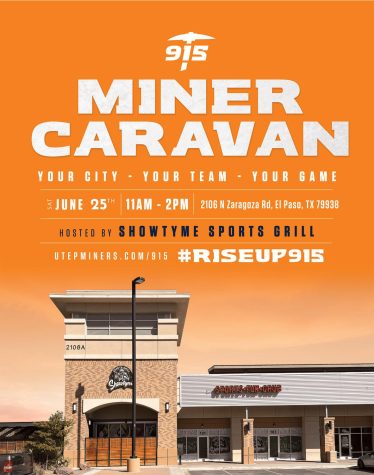 UTEP's Miner Caravan made a quick stop 11 a.m.-2 p.m., June 25 at Showtyme Sports Bar and Grill located at 2106 North Zaragoza Road. Showtyme is owned by current Green Bay Packers running back, and former UTEP Miner, Aaron Jones.  
"This will be a great opportunity for the fans to come out, meet and engage with our coaches and student-athletes, and get fired up for our fall sports seasons," UTEP Director of Athletics Jim Senter said. 
Miner Caravan is part of the 915 campaign, which began earlier this month in order sell out UTEP's first football game against North Texas on Aug. 27. The capacity of the Sun Bowl Stadium is 45,971 and they have currently sold over 30,000 tickets; a UTEP game at the Sun Bowl has not sold out since 2008. This will also be the first time in 30 years that the Miners have opened the football season at home with a conference game. 
"I've heard all about the glory days of UTEP Football in the '60s, the '80s and the early 2000s, when the Sun Bowl was packed," UTEP football head Coach Dana Dimel said. "We've seen how loud the place can get, even when there's 20,000 in attendance. We had 30,000 for a game last season against UTSA and the atmosphere was electric, but we haven't gotten to 40,000. I hope we can get there against North Texas, because I think our players deserve it." 
Attending the Miner Caravan event at Showtyme were a few familiar faces of Miner football such as junior defensive end Praise Amaewhule, senior running back Ronald Awatt, sophomore running back Deion Hankins, junior quarterback Gavin Hardison, senior safety Ty'Reke James, junior offensive lineman Elijah Klein, junior offensive lineman Andrew Meyer, sophomore punter Josh Sloan, senior defensive end Jadrian Taylor, and senior defensive end Deylon Williams. Coach Dimel also made an appearance at Showtyme. 
While at the event, Miner fans were able to purchase tickets for UTEP football's season opener on Aug. 27 against North Texas for $9.15. If Miner fans spent $20 on Saturday, they received a ticket to the game along with a commemorative orange 915 t-shirt. Along with being able to purchase tickets, Miner fans were able to sit down, relax and order any of the menu items that Showtyme has to offer. Miner fans were also able to get to know the players in attendance as many of them were walking around Showtyme getting to know the fans and letting them know about the 915 campaign.  
Miner Caravan will also be making stops at the El Paso Chihuahuas game vs. Round Rock July 16, Cielo Vista Mall July 23, and Camp Cohen Water Park July 30.  
For more information on the 915 campaign visit www.UTEPMiners.com/915.
All information and quotes courtesy of UTEP Strategic Communications, utepminers.com 
Katrina Villarreal is a staff reporter and may be reached at [email protected]