District Coffee opens in the heart of downtown El Paso
Located in the heart of downtown at 222 Texas Ave., Suite F, District Coffee offers a place for people working in the area and for students to grab a cup of joe and take a break.
This new coffee shop, which opened in March, has a modern atmosphere that embodies the aesthetic of newer El Paso hot spots.
Former elementary school teacher Pamela Azaeta fulfilled her goal of opening a coffee shop last month after two years of planning, and years of dreaming.
Pamela and her husband Cesar Azaeta had spoken about opening up their own business one day and decided that a coffee shop is where they would set their sights.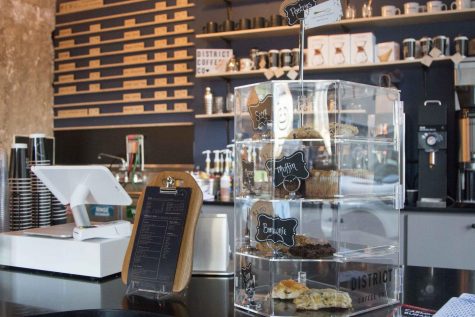 "We love coffee and like to visit coffee shops whenever we travel. I have family members in California that bought a coffee farm in Nicaragua. After learning a lot from their farm, we decided that a coffee shop is what we wanted to open up," Pamela said.  "It was over my summer break, two years ago that we seriously began developing our plan to open up our shop."
With the ongoing revitalization of downtown, the Azaetas took the opportunity to give downtown what they felt it needed.
"We wanted to make this a comfortable place for people to come and sit and study and work. We try and make it very cozy," Pamela said. "I worked with my friend and her sister to help design the space. We also partnered with Aiden James, an advertising agency, who played a big role in our branding and designing."
Pamela wanted the coffee shop to appeal to students and employees in downtown.
"I like going to District Coffee because of the atmosphere," said Rafael Ornelas, a junior forensic science major. "They also have really good coffee and I'm a big coffee drinker, so it's a cool place to come in between my classes and get away from campus for a bit and study before I have to go back."
The name District Coffee stemmed from the fact that downtown is divided into districts. They wanted to encompass every district and make it a place where anyone can hang out.
Pamela says that they have received positive feedback from customers so far.
"I've learned that it's a pretty tight, close community downtown and we're just getting to know new people, making new friends and that's been really cool," Pamela said.
District Coffee offers a menu of traditional coffee drinks, matcha and tea. All of their coffee is from Picacho Coffee Roasters, located in Las Cruces, New Mexico.
Being a local business themselves, the Azaetas want to support other local businesses in the area.
"The tea we sell is from The Tea Spout. We know that not everyone is a coffee drinker, so we wanted to offer tea to our customers as an option," Pamela said.
Customers are also able to purchase baked goods made by Guilty Pleasure Pastries. Muffins, scones and macaroons are just a few of the goods that can be enjoyed with your cup of coffee or tea.
Customers receive a punch card to use each time they purchase an item off the menu. After five punches, customers receive 50 percent off one item, and 10 punches gets people one item for free.
Hours of operation are Monday through Friday, 6:30 a.m. – 4 p.m. and Saturday from 8:00 a.m. – 3 p.m.