Color is back on the streets
An octopus will take over a building in downtown El Paso,  while people enjoy a luminous giant jellyfish marching down the street and others go through a silken fabric maze and get out to walk through colored glowing streets. This surrealistic scenario is real and it's about to happen, as Chalk the Block comes back to color the sidewalks for its seventh year on Oct. 10.
Although this event started as a small street chalk art competition next to the Plaza Theatre and the Museum of Art with no more than 2,000 people attending, it has now grown to have 38,000 attendees. However, as a result of the construction in the area, the event had to be moved to the Convention Center Plaza, where professional chalk artists will display their work, using the street
as a platform.
 "In the past two years, we couldn't program the usual space because of the construction, so now the event is more compact," said Christopher Espinoza, production and marketing coordinator for El Paso Museums and Cultural Affairs. "But you get to see the same things you would have seen if it was bigger, it's just not spread out. So this will not be affecting
the event overall." 
Eric García, junior music major, became interested in this event because of his friend, who is an artist who participated last year.
"I was there last year and I'm looking forward to going again," Garcia said. "My experience last year was so great that I can't wait to see what's new now."
This year, Chalk the Block is bringing some new exciting additions with artists from the United Kingdom, California, Las Cruces, San Francisco and San Antonio—becoming a very diverse festival. The pop-up galleries will include art exhibitions using spaces that are not being used, like buildings or retail spaces. One of them is the Octopied Building, a piece brought by British artist Filthy Luker, consists of six large inflatable octopi, with tentacles coming out of windows or building rooftops.
Another interesting work is Porous Prism by Ioana Urma, an artist from California. Her art consists of  a silken fabric and chain link maze. Her idea is not only to get attendees into a maze, which symbolizes barriers, but to cross through these colorful walls. For Espinoza, this is a really unique part of the event because you are not inside a gallery, but you are still in the event, walking around and
exploring downtown.
Carlos Garbalena, sophomore accounting major, who had previously heard about the event but has never had  the chance to attend, said he is interested in trying it out this year.
"I heard some of my friends talking about how great it was last yearthat I'm seriously considering to attend this year," Garbalena said. "I checked the schedule on their webpage and some of the art installations
sound interesting."
Even though it's his first year in El Paso, Mijail Lamas, a creative writing graduate student, is really curious about the artistic performances at Chalk the Block.
"I think it's a great opportunity to approach some works that are really hard to find around El Paso, so I would definitely be going to see it," he said.
Chalk the Block will last through Sunday, Oct. 12, with Friday serving as a preview night from 6-10 p.m. Saturday will be the main day and most of the activities will take place that day.Chalk the Block will end on Sunday
at 3 p.m.
Also, by popular demand, there is going to be a community chalk area with glow in the dark chalk, so people will also have the opportunity to color the streets. Tricky Falls, located at 209 S. El Paso, will be offering a
kick-off show.
For Espinoza, the importance of this event is that it is not just about seeing a painting on a wall, but about the experience overall—the performances, the artists and watching their creative process.
"The idea is to have a direct interaction with art by touching them, going through them and experiencing art in a different way," Espinoza said.
Gianfranco Languasco may be reached at [email protected]
About the Contributor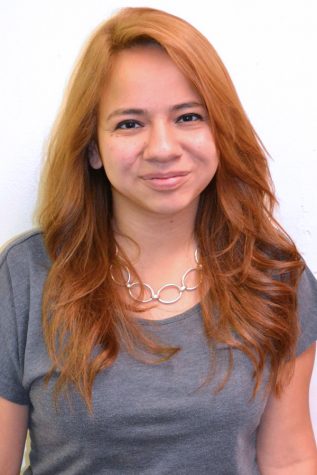 Michaela Román, Editor-in-Chief
Michaela is a Senior Digital Media Production major at The University of Texas at El Paso. As the Editor-in-Chief, and former Photo Editor of The Prospector,...