UTEP football hosted '80s Night at the Sun Bowl to ring in the first home game of the football season.   
'80s Night was a huge hit for fans and players alike, as UTEP took the win over Incarnate Word. However, some may not know the meaning behind the uniforms worn, when there is more than meets the eye.  
In the late 1980s, UTEP football was at its prime. Players at UTEP had promising futures on and off the field, some going on to play professionally in the NFL. Pat Hegarty was no exception.  
A member of the 1988 team, he witnessed it all, playing football at UTEP and the Denver Broncos. Hegaty continues to have a successful career as a writer.  
As quarterback, Hegarty played a key role in the Miners' success in both the 1987 and 1988 seasons. Coming to UTEP in 1987, Hegarty got the Miners seven wins that season, the most in 20 years. The season ended soon after, as Hegarty fractured his jaw, forcing him to sit out the final two games.  
The following 1988 season, the Miners won a program record of 10 games, fighting their way to a bowl game, which at the time consisted of 34 schools. Outside of football, Hegarty was an Academic All-American and a National Football Foundation scholar athlete.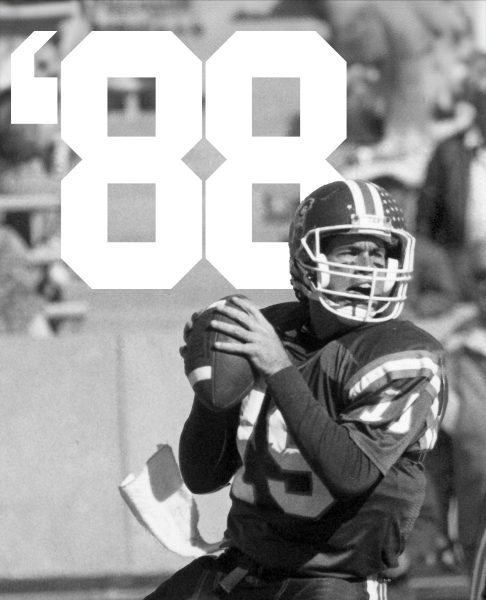 Hegarty's path to UTEP had its ups and downs, but the football program made a strong impression on him, considering his position as a quarterback.  
After watching a game, Hegarty was sold.  
"It was one of those things where you want to go where you're wanted," Hegarty said. "I got recruited by some other teams and I came out here on a recruiting trip."   
Hegarty also credits the coaching staff at the time for his decision.   
"The coaches at that time were young and hungry, they told us 'We're building something special here, and we want you to be a part of it,' and I believed them, and it turned out that everything that those coaches told me ended up coming true," Hegarty said.  
Although Hegarty's decision to go to UTEP was a great choice in the end, it was not his original plan, as life at home was difficult for him.  
Initially recruited by the U.S Air Force and getting appointed to the academy, he spent a month there before deciding it was not for him.  
Hegarty returned home, only to find his father was not going to let him live at home anymore, forcing him into homelessness. Couch surfing between friends for a year and a half, Hegarty attended community college, where his success in football brought him a number of scholarships offers.  
"UTEP changed the trajectory of my life in a real significant way," Hegarty said. "College for everybody is a time where you get to learn about yourself and where your values are and who you want to be, but for these athletes, sometimes it's their only way to get to this place and to have a chance at their dream."  
Hegarty majored in political science and minored in English literature with plans to become a lawyer, but it was not his true calling.  
After he was done playing football, Hegarty discovered his love for writing. Initially trying to write novels, he shifted to writing scripts for video games. Starting at Sony, he wrote the scripts for sports games, as the company did not have writers for sports games at that time.  
Upon returning to El Paso for the first time since 2014, Hegarty discussed how both the campus and the Sun Bowl have improved since his time as a student. He also talked about the magic behind the 1988 football team, as each member was extremely talented in their own right. 
Following his time with the Miners, Hegarty went to the Broncos as a backup quarterback for two years.  
The Miners football uniforms in 1988 were special; the uniforms were orange, and the helmet had stars. Hegarty was inspired by other quarterbacks for both his choice of the number 19 and for his choice to wear high-tops, although he claims the shoes slowed him down during football games.  
The jerseys worn by the Miners on '80s Night paid homage to the most significant team this university has seen, 35 years after their record-breaking era. Hegarty is just one example of the success story that was formed following UTEP and serves as a reminder to students that anything is possible with hard work and dedication. 
Nicholas Maes is a staff reporter and may be reached at [email protected]