El Paso became centerstage to nostalgia when it was announced iconic groups Alice Cooper, Def Leppard and Mötley Crüe would come to El Paso as their final stop in their world tour. Fans scurried to Ticketmaster Dec. 16, 2022, with some ticket prices as shockingly low as $19.  
Stores such as Hot Topic restocked their merchandise months in advance in preparation for fans to deck out in black eye paint, leather and merch repping their favorite band for their performance at the Sun Bowl Aug. 18.  
The iconic '80s performers brought all types of crowds flooding into the stadium.   
"I saw people of all ages there," said UTEP student Paola Attaguile. "I was shocked because bigger groups like that don't really come to El Paso. I wanted to go because ever since I was a little girl, my dad would put the radio to 92.3 because they play all of the classic rock music. I got emotional at the concert because I was hearing the music that my dad passed down to me."   
Attaguile spoke about some of her personal highlights of the night as well as the chaos at the entrance.   
"Even though we got there early, we missed half of Alice Cooper because it was so unorganized," Attaguile said. "It was a big ball of people. There wasn't a set line and you just had to move as everyone did. When we got in, we saw Alice Cooper's set which had a lot of cool outfit changes like straightjackets and different suits. He also pretended to cut off his head and a woman took the replica and started dancing with it."  
While attendees got to watch the energetic performances of Alice Cooper, Def Leppard and Mötley Crüe, a smaller fraction of attendees bought VIP tickets allowing them to meet some of the performers. UTEP student Paulina Deras bought a VIP pass to see Mötley Crüe's new touring lead guitarist John 5.   
"I met Rick Allen in Monterey while having breakfast, but I got to meet John 5 during the meet and greet before the show started in El Paso. We talked about UTEP a lot which I thought was interesting," Deras said. "I told him I was starting audio engineering and I was asking him what advice he could give me. He was actually aware of the program that UTEP has which was crazy and he told me to try working at the Don Haskins or the Sun Bowl stadium. I never mentioned the name of those locations, so it's nice to hear a star like that mention El Paso and be knowledgeable of the city."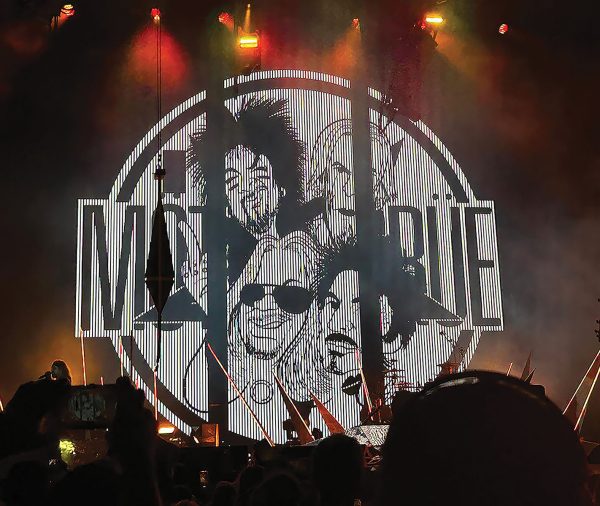 As someone who attends many concerts, Deras considers the concert as one of her favorites.  
"I usually go to three to four concerts a month," Deras said. "The crowd was very welcoming and everyone, including the bands, had such great energy. I feel like a lot of people don't really realize the potential that El Paso has. Not only that but hearing Nikki Six talking about how he grew up here was nice and I feel like that inspires people here so they can believe they can do whatever they want."   
While the concert brought back good memories from the '80s, it also brought back some sour ones.   
In 1983, Def Leppard's lead singer Joe Elliot referred to El Pasoans as "greasy Mexicans" during their show in Arizona.  
Due to this comment, several radio stations in El Paso including KLAQ refused to play the band's songs.  
Although Elliot later apologized during a call for KLAQ and donated $10,000 to a Hispanic Charity in Los Angeles, the group cancelled their 1988 concert in El Paso due to death threats. They later returned to play in 2000 which was their last concert in El Paso before Aug. 18.  
"I was taken aback by it," said UTEP student Jocelyn Ibarra. "I had heard about it before I bought my tickets for the concert. I do enjoy their music, but I could tell that the crowd wasn't vibing with them like they did Mötley Crüe or even Alice Cooper. There just weren't as many people singing along."  
Ibarra mentions how she felt the bands really appreciated El Paso.  
"I feel like they made El Paso feel even more special," Ibarra said. "During Mötley Crüe's set, they said that they loved stopping in El Paso and that it's one of their favorite places to stop. They even said that they wanted to end their tour with El paso because they wanted to save the best for last."  
With the stadium filled with fans to watch these icons perform in the Sun City, it has become clear that music brings people while we celebrate the songs that were driving anthems of our lives.   
Annabella Mireles is the photo editor and may be reached at aa[email protected]; @photographybyannabella on Instagram.