Fashion has no filter; anyone can express themselves in a numerous of ways. Within the borderland, people of all ages have distinct and unique ways of finding fashion, from local thrift shops to beautiful boutiques. At IFELLINLOVEHERE, there is everything and more to offer, from vintage dresses to adorable tops.  
The vintage store held an outdoor market for the public June 10, allowing visitors to look around and shop till they drop. The environment was electric with the support of fellow local small business vendors, live music and delicious food. 
The vendors had something for everyone, from intricate fine jewelry to press-on nails, to gems and dazzling unique pieces of clothes.  
Owner of IFELLINLOVEHERE and host of the outdoor market, Alexia Maldonado talks about the event and how she is planning for the future.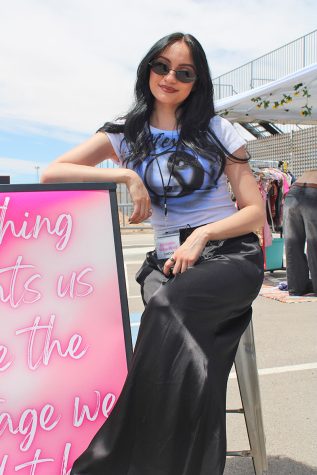 "I'm really excited, this is the first IFELLINLOVEHERE vintage market," Maldonado said. "We have a really good mix of all kinds of vendors, vintage clothing, food, art you name it. There is going to be a market every single month and I hope to include other new small businesses whether it be vintage or whatever your business has to offer I really want to include you and be a part of this community we have going on."  
While the summer heat may be sizzling, it is no match for the attendees who came out to support the vintage market. Members of the local community showed up in stylish Y2K outfits while setting the theme of shopping around for vintage clothing.  
 "Something like this is really fun and especially in this area because mostly all of the farmers markets are very far away and this one was close to us that's why we were like, 'let's go!'" said local resident, Nallely Leyva. 
Small business owners are the backbone of public markets and to many, it is about selling things they love. Putting their pride and joy into their craft and showing the public what they have to offer.  
"Just coming out for the community, bringing the people what they need and what they want," said Sarah Mann, owner of 100percentvanity. "We all have what the people are looking for and we are just here to give it to them. We are here to deliver."
Mann speaks about her business, her experience as a nail tech and what she is able to provide with her craft.  
"I'm selling custom made press-on nails so I'm a Gel-X nail tech that specializes in nail art and I just wanted to give the people a piece of my art and that's what press-on nails are able to provide," Mann further mentions. "It's a slice of my art, super creative and fun."  
Mann has a wide variety of designs for her nail art, she takes visionary dreams and makes them reality.  
"Right now, I'm only online based through Instagram, so you can place an order through Instagram at 100percentvanity," Mann says.  
The experience of supporting small businesses brings heart to the entire community and the business owners by supporting people with their dreams and their vision. The environment inspires the entire community and raises extensive support for those who want to change the game within the fashion industry.  
Alexis Lopez, owner of Hex by Lex talks about her experience vending at markets and her growth as a designer.  
"I've been vending about two years now," Lopez said. "I started doing a lot more markets with the Lowbrow Palace, so I've been branching out a lot more. Last year was a lot of little, smaller markets, this year I would say is my peak right now." 
Lopez talked about how she has handmade some of her clothing and designed it all on her own. She mentions her process of finding cool fabrics, cutting them up and just putting them all together.  
"I just want to make clothes that look cool that you weren't going to walk around and see someone wearing the same thing as you," Lopez said. "My biggest thing was bringing my individuality and my fashion to everybody else."  
It is no surprise that Maldonado threw such a successful outdoor market and has more to come in the future. She is helping provide hope of more exposure to small business owners within the borderland. IFELLINLOVEHERE can be found at 1381 Darrington Rd. and is on an appointment basis. To book contact Maldonado on Instagram @ifellinlovehere. 
Marco Hinojosa is the audience and engagement editor and may be reached at [email protected]