Instead of spending their Saturday night at the clubs or bars, young El Pasoans spent the evening supporting local vendors at The Rodeo Night Market.  
The Lowbrow Palace, located at 1006 Texas Ave, brought back, The Rodeo Night Market, June 10. The night market lasted from 6 p.m. to 11 p.m. and had over 30 local vendors. Merchandise sold by the vendors ranged from food, fashion, artwork, handmade crafts, and more. Live music also played, keeping the energy high while market-goers shopped the night away.  
The event was free to people of all ages, and it was a first-time visit for many attendees going to the night market.  
"I'm originally from El Paso but I go to school out of town," said farmers market attendee Ilissa Nuñez. "I have only ever been to the Lowbrow once before for a concert, but I never knew that they had farmers' markets here as well. I found out about this market through some friends and I'm really happy I came because I got some cool handmade stickers from Aramar Art that I'm excited to use."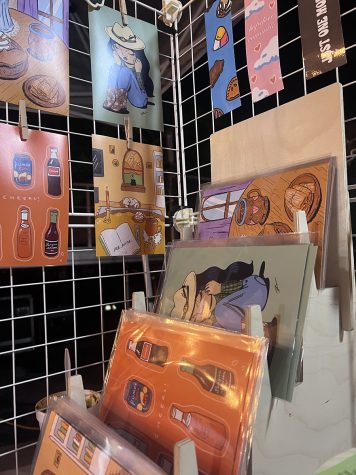 Aramar Art was one of the many local vendors at the night market. The store created by Paola Del Valle sells stickers, tote bags, art prints, pencil pouches, pins and bookmarks she makes by hand. This was the first time she sold her products at The Rodeo Night Market.   
"I basically like to express myself through my artwork and make it through products so people can enjoy," said Paola Del Valle, founder, and owner of Aramar Art. "I've always wanted to sell my artwork, but it can be kind of difficult for artists to put themselves out there so this is a really easy way for that to be done. I've always been interested in this market, this is my first time being here, so far, I'm enjoying it and I really like the energy and the other vendors are super friendly. So, I'll definitely be coming back again." 
There were also many different thrift shops tabling at the market. One table had two thrift stores named Crispy Thrift and Holy Thrift Secondhand & Vintage who joined forces for the night. 
"We're locals here from El Paso and we're three friends who love thrifting," said Christina Benitez, creator of Crispy Thrift. "We had individual stores and we decided to bond and contribute to the environment of thrifting that's been expanding here in El Paso. It's amazing how the thrifting community has grown and keeps on expanding to new generations. We love what we do, and we love serving our community."  
"I personally love selling at the night markets," said Holy Thrift Secondhand & Vintage owner Alejandra Macias. "I feel like the audience is broader. I encourage people to go to different markets cause it's really fun and you never know what you're going to find." 
To learn more about future nighttime markets and other events hosted by the Lowbrow Palace, follow them on Instagram @lowbrowpalace and the other stores mentioned in this article @aramar.art, @crispy_thrift, and @holythift.ep.
Alyson Rodriguez is a contributor and may be reached at [email protected]; @alyson_rod1127 on Twitter.