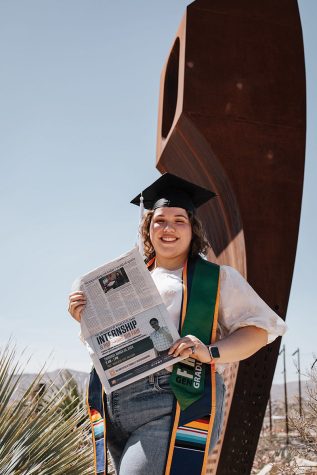 I have been putting off writing this because it is hard to say goodbye to a place that gave you so many amazing memories and friends, but part of the journey is the end. Throughout my college career I have been (almost) everywhere, from San Antonio to Oklahoma, but I am happy to say I was able to find a place to call home. 
Deciding to come back home to attend UTEP was honestly the best decision I have ever made. I remember trying to find opportunities to jump start my journalism career and when I found The Prospector, I was excited but nervous because I have never written in AP style. The submissions I sent were all from a technical writing class I took in San Antonio, so I have to thank former Editor-in-Chief of The Prospector, Anahy Diaz, for seeing something in me and giving me a chance.  
The Prospector was the first place to give me my start in writing and helped me realize writing recaps and profiles for the sports section was something I enjoyed. Tracy if you are reading this (which I hope you are) thank you so much for encouraging me to keep improving and keep going; I miss you and I hope you are doing well. Now I am the multimedia editor and I never would have thought that I would be making videos and running the podcast. Not only have I had the opportunity to become a better writer, but I have been able to meet some amazing people along the way. 
Itzel, it has been an honor working for you. Thank you for giving me the opportunity to be an editor and for trusting me to run the podcast, I appreciate you. Also thank you for the all the fangirl moments over Taylor Swift and Harry Styles. Fatima and Annabella, you two are the sweetest people I have ever met. Thank you both for encouraging me to stay strong through the tough times; we need to go shopping together, I need your style expertise. Maria and Meagan, my book besties, thank you for the endless memories and talking books with me. It has been an honor doing the book talk segment with you all.  
Jacob, Marco, Erik, Nico, Eli, Avery, SalmaPaola, Joel, Angelica, Catching, Eugenio, Jasmin (my fellow graduate) and Gianluca some of you I have known for a semester or two and some of you I have just met this year, you all are literally the best, I will miss you all so much. I am so glad to have met every single one of you, thank you for your friendship and for always being there for me. 
Vero, Isa, Amy and Crystal (my Formula 1 bestie) thank you for believing in all of us at The Prospector, the office would not be the same without you all. Thank you for all the endless support you have given not only me but the rest of The Prospector staff. I now have amazing people I have the honor of calling mentors. I will miss you all, thank you for everything.  
Emmanuel and Alyson there is so much I want to say. You both have been one of the greatest support systems out there, I wish I would have met you all sooner, but better late than never. You have been there for me through thick and thin and I know I can always count on you both. You both have helped me put myself out there by pushing me to my greatest abilities. Thank you both so much for believing in me when I did not believe in myself. Thank you both for pushing me out of my comfort zone, but most of all thank you for being my best friends, I could not have asked for anyone better. The revolution, it has been fun and thank you for welcoming me with open arms, I know you all will go on to do remarkable things.  
To my wonderful family, thank you for the endless support and always cheering me on. Mom and dad this is for you, I hope and plan to continue to make you the proudest parents on earth. I do not know where I would be without you. 
Thank you for supporting me every time I wanted to transfer to another college and thank you for helping me achieve my dreams; everything that I am is because of the both of you.  
To my brother, thank you for introducing me to football and teaching me about the game; I will forever cherish the moments when we sat in mom and dad's room to watch football. Sister, we did it. I am so glad that we are graduating together; I would not have wanted to go through this journey with anyone else but you. You have been my rock through it all and I am so glad that God blessed me with an amazing sister like you. I am so proud of you, and I know you will continue to do tremendous things in life. Baylor has one amazing student and athletic trainer on the way. 
To anyone reading this, college is stressful, but it is full of beautiful memories, cherish every single moment. As one of my favorite Formula 1 drivers, Daniel Ricciardo says, "Enjoy the butterflies, enjoy the nerves, the pressure. There's a lot of worldly people in this place who you can laugh with, learn from, enjoy some moments with. So, embrace the good ones. Stay focused."  
To the class of 2023, congratulations. Let us keep working towards our goals and never give up. 
Lastly to UTEP, thank you for the memories and opportunities. I am grateful for it all, it has truly been a wonderful journey and now I am ready for the next chapter.  
Goodbye UTEP…Hello Arizona.  
Katrina Villarreal is the multimedia editor and may not be reached at [email protected]