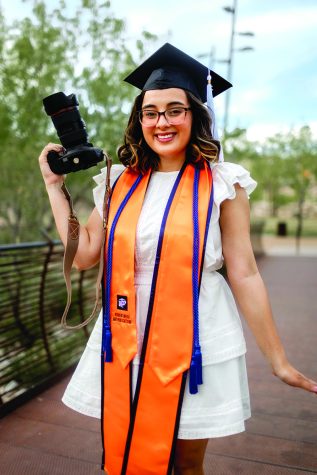 My time at UTEP has been a rollercoaster of a journey. I remember coming in during COVID and feeling lost and unsure of what I wanted to do. But I knew it would all fit together if I was doing what I was passionate about.  
I remember applying for a position for The Prospector and Minero Magazine. Doing this opened so many opportunities for me and truly enlightened my skills as a photographer and a writer. I also remember joining the UTEP marching band and flute choir. Band will forever be a large part of my life and I am so grateful for the doors that have opened for me because of music.    
Cut to three years later and I could not be happier of how much I have grown as a person, musician, business owner, student and photographer. 
This all would not have been possible without the support of my friends and family, but I especially cannot thank my dad enough. He has always pushed me to be the best version of what I can be and has never hesitated to help me despite the craziness I may ask from him. He is truly my biggest inspiration creatively and I am so grateful he has never given up on me or my dreams. I also cannot thank Joseph Salgado enough. Thank you for always having my back and truly supporting my passions. You have never doubted me and have always been there despite what path I choose next.  
I also could not be more thankful to work with such amazing and passionate people. The entire Prospector and Minero staff have helped me become who I am today and I am so glad to have always been able to work with such great staff and supervisors. So much so, that this led to my promotion as photo editor for the magazine and it has been an incredible journey since. Vero, Crystal, Isa, and Amy thank you for creating such an amazing environment I call my second home and pushing us all to be the best versions of ourselves.  
I am also incredibly grateful for the entire flute and piccolo section for helping me create unforgettable college memories. And to Mrs. Barbara Lambrecht for always believing in me as a musician and always pushing me despite the obstacles I faced throughout my year at UTEP.  
To all the professors who have taught me throughout college, thank you for guiding me and furthering my knowledge in so many subjects. I have learned so much and have become a better creative student because of you.  
It is crazy to think that I am graduating at only 20 years old and I would not have it any other way. Just in three years I have learned so much and have become a whole new person. I am overwhelmed by the support and experiences I have gained and could not feel more prepared to take on this new step in life. But being a senior, all you ever hear is, "Well, what do you plan on doing after graduation?" Despite my preparation, I have never been so unsure of what my answer is, but I know no matter what, I am going to figure it out and I have learned that sometimes it is okay to not know. The future has a mind of its own and I know that with my experiences throughout my college years I am ready for this new journey no matter the obstacles. 
Jasmin Campoya was a staff photographer and cannot  be reached at [email protected]