Rifle team member Isabel Brooks is originally from Houston, Texas and decided to attend UTEP for the rifle team. Brooks is a senior mechanical engineering major and will be graduating this spring and has been named apart of the Top 10 Senior in that department. Brooks plans to continue with the rifle team for another year as she plans to pursue a master's degree in electrical engineering at UTEP.  
Brooks got her start in rifle through a 4-H club in Houston when she was a junior in high school. Brooks has been doing rifle for almost seven years now. Brooks says she was able to visit UTEP on an unofficial visit for rifle where, at the same time, she was able to see the mechanical engineering department and all it had to offer.  
"(I) was super happy with the program and very excited about the chance to get to shoot in college and be a student athlete," Brooks said.  
For Brooks doing rifle was love at first sight. There is no other sport she sees herself playing, Brooks says her favorite thing about rifle is that it is repetitive and relaxing allowing one to let go and go with the flow, while still applying some control. When it comes to rifle, Brooks is inspired by her parents because they introduced her to the sport. 
"You're just trying to do the same thing over and over again and replicate the same picture, the same weight distribution in your model," Brooks said. "They're always who I go to when something is happening or going on that I need help with." 
Brooks earned Conference USA (C-USA) Commissioner's Academic honors and the C-USA Commissioner's Academic honor roll for 2020, 2021 and 2022. During her junior year, Brooks led the team seven times in smallbore and six times in air rifle and registered the highest aggregate score in seven matches. Brooks shot a personal best 587 in air rifle at the National Collegiate Athletic Association qualifier in Alaska. That same year, Brooks posted a career-high 1167 aggregate twice.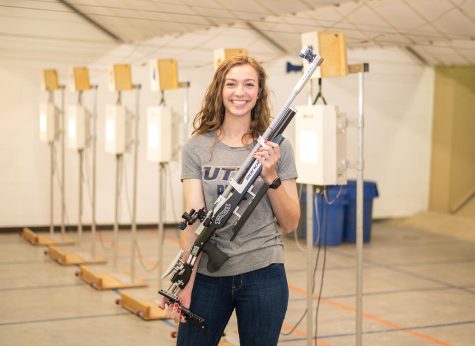 Being a part of the UTEP rifle team has meant a lot to Brooks. She says that it was what brought her to El Paso, and it has been her home away from home while in school. 
Balancing school and college athletics is difficult at times, Brooks says it is okay if everything is not perfectly balanced. 
"(The team) gave me a support system 800 miles away from home and it's helped me come into my own a little bit and find my own groove and my friends and my family," Brooks said. "It takes a lot of falling on your face to figure out what works for you, because what works for me isn't gonna work for the next person. You have to decide how organized you need things to be to get things to work and how rigid your schedule needs to be. It mostly just comes down to deciding what you want to get out of things, to balance everything." 
COVID-19 was a tough challenge, Brooks says her most memorable moment with the rifle team was the first matches of the year where they were able to have fans at the range to cheer them on after the pandemic. Being able to have her family and friends cheer them on was a great experience.  
There are days when life gets hard. Brooks says that on the days where she feels unmotivated, she takes the time to rest and make a list of everything she needs to get done right then and there. 
"Everything else besides that just gets put aside to a later date and I just try to rest and be nice to myself because you can't always operate at 100 percent all the time," Brooks said. 
Once Brooks graduates from UTEP with her master's degree, she wants to give back and help support her community. 
"I'm looking at going into power generation and I feel like, that's a really good way to help provide for the community and all of those around me and try to help in little ways," Brooks said. 
Brooks ended the interview with a message to her teammates. 
"Thank you for all of your help, support and love, it has definitely made it a very memorable 4 years and I'm looking forward to another year with some new faces," Brooks said.
Katrina Villarreal is the multimedia editor and may be reached at [email protected]