In the late 1940s, if a UTEP student needed to blow off some steam, chances are they would be told to head straight toward the Union Ballroom. The goal was to create a special space of vibrance to encompass a fun social spirit to benefit both students and faculty of the university. Soon, the ballroom was converted into the UTEP Dinner Theatre, where it serves as a rich theatre program to students to this day. This helped the Theatre Program blossom into a useful tool for aspiring performers in front and behind the stage.  
Carolina Caldera, a soon to be UTEP graduate studying theatre is someone who knows this well, as she has worked both on and behind the stage. As a young fan of musicals, Caldera knew this was the field for her.  
"I have always been a fan of musicals since I was six years old (specifically 'The Phantom of the Opera: the 25th Anniversary edition'), but when I was in high school, I decided to pursue theatre," Caldera said.  
Caldera soon did her first high school play, finding joy in how theatre made life more interesting in her eyes, everyday being different during a new run of a show. Although Caldera had acting ambitions, she started out behind the scenes at The Wise Family Theatre, working on sets.  
"Even though I was not performing at the time, this experience helped me as an actor," Caldera said. "I realized how much work goes into creating the space for an actor, how that ties up with the story that the actor creates with (their) character."   
Caldera went on countless auditions, never giving up on her dream and after much hard work, she has done three shows at the Dinner Theatre, including "The Full Monty." Caldera expects to continue the arts in El Paso to gain more experience and encourages aspiring theatre students to get experience now while you can.  
Some students who have thrived in the theatre space have done so by accident, later connecting to the community. This is the case for one upcoming UTEP theatre graduates and San Antonio native Elias Perales.  
It was eighth grade when Perales accidentally stumbled into his school's theatre class instead of his scheduled one, resulting in a great mistake. After that day, Perales continued theatre, throughout high school, excelling in the advanced theatre classes. Perales credits his late high school theatre teacher Jenifer Frederick as the jumping point to pursue theatre in college.   
"She was an amazing teacher, she really brought me up and made me more confident in myself," Perales said. "She passed my sophomore year of high school, and that was when I thought I wanted to pursue theatre. She made me realize how collaborative, caring and open it is to be a part of theatre, everybody working together to create something for audiences to watch and think about was one of the main reasons I decided to pursue theatre in college."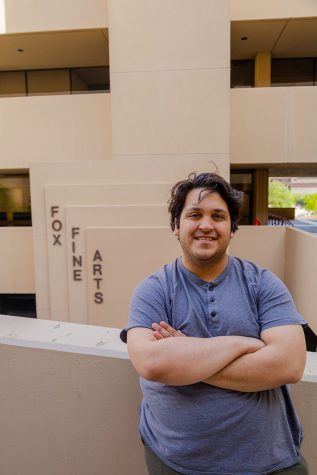 Soon Elias came to UTEP from San Antonio, finding an appreciation in UTEP's Theatre Program and later becoming a key figure in it. One of Perales' favorite memories was working on the show "Borderline – A Southwest Premiere Ghost Story" by Andrew Sianez-De La O.   
"Our director Kim had been talking to him for about two years and stayed in contact with him," Perales said. "When we ended up doing it, we got to really improvise, be collaborative with the script instead of just normally doing what the script is telling you, expanding on what was already there."   
Perales hopes to pursue graduate school and encourages aspiring performers to not limit themselves.  
Matthew Nunez is a theatre student set to graduate this May who has found his calling in the arts later in his academic career.  
Nunez tried theater his senior year of high school but went on to pursue many fields from philosophy to English. It was not until the height of the COVID-19 pandemic, that Nunez took his shot with theatre at UTEP.   
"It was in 2020, in COVID when everything shut down and I did an assessment on myself. I'm not happy pursuing these (previous majors) and it is best I go back to something that I love, theatre," Nunez said.   
With two musicals igniting his spark, one being "Shrek, the Musical," Nunez enrolled in the program, never looking back. Nunez credits the community aspect as one of the many reasons for his love of the program.  
"Every time I am able to do a show, first rehearsals, the first reading of the script, whether or not I'm tired, whether or not I'm going through something in life; it always reminds me I did something right," Nunez said.   
Similar to a lot of other students, COVID-19 made these Theatre Art students push a hard reset button in their lives, and now they have found their passion and purpose.  
H. Catching Marginot is a contributor and may be reached at [email protected].