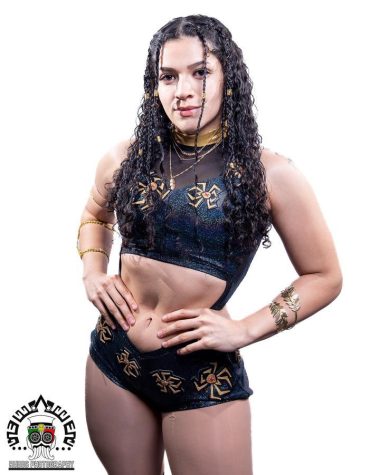 Editor's note: This is the second part of a three-part series.  
At the heart of the ring, a young El Pasoan luchadora has grown to love the sport and has become a well-known figure in the wrestling world. La ruda, Persephone, formerly known as Black Widow, is a 21-year-old UTEP graduate who has been wrestling for eight years and has recently signed with Lucha Libre AAA Worldwide, Mexico's top wrestling league.  
Persephone, whose real name remains anonymous, graduated from UTEP in May 2022 with a bachelor's degree in kinesiology with a concentration in clinical exercise.   
In lucha libre, wrestlers fall into two categories, rudos or técnicos. Rudos are those who have a tyrannical role, they are the "mean" guys of the ring. Being a técnico means that you go by the rules and are loyal to your team. Persephone, with her original character Black Widow, started lucha libre in the rudos team in her early teens. Despite her being the only luchadora in her family, her love for sports, especially for lucha libre, was impressed on her at a very young age, making her interested in becoming a professional luchadora.  
"I started because I really liked it since I was little," Persephone said. "My whole family is into it so they would take me to lucha shows in El Paso and Ciudad Juárez. My dad put me into a lot of sports growing up, so I thought it was just another sport to try. I really liked it, I (stuck) with it, I started like maybe eight years ago, training, and I'm still here."   
With the support of her parents, Persephone was able to make a name for herself, while still growing up like a normal teenager. Like any regular teenager, the attention her parents were giving her seemed overwhelming, but now looking back she appreciates all the efforts made by them and cherishes the memories they made together.  
"I started really young, I debuted in front of a crowd at 15, when I started traveling, I was maybe 17, so my parents were a little protective and worried," Persephone said. "One of my favorite memories is how much they would travel with me, it was always fun going to shows with them, seeing them out there, hanging out with them. Cause now that I'm here in Mexico, and I travel so much more on a professional level they obviously don't really travel with me anymore, they're at home."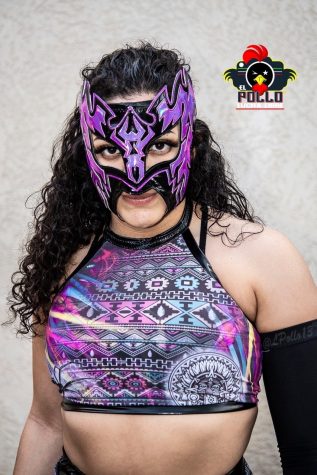 As a student, Persephone found the perfect way to combine sports with her higher education and passion in sports medicine, by finding a degree that would allow her to be familiar with injuries from first-hand experience and put her knowledge to use in the ring and in other sports as well.  
"I love that my major and wrestling connect so well, because I worked in a physical therapy clinical, I worked in different athletic training rooms," Persephone said. "So, literally my job as a student and I guess my 'normal' career was taking care of athletes. It translates perfectly cause when I get hurt, my husband gets hurt or even when I was in Juárez, other wrestlers they would get hurt and I already knew what to do."  
Being a student at UTEP is different than any other college experience because it is a commuter school. The unique location of the university invites students from all over the city and across the border to go on really long drives to get an education, Persephone is no exception. On top of being a border commuter, she had to balance her two lives and busy schedules.  
"It was really hard," Persephone said. "Especially because I wanted to finish a little quickly, so I started taking from 15 to 18 hours a semester. I was trying to train, go to the gym, and I lived in Juarez, that made it worse. Having to cross really early, like two hours early, that was not fun. I have a lot of memories, even wrestlers already knew it was normal for me to have my computer and do an assignment in a locker room or when I was getting ready to wrestle. I was trying to get assignments done in airports, it was really hectic."   
Despite her years in college being extremely demanding, la ruda enjoyed her time in El Paso and the borderland's essence and influence in lucha libre.  
"I loved it, the crowd is just so loving," Persephone said. "Now that I moved to Mexico City, and I'm signed to a big company so I'm a little more known now, I still feel the same love when I go back home. Even if you keep growing and you move out you still feel that love from Juarez and El Paso. Like when I first signed to triple A, I got so many messages from people from Juarez and El Paso, like 'Esa es nuestra fronteriza.' You just feel the support from the frontera, no matter where you go." 
Persephone will come to El Paso, for the show "Collateral Damage," 7 p.m., May 12, at the Delgado Legacy Borderplex.   
Maria L. Guerrero Duran is the web and copy editor and may be reached at [email protected]; @bymariaguerrero on Instagram.