Editor's Note: This is the third part in a three-part series.  
Film photography began in the late 1800s and still has an impact on many dedicated photographers within the border community. UTEP History Professor, Ernesto Chavez, Ph.D., has been photographing on film for 45 years and it continues to be one of his favorite past times.   
Chavez photographs on a Canon AE-1 35mm camera and his favorite film is Ilford HP5 black and white. His passion for film began throughout his teen years while in high school.  
"I began shooting film when I was in high school in the 1970's," Chavez said. "I bought my first 35 mm camera in 1978 and I saved my money to buy it. The big thing back then to be a 'real photographer' was to get a 35mm camera and that's what happened."  
Although digital photography is taking over the modern world, Chavez sticks to what he loves, film photography. It continues to inspire him despite the antique aspect of it.  
"I like the texture of film; I think that film has a different kind of texture," Chavez said. "Different film stocks will provide a different look, and I find that digital for me is very flat."  
Photographing on film provides challenges and a unique experience that digital may not be able to give. Chavez expresses his enjoyment of film and the end results he hopes to get, even after many years of dedicated practice.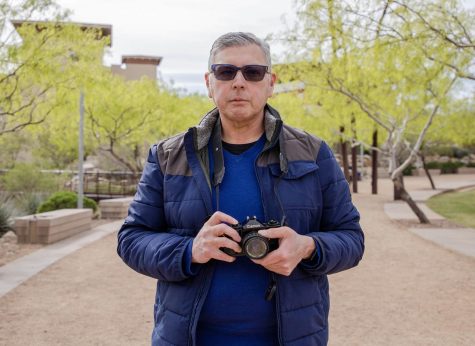 "My biggest challenge with shooting film is that you don't know what's going to happen, or whether you got the right shot or not," Chavez said. "And the way you make sure you're able to get that shot is that you have to be very mindful of exposure, shutter speed, and metering in the right place."  
Chavez has been teaching at UTEP for 29 years and although his career does not include photography, he continues to immerse himself in film.   
"Although I teach history, I find that when I shoot film, or when I'm just doing photography, it is a way to get out of my head," Chavez said. "I just try to be creative and try to capture moments."  
 Chavez says he enjoys photographing moments and truly capturing memories that will last forever on film. It gives him a different insight into life and has become an unforgettable hobby.    
"Film captures a moment and captures an insight in people, if you have a rapport with the person or they have a rapport with you," Chavez said. "You're able to capture something in that moment, and that's why I like it."   
While photography is a creative outlet for many, film photography specifically has had an impact on Chavez. It has given him nostalgia in a community of young creatives around the border and he hopes to continue to impact photographers and students around him throughout his career at UTEP.  
Jasmin Campoya is a staff photographer and can be reached at [email protected]