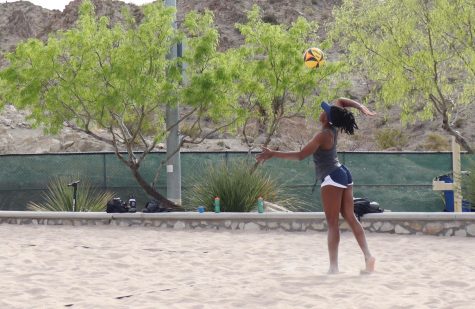 From being a part of the indoor volleyball team to the beach volleyball team, Serena Patterson has seen and done it all. Patterson is on her way to earning her master's degree in leadership studies.  
Patterson began her career at UTEP with the indoor volleyball team where she played all throughout her undergraduate years and one year as a graduate student. She was a part of the successful 2021 indoor volleyball season where the team went 21-7 and 9-4 in conference play; the team's first winning season since 2012. Patterson earned Conference USA (C-USA) All-Conference First Team honors (2021), C-USA All-Conference Second Team Honors (2020-2021 and 2022) and American Volleyball Coaches Association Southwest All-Region Team Honorable Mention (2021).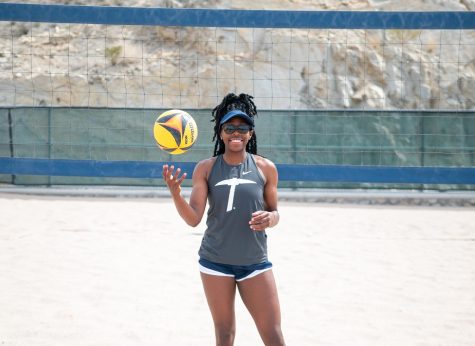 While playing with the indoor volleyball team, Patterson became the eleventh player in the program's history to reach 1,000 career kills. Patterson is currently ranked fourth with 1,251 kills in 130 matches with the Miners.   
Patterson played with the indoor volleyball team during the fall where the team finished 17-13 and 10-4 in conference play. After the indoor volleyball season ended, Patterson played for the new beach volleyball team for the spring 2023 season. Beach volleyball finished its first season 4-15 overall, which could change after the team competes at the C-USA Championships at the end of the month.   
Patterson has been playing volleyball for five years at UTEP, but volleyball was not the first sport she started playing. Before volleyball, Patterson played basketball all her life until she got to high school where she started to transition to indoor volleyball. 
"My high school coach was like 'you could do both,' and that's when I started falling in love with volleyball," Patterson said. "I started going to club games and I stopped playing basketball."  
Being part of the UTEP beach volleyball team is the first time Patterson has played beach volleyball as UTEP beach volleyball also started its first season in February, where Patterson has been a part of building the team. Patterson says this is the first time she has ever played beach volleyball.   
When Patterson first transitioned, she was not a fan of beach volleyball because the rules are quite different from indoor volleyball such as not being able to hit the ball over the net. 
In beach volleyball there are two players per team while in indoor volleyball there are six players per team. This makes it a little bit harder for players on the beach side to be substituted because it is just them and their teammate. As the season continued and the team began to travel and play games, Patterson started to like the sport.  
"I never would've seen this coming, there being a beach volleyball team especially for UTEP, it's crazy," Patterson said. "I hated it at first because I was not good at all and I was like 'yikes, this is embarrassing,' but no, it's pretty fun. You just have to get used to the weather, its rough but we made it through."  
Patterson's inspiration to play comes from her parents; her mom who played basketball and her dad who played football for UTEP. Patterson says her parents' work ethic is something she looks up to.   
"I know I wanted to play sports, but I think over the years they've encouraged me to just do what I love and that's what I've been doing," Patterson said.  
When Patterson graduates with her master's degree the legacy she wants to leave behind is wanting people to know UTEP and El Paso. Patterson says that before she committed to UTEP she did not know anything about the university other than what she knew from when her parents played. 
During her freshman year, Patterson says the team's record was 5-21 overall and 2-12 in conference play but now the UTEP Miners have become unstoppable.  
"It's a program where people know they actually have to play if they want to beat a UTEP team," Patterson said. "I think just having people know more about UTEP and I think we've already done that as a program."  
The advice Patterson would give to those who are looking to pursue collegiate level sports is to keep working and put extra work outside of practice and workouts.  
"Just do more in your off time," Patterson said. "If you think just going to the workouts that your coach set, that's not enough. Always do more in the morning or late at night, just do more and don't be afraid to put in extra work."  
The UTEP beach volleyball team has concluded its regular season and is set to travel to Fort Lauderdale, Fla. for the C-USA championships from Thursday, April 27 to Saturday, April 29. 
Katrina Villarreal is the multimedia editor and may be reached at [email protected]