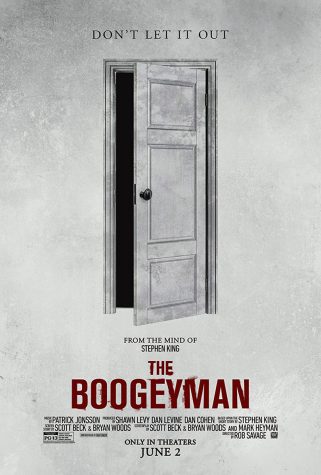 Do not turn off the lights because another Stephen King novel is coming to life on the silver screen. The new supernatural horror flick, "The Boogeyman," is set to make audiences scream this summer.   
"The Boogeyman" is a film adaptation of Stephen King's short story of the same name published in 1973 and was made at 20th Century Studios.  
It centers around high school student Sadie Harper and her younger sister Sawyer Harper, who are both still grieving their mother's recent tragic death.   
Their father Will Harper, a psychiatrist, is also dealing with his wife's death while still working. One day, a patient comes desperately seeking Will's help. In return for the help, the desperate patient leaves behind an evil supernatural entity that preys on families and feeds off of their suffering.   
The supernatural creature is one known by many as the Boogeyman, a story passed down through generations and has been tactfully used to instill fear in children for years. The Boogeyman is a metaphor for fear, anxiety and danger. Children have developed fears of the dark and the unknown due to this tale.  
Rob Savage directs the horror film and Sophie Thatcher plays older daughter Sadie. Young star Vivien Lyra Blair plays younger sister Sawyer and Chris Messina stars as their grieving father Will. Other cast members include Marin Ireland, Madison Hu, LisaGay Hamilton, and David Dastmalchian.   
Some UTEP students were not aware of the new big summer movie, but they are going to add it to their summer watch list.  
"I had no idea this film was coming out this summer, but I am definitely going to check it out when it comes out," said junior education major, Hailey Saenz. "I'm not a huge fan of scary movies but after seeing the trailer I definitely want to check it out with my friends."  
There is another film trilogy of the same name that came out in the early 2000s. This movie also focus on what lurks in the shadows. This new version of The Boogeyman story may be the scariest version yet due to the producers being ""Stranger Things" producers Shawn Levy and Dan Cohen.  
The screenplay was written by Scott Beck, Bryan Woods and Mark Heyman.  
"I'm a big horror fan and I've seen all of the greats such as 'Psycho,' 'Young Frankenstein,' and 'The Conjuring' movies," said senior biological science major, Angel Segura. "I heard about the new Boogeyman movie and I'm interested in checking it out and seeing if it is any good."  
"The Boogeyman" opens in theatres June 2 and is rated PG-13. To learn more information about the movie, watch the trailer on YouTube or read the synopsis online.  
Alyson Rodriguez is a guest contributor and may be reached at [email protected]; @alyson_rod1127 on Twitter.